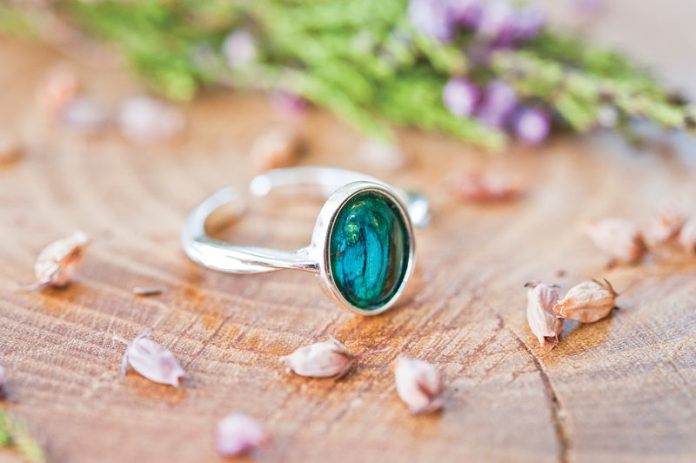 Heathergems jewelry, from the Scottish Highlands, is a beautiful example of turning nature into art by making colorful gemstones from heather plants. The Highlands cover 10,000 square miles in northern Scotland and contain some of the most breathtaking scenery in the world. They are best known as home to the Loch Ness Monster, castles, whiskey production, and heather. Twice a year the mountains and moors are covered in purple-blooming heather which has been harvested since the land's earliest inhabitants — mainly for thatching, honey, and brewing for dyes. It also has an interesting use in creating heathergems jewelry.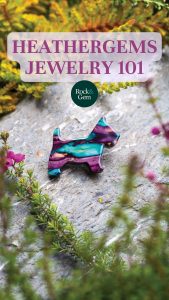 How Heathergems Jewelry Started
Located in Pitlochry, Perthshire, Scotland, Heathergems turns heather plants into one-of-a-kind jewelry. Pitlochry, which has a population of fewer than 3,000 people, is a Victorian-era town, which evolved into a tourist spot after Queen Victoria and Prince Albert visited the area in 1842, followed by the railroad in 1863, and in 1947 it became a burgh.
A third-generation business, Heathergems is currently run by brothers Craig and Stuart Brown. The gems have been in production since the 1950s and started as an outgrowth of a business using compressed beech wood branches to make flooring tiles. This proved tedious and cost-prohibitive so Hugh Kerr, a craftsman from Glenlivet, came up with the process of using heather stems for manufacturing and started making Heathergems in limited quantities in his workshop. In 1969, Kerr met Charles Buyers, a Glasgow accountant who had an interest in craft industries.
"My grandfather Charles Buyers was working for the Highlands and Islands Development Agency — they were looking for Scottish craft businesses to invest in," said Stuart Brown.
"Charles Buyers put Kerr's business forward to the Highland and Islands to invest in. They agreed, but then pulled out at the last minute.
Charles then put the money forward himself and set up the business with Hugh Kerr."
The company was first stationed in a small factory in East Kilbride where production of Heathergems began in the spring of 1970. The headquarters shifted to Blair Atholl, a village in Perthshire, in 1979. Kerr died in 1974 and Buyers died in 1992. It was then the family decided to relocate the factory to Pitlochry.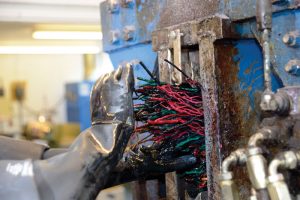 How Heathergems Jewelry is Made
It's a complex system that transforms the rough, plain stems of the heather plant into shiny, vibrantly-hued stones used to craft pendants, rings, bracelets, bangles, earrings, brooches, and other accessories.
Mother Nature's thumbprint can be seen on every piece. The manufacturing process has evolved with time and now includes two to three people working on a single stone and the aid of pre-programmed CNC machines that dictates the movement of the stones.
"The company went from making floor tiles to inlaying pieces of staghorn with heather to make brooches and pendants.
The process has been adapted over the years to become more efficient," said Brown. "The CNC machines have played an important role in this. All the pieces used to be cut out by hand before we started to use a CNC machine. After training is given to use this machine, the skill, and technique needed is perfected over a few months to allow the user to become more efficient and make sure the stems are evenly distributed when making the block," said Brown.
Heathergems Step-by-Step
STEP ONE: Heather is sustainably harvested from the surrounding Perthshire estates.
As these plants grow, the stems become dry and woody providing no nutritional value to the local wildlife. Without clearing out these stems, re-growth is unable to take place.
STEP TWO: Heather is stored and dried.
STEP THREE: The materials are cut to length using a band saw. Foliage is cut away.
STEP FOUR: The bark is removed using a specially adapted shot-blasting machine, to chip away the bark while leaving the clean stems.
STEP FIVE: The heather is graded by size and collected into bundles. A mix of different thicknesses of stems helps bind and strengthen the finished stone.
STEP SIX: Textile dyes transform the color of the stems. The stems are put in a vacuum chamber where the heated dye is released. This can take up to two days to allow for the dye to penetrate the stems.
STEP SEVEN: Different colored stems are grouped to help create unique patterns in the finished stones, to achieve sort of a marbling effect. "We mix some colors to allow us to achieve better results as the dyes do not always fully penetrate the stems," said Brown.
STEP EIGHT: The stems are soaked in resin and compressed into blocks using 60 tons of pressure.
STEP NINE: The block goes into an oven with mild heat to help it set.
STEP TEN: The next day, the block is removed from the mold and the rough edges are trimmed off.
STEP ELEVEN: The block is sliced into pieces of varying thicknesses. This raw material is now in gem form, ready to be shaped into designs for jewelry.
STEP TWELVE: The slices are put into a computer-controlled cutting machine.
STEP THIRTEEN: Imperfections are filled, sanded, and shaped by hand.
STEP FOURTEEN: Up to five coats of lacquer are applied by hand to enhance the gem's colors and patterns and to provide protection from the elements.
STEP FIFTEEN: Stones are placed in mountings designed in silver, pewter, or silver plate. The jewelry is packaged in its signature dark blue gift boxes, accompanied by a story card.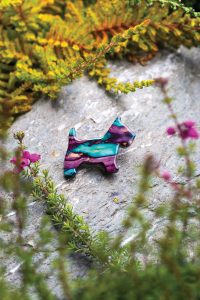 A Rich Legacy
For Brown, it's the complex undertaking that morphs the rough stems into treasures that have made the company's legacy so enduring.
"I think it's the fact no one else makes this jewelry in the world — each piece is unique.
Our designs have also changed over the years so we remain relevant," he explains.
"Many things inspire the designs: the hills and surrounding landscape, Scottish symbols or motifs, and current trends."
Scottish symbolism is popular with customers, such as pieces depicting thistles (the country's national emblem), Celtic swirls, crosses, and animals.
"The Scottie (Scottish terrier) dog and highland coo (cow) has been very popular over the last few years and the tree of life designs are very popular now," Brown says.
Designs can also be had featuring hearts, squares, ovals, rectangles, teardrops, cats, antlers, butterflies, and more.
In addition to jewelry, Heathergems are crafted into Christmas ornaments, beads, pens, sgian-dubhs (small single-edged knives), letter openers, razors, flasks, quaichs (traditional two-handled cups), bottle stoppers, cufflinks, pocket watches and a gold golf club made especially for the company, using a heather inlay.
Visitors to the Heathergems headquarters in Pitlochry can watch the jewelry being made and browse a selection of items in its gift shop. About a dozen people work at the complex.
What does the next half-century have in store for the company?
"Who knows, no one would have ever thought Heathergems would have come this far," said Brown. "We have been badly affected by the pandemic and lack of foreign tourists over a couple of years. Things are looking much better now. We have been concentrating on our core range of products during this time, but we have plans for some new Heathergems in the coming months. Now in our third generation, we plan to keep going for many more years to come!"
Heathergems are available for purchase in gift shops all over the world and on various websites. For more information, visit www. heathergems.com.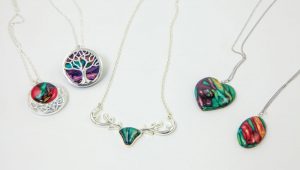 Heathergems Jewelry Care Tips
• Do not immerse your jewelry in water or wear it while bathing, showering, or swimming.
• Do not allow jewelry to come in contact with hairspray, makeup, perfume, and substances containing corrosive chemicals.
It can also be affected by perspiration.
• The jewelry requires cleaning on an ongoing basis.
• To clean sterling silver and silver-plated fittings use a silver cloth and gently rub.
• Do not subject your Heathergems to any undue stress or pressure.
This story about heathergems in jewelry appeared in Rock & Gem magazine. Click here to subscribe! Story by Sara Jordan-Heintz.