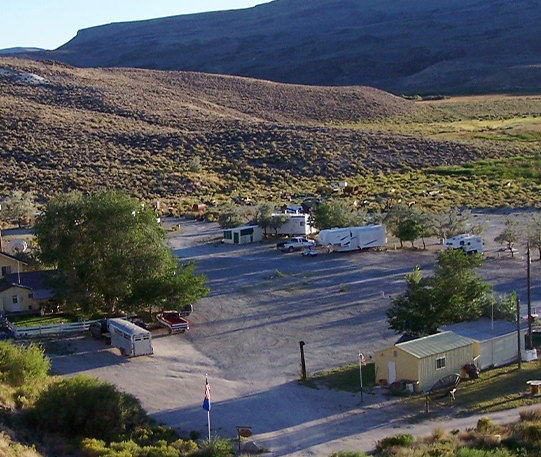 Royal Peacock Opal Mines is a sponsor of

By Antoinette Rahn
Often when spouses are seeking to purchase an extra special gift for their love, they may cast an eye to electronics, jewelry, dream vacations, home décor items, tools, sports equipment, and countless other items. The late Harry L. Wilson, a life-long resident of Virgin Valley, Nevada, took a completely different path when purchasing something special for his beloved, Mable.
"My grandfather, Harry L. Wilson, purchased the mine for his wife, Mable Wilson, in 1944," explained Julie Wilson, the elder Wilsons' granddaughter. "My grandfather raised horses and cattle and was not very interested in the opals, but my grandmother loved the sparkle and bling of the opals, so he purchased the claims for her."
Little did the late Mr. Wilson know what that purchase would mean, not only to Mable, but to generations of the Wilson family, and countless rockhounds around the region and beyond its boundaries. Perhaps he did know, seeing as he knew the area, knew about operating a business, and knew that anything his wife considered special was worth the investment.
Family Traditions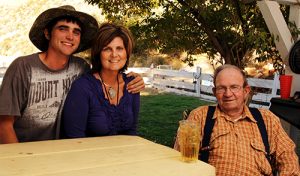 As time went on, the entire Wilson family would come to know and appreciate the specialness of the claims, which is Royal Peacock Opal Mines, located near Denio, Nevada.
Next in line to take the mine to new heights was Julie Wilson's father, Harry W. Wilson. The second-generation Mr. Wilson opened the mine in 1968 for commercial digging, explained Julie. However, it was a challenge to keep employees, in large part, because the location was incredibly remote, even more than it is today, Julie added. In 1973, Harry W. changed gears and opened the mine to fee digging. Until his death in May of 2016, Harry W. simultaneously operated the mine and ran the family's ranch.
As history shows, it's never been just one Wilson family member going it alone when pursuing their aspirations — it's a family effort, whatever the project or dream may be.
"My parents operated the mine together, as the rest of my family did, for as long as I can remember," said Julie, about her late father and her mother, Joy, who is a stroke survivor and one of Julie's biggest fans.
Teamwork Drives Exceptional Service
Today, Julie is the sole owner of Royal Peacock Opal Mines and works beside her son, Jake Anderson. While Julie manages the gift shop, handles dig reservations, upkeep of facilities and rentals, and serves as the general insurer of top-notch treatment of customers; Jake oversees mine safety and digging operations on the hill. Besides, Jake is the company's primary opal jewelry designer, and the skill and creativity behind the polishing, setting, and preparing of stones they sell. Joining Julie and Jake are employees, Craig Greeninger, a seasoned and knowledgeable rockhound who guides customers during digs, answers questions, and actively assists with mine safety. Also on staff is Laurel Witzel, who assists Julie and has quite literally grown up at the mine, helping at Royal Peacock Opal Mines for the past six years, beginning when she was 11.
When visiting this Nevada mine, it's likely visitors will find opals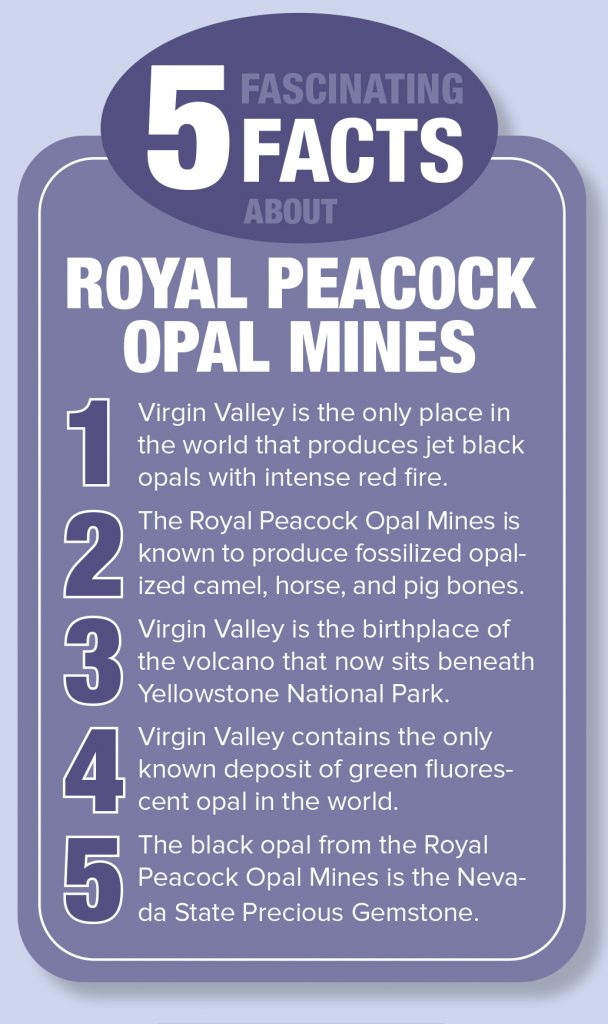 including precious black crystal, crystal, and common dendritic and fluorescent, Julie explained. While there are many privately claimed land parcels in Virgin Valley, there is presently only one other commercial mine.
With the COVID-19 pandemic impacting businesses and individuals far and wide, and in many ways, the Royal Peacock Opal Mines team adjusted their process, worked with customers to adhere to restrictions, and proceeded safely and cautiously. Thus far, the season is going very well, with the mine's annual Memorial Day weekend barbecue and dig event a social distancing success, Julie confirmed.
"We have had a lot of customers and a lot of great opals found," she said, adding that feedback from people has been fantastic, many of whom were grateful to be able to get outdoors someplace remote and safe, after being cooped up for weeks.
This uncommon and largely uncertain year has also reaffirmed a couple of things for the Royal Peacock Opal Mines team. "Our team has learned that no matter what, the show must go on. We have also learned to adapt to different people's requests in what they are comfortable with," Julie added.
While Julie's father and grandfather would likely not have predicted how things would look in 2020, they equipped and inspired their children and grandchildren to carry on traditions and seek innovative ways to grow.
---
For More Information
Visit: www.royalpeacock.com or www.facebook.com/royalpeacockopalmine
Email: autumn@royalpeacock.com
Call: 775-941-0374
Plan a trip: #10 Virgin Valley Rd. Denio, NV. 89404
---