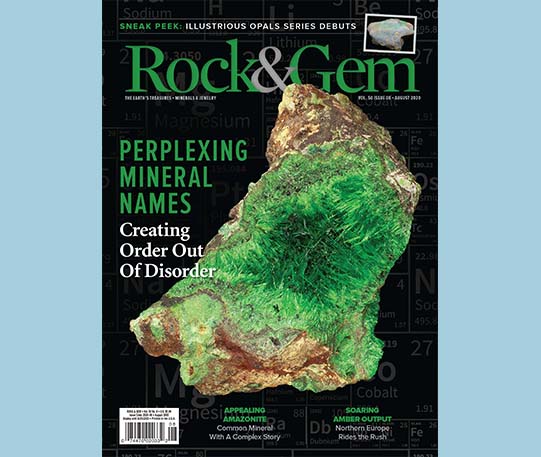 Below is a snapshot of some of the topics and interests you can expect to see in the pages of the August 2020 issue of Rock & Gem. Plus, we've included some sample pages for you to enjoy.
• Puzzling Mineral Names: Discovering the Logic In the Progression. By Bob Jones
• Northern Europe's Amber Rush: Soaring Prices Amidst a Mining Boom. By Steve Voynick
• Willemite: A King's Zinc Mineral and Fluorescing Beauty. By Steve Voynick
• Glen Innes and Inverell Blue: New Sites of Sapphire Appreciation "Down Under". By Jenni Clark and Leigh Twine
• The Debut of Illustrious Opals: A Sneak Peek at A New Column and Series.
• In Awe of Amazonite: The Misconstrued Feldspar That's Not a Mistake to Own. By Mark Leatherman
• Beginner's Guide to Buying Rough: Choosing Faceting Material Wisely. By Mark Oros
• Enchanting Herkimer Hunts: Collecting Diamonds and Making Memories. By Antoinette Rahn
In addition, you'll find the following regular R&G columns: Bench Tips with Bob Rush, Rock Science with Steve Voynick, What to Cut with Russ Kaniuth, On the Rocks with Bob Jones, Just Off the Wheels with Erin Dana Balzrette, Rock & Gem Kids with Jim Brace-Thompson, The Road Report with Helen Serras-Herman, Virtual Adventures, Picks & Pans, Show Dates, and the always popular Parting Shot.
---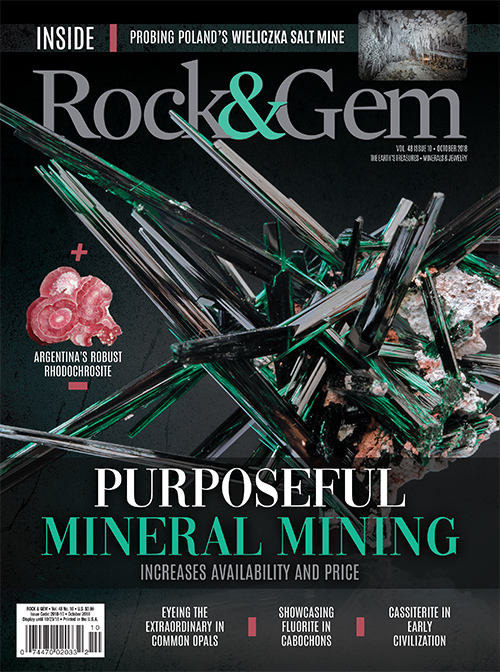 If you enjoyed what you've read here we invite you to consider signing up for the FREE Rock & Gem weekly newsletter. Learn more>>>
In addition, we invite you to consider subscribing to Rock & Gem magazine. The cost for a one-year U.S. subscription (12 issues) is $29.95. Learn more >>>

---