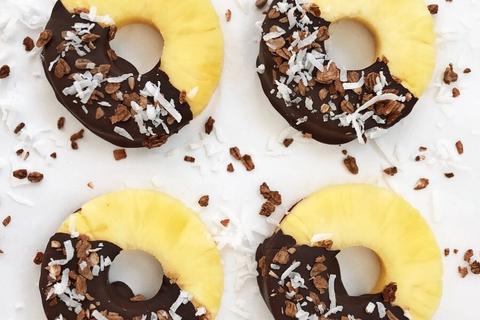 By Antoinette Rahn
I'm not always a huge fan of cooking, but I like to eat (don't we all?), so such is the case of necessity.
I think I'm least thrilled about having to cook after I've been out and about all day, be it on the hunt for rocks, visiting rummage sales with a friend, spending the day on the lake, or completing a particularly busy workday. Can you relate?
That's why I love the meal prep approach and all the wonderful recipes and handy tips others have shared for making the most of prep time in order to enjoy a tasty and healthy meal. Snacks are another place where I like to use prep time to avoid just grabbing something that may not be the best choice for me. Instead of a handful of chips or a candy bar, I have two recipes that help me stay sound in my eating and still give me an enjoyable treat or two.
And, since where I live, late spring means the first flush of humidity for the summer, I opted to go with two of my quick and cool pineapple treats. I can't tell you how splendid it is to enjoy one of these treats after I've been out digging in the dirt for part of the day. Mmmm!
Chocolate-Pineapple Frozen Treat
-Two packets of Carnation chocolate breakfast mix
-2-3 ¼ cups of crushed pineapple (no syrup)
•Mix the chocolate mixture and pineapple together in a bowl.
•Scoop the mixture into a baggie and place in freezer.
—Repeat process to use entire can of crushed pineapple.
•Chill in freezer 12-24 hours.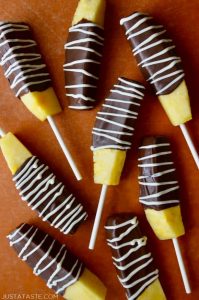 Chocolate Pineapple On-a-Stick
-Whole pineapple or pre-sliced pineapple wedges
-1 cup chocolate chips
*Optional nuts or white chocolate to drizzle or coconut flakes
-Popsicle or lollipop sticks
•Cut ends of the pineapple and trim the rind and start cutting the pineapple lengthwise-to create pineapple wedges. Place on paper towels to remove excess water.
• Insert a popsicle or lollipop stick into each wedge and place on a baking sheet lined with parchment paper.
• Melt the chocolate chips and dip wedges into the chocolate; shake slightly before transferring to the baking sheet
•Optional – drizzle white chocolate, add nuts, or sprinkle coconut before freezing.
•Place in freezer to chill for 12-24 hours.
Alternate approach: Use pre-sliced pineapple rings – dip half the ring in chocolate and freeze.
Don't forget to appreciate every moment you can enjoy food as fuel and/or for fun!