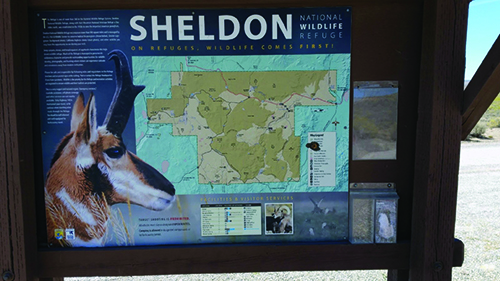 By Gary A. Monroe
I developed an interest in rockhounding a few years ago. I was watching a television show about hunting opals in Australia. I saw some pretty nice opals found under rugged conditions. I fully understood that what was on television was only the best and most exciting parts and that they didn't show all the work and disappointment. However, the little seed was planted in my mind!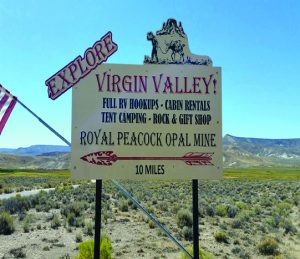 I mentioned my interest to my long-time friend Alison Betts, an Olathe Gem and Mineral Society member. The club is located in Olathe, Kansas. Alison also started watching the show. We agreed it would be an adventure, but too long and too expensive of a trip, to go to Australia. Alison started making inquiries about where to find black opal in the United States. She found that the best place to find black opals in the U.S. is in the northwest corner of Nevada. After completing extensive research on the internet and making multiple phone calls, we decided the place for us to go was the Royal Peacock Opal Mine in Virgin Valley, outside of Denio, Nevada.
A month later, I joined the Olathe Gem and Mineral Society. Then, armed with projected cost, Alison and I presented our rockhounding road-trip itinerary to the Society. We extended an open invitation to the members to join us in having an adventure at the Royal Peacock Opal Mine. While several people were interested, we had two members commit to the adventure, Barbara Crompton and Mike Purduski. With the addition of these two members, our adventure was set! With our group's average age being over 65, the excursion became "A Senior Adventure."
HITTING THE ROCKHOUNDING ROAD
We rented a van in Kansas City and loaded up the night before our departure. (Note: Rental vans from most rental companies do not include a spare tire and jack. This fact was not explained to us upon picking up the van).
On September 1, 2020, at 7:30 a.m., we set out for "A Senior Adventure" of 1,550 miles each way. With a projected drive time of 23 hours, covered by four drivers, we decided to drive straight through to the Royal Peacock Opal Mine.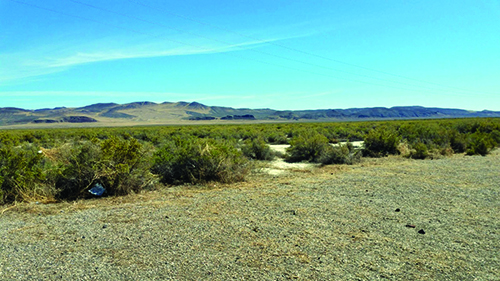 We arrived the next day, a couple of hours before check-in, and decided to drive around and explore the area. Then it happened!
We were almost back to the Royal Peacock campground when the van's low-tire indicator showed on the dashboard. We made it back to the campground and checked-in and checked all of the tires — they looked good. Then Craig, our guide at Royal Peacock, took us on a tour of the mine, giving us instructions on how to prospect the wall. While there, one of the miners showed us a very nice black opal with "fire" play-of-color that she had found that morning. That really got us pumped up!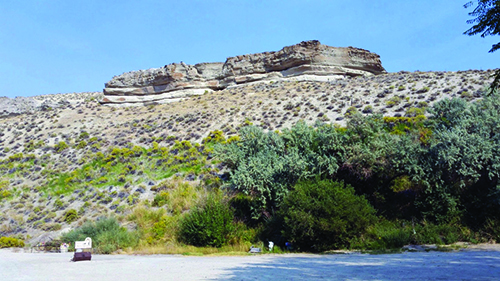 Although it was explained to us several times that it was a hit-or-miss situation, we are ready and excited for three days of prospecting!
We got back to the campground, and the right front tire of the van was flat. We were in the middle of nowhere with no jack and spare, and 158 miles from a major city. Even so, at that moment we wanted to appreciate our surroundings, so we did.
ACCOMODATION APPRECIATION
The Royal Peacock Opal Mine and Campground includes two cabins, one with two beds and one with three beds. The cabins are equipped with a gas grill and firepit. There are multiple 30 amp and 50 amp sites with water hook up and several primitive sites. The sites I liked most are located under a row of Russian olive trees. The shower houses and bathroom areas are modern and very clean! The rock/gift shop was very quaint, offering souvenirs with a large selection of jewelry, rocks, and gems available. The office is where visitors can also pick up ice and ice cream bars on the honor system. Yes, it is that kind of easy-going place.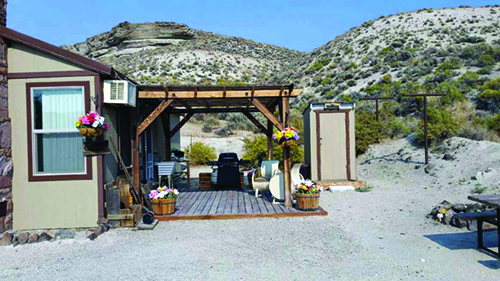 In addition to a laundry room, there are picnic tables scattered around the campground. It is a very picturesque and quiet facility with plenty of flora and wildlife. I found the staff very friendly and patient, always ready to help and to answer my rookie questions. Remember, being this is a very remote location, cell service and the internet are spotty.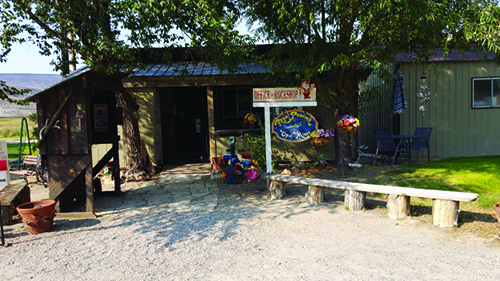 After appreciating all of our host area's wonderful amenities, we were back to dealing with the rental van situation. After cussing and discussing the situation on Wednesday morning, the rental company finally agreed to send a tow truck from Lake Tahoe to arrive at approximately 6 p.m. and take the van to the Reno airport for exchange. Alison, the primary car renter, and Barbara were to ride along to the airport in Reno, which was approximately 360 miles away. They had to stay overnight and drive the replacement van back the next day. The worst part was they missed out on two of our three days of opal prospecting due to the darn van.
ON TO PROSPECTING
On our first day of prospecting, Mike found some very nice opals, as well as some smaller opals. On my first day, I found some smaller opals but nothing to get excited about. The temperature became very warm, and there was no wind in the afternoon. We would prospect for an hour and then take a break in the truck. It provided great shade and air conditioning.
On the second day of prospecting, Mike found a few opals, but I found very little. Taking a break in the truck, we would open the doors and catch a welcome breeze. The breeze picked up in the afternoon, with a couple of small dust devils active above the wall of the prospecting area. Once, as I was leaving the truck to go back to prospecting, a larger dust devil came into the mining area, and I got caught in the middle of it. That was a unique experience for about 15 seconds. All I could do was close my eyes, put my head down, and hold on to my hard hat. Once it passed, everyone went back to prospecting.
Craig, our guide, helped the other prospectors and us a great deal. He put in a lot of work showing us the best techniques for prospecting and helping us identify the different rocks we were coming up with (false alarms) and the occasional opal. He is very patient and knowledgeable.
It was the end of the second day, a day where no one had found much, when with 15 minutes of prospecting time left, I uncovered a dime-sized opal in the wall. When I called Mike over to see it, we realized I had uncovered a large black opal. We were excited to say the least.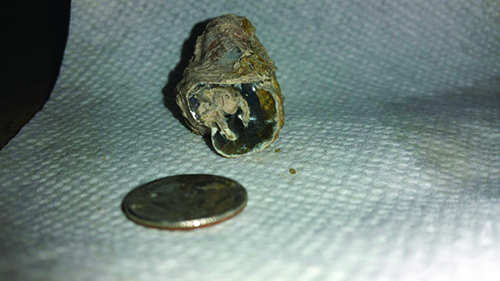 There was still some color within the wall, and I asked Mike to work it while I went and got Craig. With just 10 minutes of prospecting time left, Mike made two strikes around the color and out popped another piece of black opal, even larger than the first. We'll call it beginner's luck – but it sure was fun!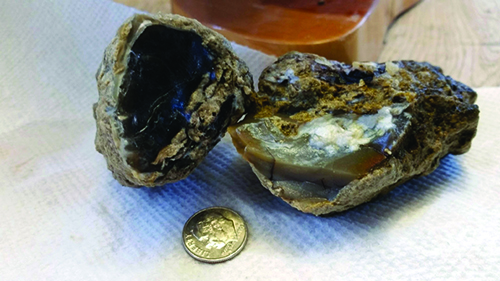 On our final day of prospecting, Alison and Barbara were back and able to join us in digging at the wall. One of the best parts of prospecting at Royal Peacock Opal Mine is that no climbing is required, as you can park a vehicle 50 feet from the mine and start digging. We felt spoiled being so close.
This may have been a "senior adventure," but the ease and quality of the mining and accommodations make it a place for all ages. Our entire group recommends this as a MUST destination for rockhounds of all ages.
**An extra-special "thank you" to Julie Wilson, owner of Royal Peacock Opal Mine, for the loan of her landline in helping us get in touch with the van rental company and lending us her pick-up truck to get to and from the mine.
Editor's Note: To learn more about the fascinating history of the family-run Royal Peacock Opal Mine, Inc., visit the Rock & Gem Digital Issues Library and download (for free) Issue 1 of "Illustrious Opals."
All photos by Gary A. Monroe
---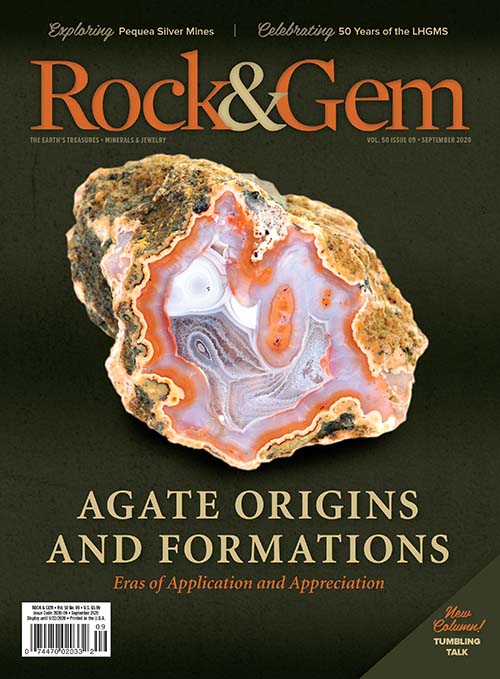 If you enjoyed what you've read here we invite you to consider signing up for the FREE Rock & Gem weekly newsletter. Learn more>>>
In addition, we invite you to consider subscribing to Rock & Gem magazine. The cost for a one-year U.S. subscription (12 issues) is $29.95. Learn more >>>
---