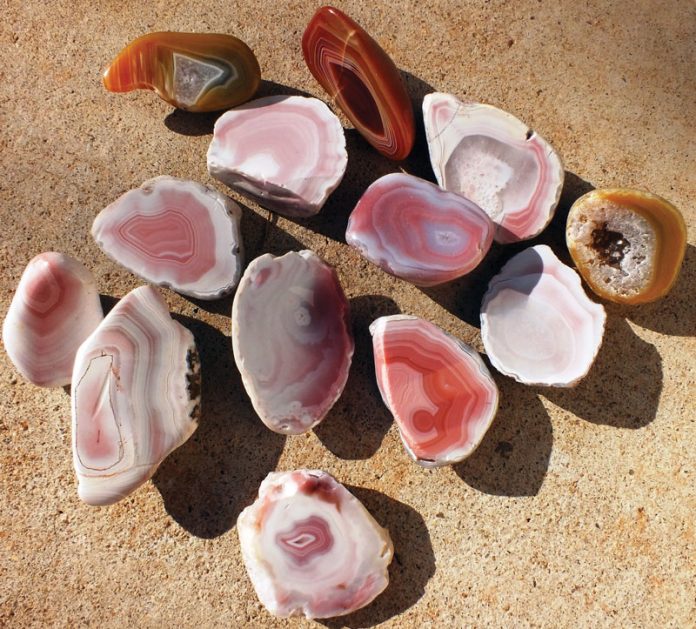 Australia's Agate Creek has been producing agate for more than fifty years. It's a popular rockhounding spot and camping area with agate that commonly displays a concentric banded pattern.
Agate Creek History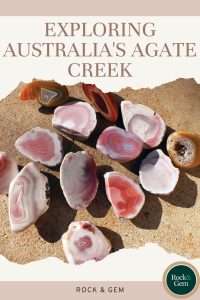 More than a century ago, prospectors explored the area around Gilberton for gold deposits. It was discovered that an abundance of amygdule-derived agates had accumulated in one of the creeks that flowed into the Robertson River. These agates were believed to have weathered and eroded from basalts of the Carboniferous age. The creek became known as Agate Creek and was first officially mentioned by W.E. Cameron in his GSQ report dated 1900. At that time, agate was thought to be beautiful but of little real value as mines in Germany and Brazil supplied the world market.
After World War II affected Germany's output, commercial mining companies began using machinery to recover sufficient quantities to make a viable operation. Agate Creek's remoteness and lack of infrastructure were against them.
Lapidary and rockhounding became more popular pastimes for hobbyists. After conflict between miners and rockhounds in the field, the Department of Minerals & Energy amended the regulations to prevent mining with equipment at Agate Creek. Anybody could use hand tools. This led to the closure of the mines and the area being declared a General Permission Area (GPA).
Agate Creek's General Permission Area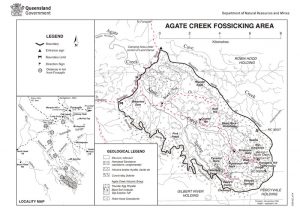 The GPA is a roughly rectangular-shaped plain of some 45 square kilometers bordered by a rim of hills. Agate Creek runs the length of it, though it is dry for most of the year. The only approach to the GPA is a gravel road that heads south from the gold-mining town of Forsayth. This road passes by the turn-off to the tourist attraction of Cobbold Gorge, so it is generally well-maintained, however, caution is required.
In 2019, a gold mine adjoining the southern boundary was opened, with the ore transported to Georgetown for processing, resulting in heavier traffic.
Camping at Agate Creek
There are two camping areas – the Agate Creek campground at the entrance to the GPA, and the Safari Camp, which is unattended and run down, situated at the far end of the GPA.
The Agate Creek campground has well-posted signs and is easy to find. It is a large flat area with enough trees to be pleasantly shady with plenty of room so campers aren't in close proximity together.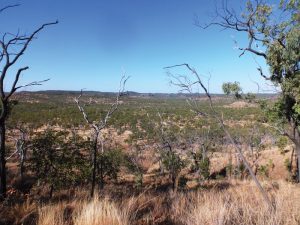 During the winter months (April to September), Agate Creek is home to upwards of 50 people, many of whom stay for weeks or months at a time. They bring generators, rock saws and other lapidary equipment to process their finds. There is ample potable bore water available and two well-appointed amenities blocks with a hot-water donkey for showers. A daily or weekly camping fee is charged by the owners of Old Robin Hood station, who own the GPA land and maintain the facilities.
You are expected to leave the required cash in the honesty box and take all your garbage home with you. Inland northern Queensland is not somewhere you want to camp in summer with hot and dry conditions and unpredictable flooding.
What is an Agate?
What are agates? According to Wikipedia, agate is a "rock consisting primarily of cryptocrystalline silica, chiefly chalcedony, alternating with micro-granular quartz. It is characterized by its fineness of grain and variety of color.'" It is a fairly common stone found in many locations worldwide, and each area tends to produce its own characteristic color range and banding effects.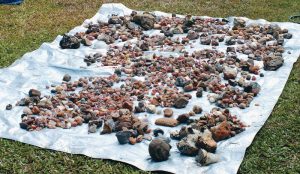 Agate experts can often identify where a specimen was found simply by examining the colors, patterns, and internal structures. Agate has a hardness of 6.5 to 7 on the Mohs scale, making it suitable for most jewelry applications. It can be carved into bowls and vessels and sculpted into decorative items.
Translucent, pale-colored agate is frequently sliced into thin slabs and dyed. These slabs are then used in various applications where the light shines through to reveal the banding effects and colors.
Agate Creek Agate
Agate Creek agate has a concentric banded pattern, but other types such as moss agate, dendritic agate, seam and tube agates, banded onyx, and sardonyx can be found. While most nodules are solid agate, others have an agate outer layer packed tightly with quartz crystals that grow inwards to fill the void.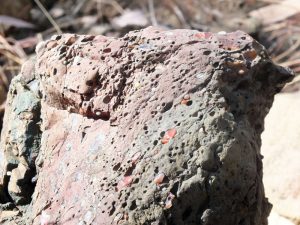 Geodes are hollow agate nodules that are often lined with crystals of quartz, aragonite or calcite. The attraction for agate-lovers is that every nodule has a different pattern and color structure – no two are identical.
Each named site at Agate Creek is known for its own particular color or design. Collecting in the creek bed will present any variation as they have been collected and jumbled by floodwaters.
Black Soil Field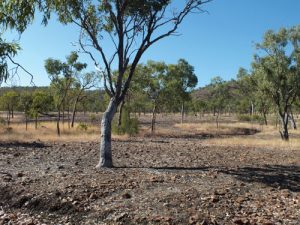 To access the GPA, turn right out of the campground gate and follow the road south, taking the left fork at the Gilberton turn-off. The first field you come to is Black Soil on the left. Black Soil is literally that – a flat plain of dark, cracked, fine silt with broken pieces of agate and quartz everywhere you look. No digging is required, so grab a bucket and start collecting. Easy pickings, indeed! These pretty little bits are great for your tumbler or cabbing, and they come in an astonishing array of colors and patterns.
It seems that this particular type of soil has a high moisture absorption ability, so when the yearly rains come, the flat plains flood with water and become quagmires. As the soil dries out, it cracks open in fissures, and this action brings the smaller stones to the surface.
Digging for Agates
For museum-quality specimens, digging is required. After a particularly heavy rain event, foraging in the creek beds will produce the odd, unexpected beauty. Agates and geodes can be found pretty much everywhere in this country – at the top of hills, in creeks, on the flats, on the sides of old riverbeds. There is a lot of untouched territory yet to be dug.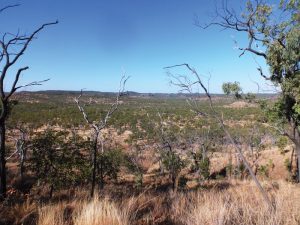 Some diggings are a sandy loam, which yields easily to the pick and shovel. Others are virgin hillside or riverbank silt/clay soil requiring the removal of boulders to access the paydirt. Rough agates, unless broken, are quite unremarkable to the untrained eye. Agates can sometimes be distinguished by their weight when held in hand. They are heavier for their size than you would expect because of their dense mineral composition.
However, if the said specimen is actually an agate or chalcedony outer shell with a lining of crystals, it may be lighter than expected and be tossed out with the rejects. It can take a while to get in the groove.
Other Areas to Visit
Crystal Hill is well worth a visit. It is located relatively centrally in the GPA, and a short walk up to the top gives you a spectacular 360-degree view of the whole plain. This is where geodes filled with white, clear, or smoky quartz, or occasionally amethyst crystals, are likely to be found.
There are other areas like 'Bald Hill,' 'Mushroom Rock,' and 'Chimneys' that are named after prominent landmarks or topography. 'Pink Patch' and 'Green Patch' are named for the predominant color of the stones found there. Some unique rock and mountain formations just beg to be photographed for their sheer majesty and uniqueness.
Tips for Collecting at Agate Creek
Be sure to pack enough buckets, boxes, or rock transport receptacles. As rockhounds know, collecting becomes addictive, and it is hard to leave a potential treasure behind. Be sure to account for the sheer weight of the material being taken home.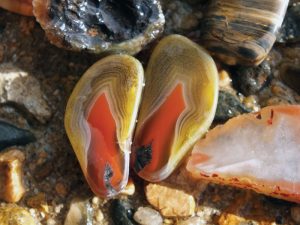 On a personal note, our camper floors were packed tight, and the back of our four-wheel drive was loaded full, leaving just enough room for the dog. Not only did we have lots of agate, but the banded jasper found in this area is also beautiful.
It is impossible to spend time at Agate Creek and find nothing worth taking home, as there are beautiful rocks everywhere you look. In fact, the official rock pile of rejects at the camping area gate itself was easy pickings.
This story about Australia's Agate Creek previously appeared in Rock & Gem magazine. Click here to subscribe. Story and photos by Jenni Clark and Leigh Twine.