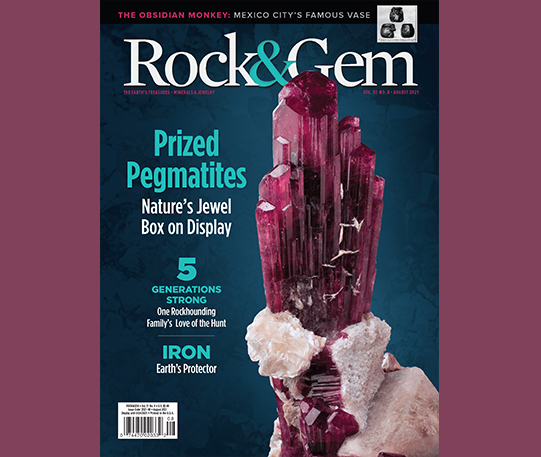 Below is a snapshot of some of the topics and interests you can expect to see in the pages of the August 2021 issue of Rock & Gem. Plus, we've included some sample pages for you to enjoy.
• PEGMATITES-Nature's Jewel Box: Granite Pegmatite Deposits Yield Gem Riches. By Bob Jones
• THE ORIGINAL "ADAM'S FAMILY": Five Generations of Rockhounds, Part I. By Janie George Duncan
• MEXICO CITY'S OBSIDIAN MONKEY VASE: By Helen Serras-Herman.
• IRON: The Earth's Protector. By Bob Jones.
• CRIPPLE CREEK, COLORADO: Tales of Telluride and Native Gold. By Steve Voynick.
• KENYAN GEM HUNTER: Vter Young is King of the Gem Jungle. By Jim Landon.
In addition, you'll find the following regular R&G columns: Bench Tips with Bob Rush, Rock Science with Steve Voynick, What to Cut with Russ Kaniuth, On the Rocks with Bob Jones, Rock & Gem Kids and Earth Science In the News with Jim Brace-Thompson, The Road Report with Helen Serras-Herman, Show Dates, and the always popular Parting Shot.