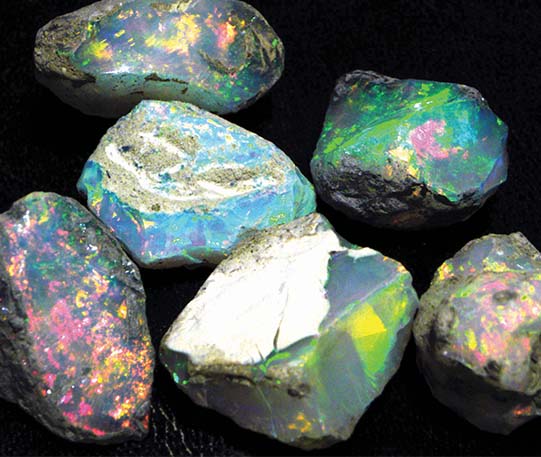 The Village Smithy Opal, Inc. is a sponsor of 


By Antoinette Rahn
For more than five decades, Stephen Newstrom has been living what he calls an "opal adventure."
This unique and rewarding life is one he shares with his wife, Darlene, and as owners and operators of The Village Smithy Opal, Inc. His rockhounding origins story mirrors that of other business owners within the industry, in that he discovered his love for rockhounding as a child.
Early Inspiration Into Opal Appreciation
"When I was young, my father and I used to take camping trips to the north shore of Lake Superior," said the native of Minnesota. "The purpose of the trips was mostly to collect the small Lake Superior agates along the shoreline, north of Two Harbors Minnesota. I cherish those memories!"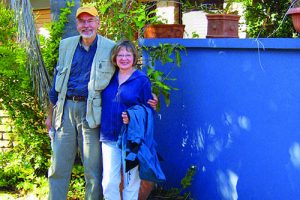 Those early rockhounding excursions created a passion that would evolve into a rewarding and successful profession. Several things along the way, including the gift of a B & I Gem Maker on his 14th birthday, and a hands-on introduction to opals, would become a source of great inspiration and the stuff of his dreams.
Part of Newstrom's introduction to opals occurred in 1964, when he was just 15, with the purchase of the popular reference, "The Opal Book," by Frank Leechman.
"While reading (The Opal Book), I had visions of a great adventure, moving to Australia and digging for opals," he said.
If reading this book inspired great excitement and intrigue in Newstrom, then the opportunity to handle an opal only enhanced his decades-long fascination with opals.
"My first exposure to opals (took place) at Hudson's jewelry store in downtown Minneapolis, and I was amazed by the beauty of opals," Newstrom recalled. "I was even able to hold one of the jewelry pieces with black opals from Lightning Ridge under bright lights, turning it from side to side, almost hypnotized by the bright multi-color flashes.
"I've always thought opals are so different from every other gemstone that they seem to come from another planet."
Jewelry Making Leads to Opal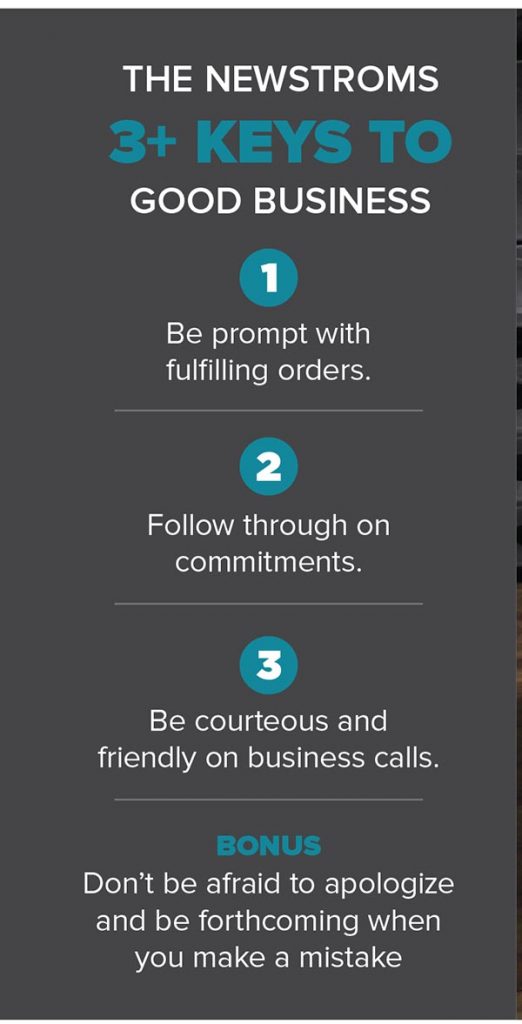 Eventually, Newstrom, who worked for many years as a service engineer for GE Medical Systems, while living in Nisswa, Minnesota, began creating gold and silver lapidary jewelry on a part-time basis, to sell at a consignment art shop. Originally, the side business he operated was Village Smithy Jewelry, but when the focus became largely about opals, Nestrom chose the name Village Smithy Opals.
The Newstroms took the first of many opal adventures to Australia, in 2000, thus fulfilling the dream Stephen held since the age of 15. Most of the trips are spent at the Coober Pedy Precious Stones Field, which is where the majority of the opal mining and production occurs, Newstrom explained.
"Typically, the opals from Coober Pedy are the classic white base opals that you see in most jewelry stores in the U.S. But the crème de la crème of opals can only be found in the Lightning Ridge opal fields. The price of a gem quality black opal with a rare multi-color fire pattern can easily exceed $10,000/carat. So, as you can imagine, most of the opals with any real promise aren't sold as rough but are cut on the opal fields and sold to buyers of cut stones — opal cabochons."
Opal Travels
In addition to Australia, Stephen and Darlene have also traveled to Ethiopia on opal buying trips. Currently, the couple has another trip to Australia planned for September of this year, but, that like many things at present, is contingent on the status of the coronavirus pandemic. During this time of quarantine, the Newstroms, who consider themselves gemstone importers, have been busy, fielding a steady stream of orders received through their company website: https://villagesmithyopals.com. Also, Stephen is spending this time of self-isolation photographing new inventory to add to the website.
This journey that evolved into a profession, has been and continues to be quite the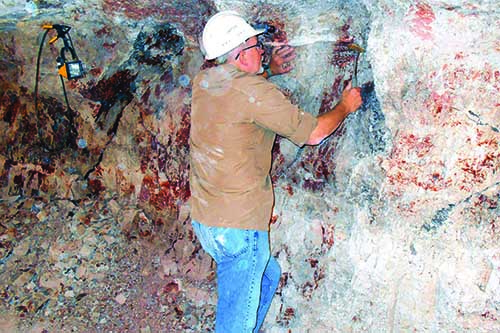 excursion, and source of joy. for the couple, who now call Billings, Montana home.
"I have so many things I could be grateful for that I could never pick just one," Newstrom said. "I am grateful for my health, that I can walk, talk, and feed myself. I am grateful for my wife and our marriage.
"I could go on ad infinitum."
Whether he and his wife are visiting Australia to buy opals, selling products through their online store, or reflecting on the good life they've built, advice given to Stephen by his father remains at the center of how he lives his life and runs his business.
"My father told me to' treat people like you'd like to be treated,'" Newstrom said. "That advice has served me well."
---
Connect With The Village Smithy Opal, Inc
Online: www.villagesmithyopals.com
Email: info@villagesmithyopals.com
Phone: 406-651-4947
Mail: P.O. Box 21704
Billings Montana
59104-1704
---