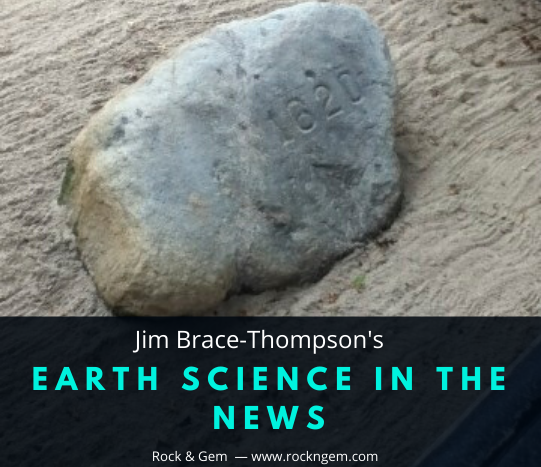 By Jim Brace-Thompson
Some rocks are more special and sacred than others. For instance, consider Ayers Rock (or Uluru) in the Australian outback, the sheer stone face of Half Dome in Yosemite, the immense slabs that makeup Stonehenge in England, or Starved Rock on the Illinois River.
On the highly populated and civilized shores of the U.S. East Coast, Plymouth Rock has long been considered a national legend and treasure.
Source of Legend and Pioneering Pride
This "great rock"—designated as the official State Historical Rock of Massachusetts—is said to mark the very spot where Pilgrims disembarked from the Mayflower in December 1620, even though this piece of granite was never mentioned in any of the writings of the original Pilgrims and is highly unlikely to have seen the footstep of even a single Pilgrim! Still, it has been more-or-less carefully tended to with the zeal often reserved for sacred objects, and it now resides within a huge granite canopy reminiscent of a Greek or Roman temple.
However, the years have not been kind to Plymouth Rock. During an attempt to move it to the Plymouth Town Square in 1774, it broke in half. Later rejoined with a prominently visible cement patch, it was inscribed with the date 1620. Over the years, other pieces have accidentally broken off or have been intentionally removed to be sold, exhibited in various venues (including the Smithsonian's National Museum of American History), or hauled away as tiny chips by tourists seeking souvenirs. It is thought that only one-third of the original rock remains within that canopy at Plymouth, and when they see it, most tourists are decidedly underwhelmed.
Despite all these assaults on its dignity, Plymouth Rock finally was thought to be protected and secure and this year was enjoying its 400th anniversary as a sacred American icon.
That was then. This is now…
Unfortunately, on February 17, a local 17-year-old high school student reportedly went on a "vandalism spree" with targets that included good old Plymouth Rock along with other local historical landmarks. The spree was captured by several surveillance cameras scattered throughout the historic district. The great rock was covered in streaks of red spray paint along with the numbers and letters "508 MOF". The suspect (whose name is not being released because he is a juvenile) has offered no motive nor any interpretation for the cryptic monograph.
All signs of the vandalism are said to have been cleaned up, so, when its deemed safe to travel about and visit such locations, tourists can come and be underwhelmed by our sacred rocky treasure.