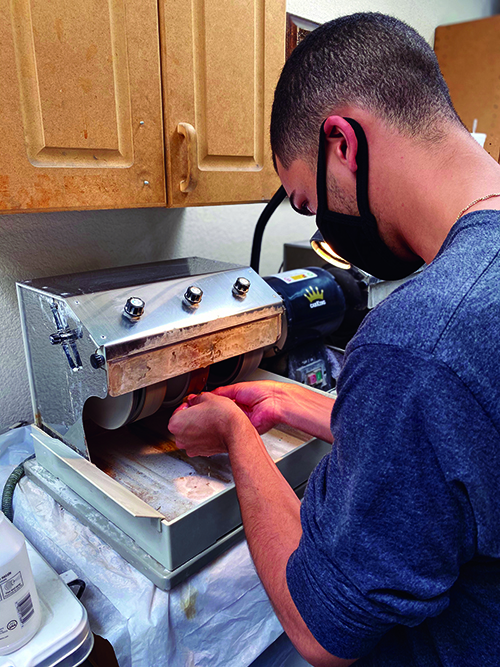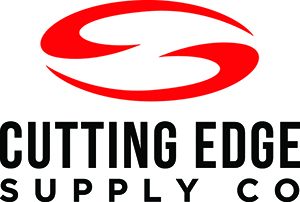 By Antoinette Rahn
Do you recall the person(s) who introduced you to geology, rockhounding, or lapidary work, or perhaps was the first to fully encourage you in developing your related interest, skills, and knowledge? Does this person know, or had they known, what their influence meant to you?
Darryl and Nick Alexander, a father-son team of gem cutters, recall those introductory years when as a young child, Nick would watch, learn, and attempt to do the actions demonstrated by his father, Darryl, an award-winning gem cutter. Today, the two continue to create similar memories while operating their recently established company, Cutting Edge Supply Co.
Cutting Edge Supply Co. provides multiple services for the gemology and lapidary community. Among these are manufacturing and selling exclusive plated/sintered diamond burs, specialty diamond papers and discs for sanding, and hard felt wheels and diamond compounds, explained Nick, who is just 19 years old. Additionally, Cutting Edge Supply Co. also serves as a distributor of equipment and supplies from the likes of Hi-Tech Diamond, CabKing, Ultra-Tec, TumbleBee, Lightning Laps, Eastwind Diamond Products, Continental Diamond, Precision Polishing, MK Diamond, and Barranca, among others.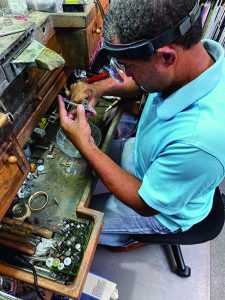 "Due to our close relationship with these suppliers, we also have products specifically made for us to brand and sell," he said. "We are also continuing to grow and add more of peoples' favorite brands."
In terms of material, Cutting Edge Supply Co. also sells rough stone they collect or acquire from a variety of locales and resources across the globe. One of the most sought-after materials they offer is sunstone.
All of this activity and knowledge may speak of a long-operating business; instead, it is that of a new business. And although the company may have launched in January of 2020, with an initial appearance at the Tucson Gem and Mineral Show®, the formation of Cutting Edge Supply Co. has been decades in the making.
A LIFETIME OF LEARNING
As mentioned earlier, Nick has had, since he was a small boy, a front-row seat to an unparalleled education in gem cutting and the importance of investing time, energy, effort, and patience to strive for one's dreams, all courtesy of his father, Darryl. A highly reputable gem cutter, Darryl has been in the industry for more than 35 years. During that time, he has amassed countless awards and accolades, including but not limited to Gemmy Awards, American Gem Trade Association Cutting Edge Awards, and being a featured artist at the Lizzardo Museum of Lapidary Art and the Headley-Whitney Museum.
As they say, the apple doesn't fall far from the tree, and Nick' work reflects that statement, but it is also an example of the evolution that takes place between generations built on respect and support. While the Alexanders debuted their new business at Tucson, it wasn't the first time that Nick worked his own booth at the show. He accomplished that feat at the age of 14. As a member of a new generation of gemstone cutters, lapidary artists, and rockhounds, Nick continues to see how people are putting their own twist on things and bringing the industry more online.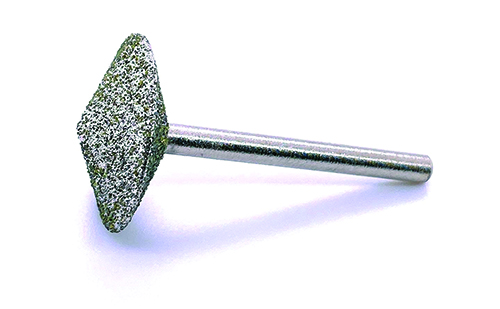 Just as Darryl received immense encouragement and support from his parents, so too has Nick. In the Alexander family, the practice of supporting one another in various pursuits is part of the familial legacy, carried on by Darryl, his wife, Linda, and their seven children, including Nick.
It's that same sense of supporting one another that is part of the foundation of service the men provide their customers and partners.
"We think that giving our customers a wide range of options for them to choose from is very important," said Nick. "That is why we produce a couple of different types of our own and offer many others. We allow our customers to try new and different products to find what they want or like."
STAYING UNITED AND STRONG
In times such as the unpredictable and unusual year that was 2020, establishing and maintaining connections to provide quality service was essential and required an innovative and committed spirit.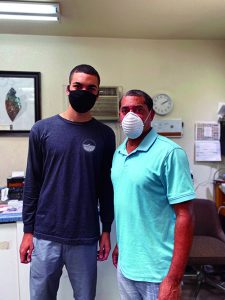 "Since we are a new company, times have been very interesting. It has been unpredictable and all over; however, our strong clientele has been a massive support," reported Nick. "It is a small industry, and staying united and strong has proven to be the most effective defense against these crazy times."
He went on to say, "We have made sure to take many precautions to ensure our customers' safety and well-being, as well as ours. We have used alternative shipping methods to ensure the safety of packages and kept strict watch on all of our orders to make sure they find their new homes safely."
They may often be in the shop until the wee hours of the night working on cutting techniques and reviewing and testing equipment and tools to share their experiences with customers. And, hopefully, they'll again soon be attending shows and digging for stones that they will patiently and precisely cut. Yet, regardless of what they are doing, there's no question a sense of wonder and respect is present between this duo who believe in and exemplify the power of cooperation.
---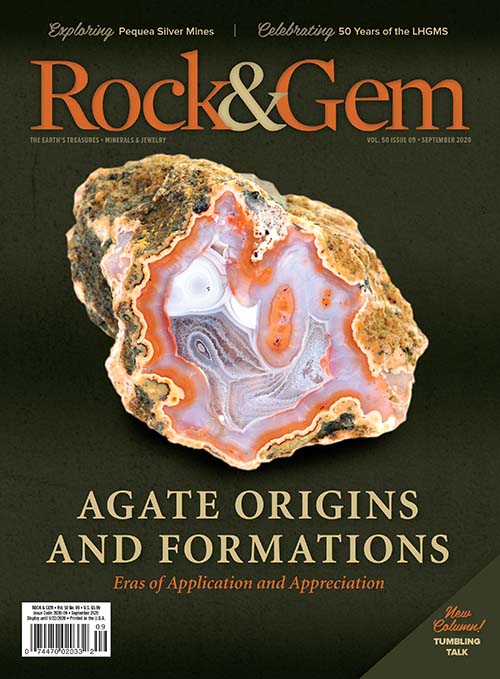 If you enjoyed what you've read here we invite you to consider signing up for the FREE Rock & Gem weekly newsletter. Learn more>>>
In addition, we invite you to consider subscribing to Rock & Gem magazine. The cost for a one-year U.S. subscription (12 issues) is $29.95. Learn more >>>
---