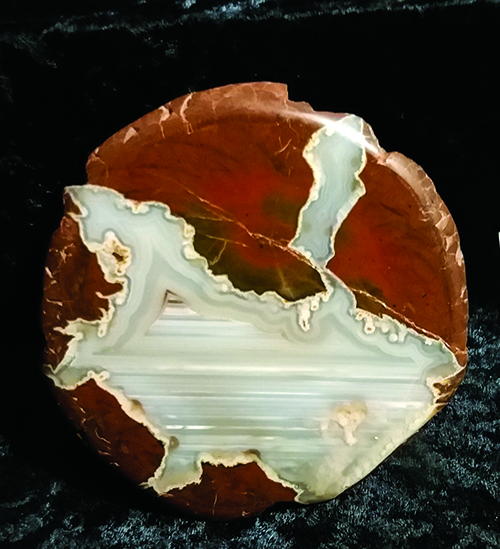 By Antoinette Rahn
Sometimes all it takes is one moment, one look, one opportunity, or a single object to change the trajectory of a life.
Birgitta Cabo Galindo's journey as a collector of rocks, gems, minerals, and fossils, is an example of this. A global example, if you will.
Galindo, who lives in Sweden, is the proud owner or custodian, which is a bit more in line with how she sees her role as a collector, of around 2,250 specimens. Although her introduction to rock, gem, mineral, and fossil collecting occurred during a mineral show in 1996, it was a chance encounter in 2012 with a dealer selling thunder eggs that changed everything.
Appealing Appearance
"I saw a strange light rock with a black, brown and red pattern and I bought it. My first German t-egg," Galindo explains. "And from that day I was sold, and I started chasing t-eggs and agates."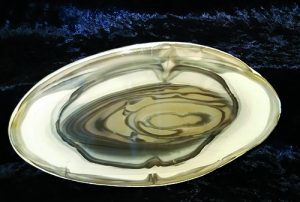 At present, her collection includes 604 thunder eggs from 13 different countries, including specimens from the Warm Springs Indian Reservation, located in north central Oregon. Galindo is particularly proud and grateful for having acquired the thunder eggs from the private reservation.
The Native American legend of the thunder egg origins is part of the appeal. "The native people believed the rocks were eggs from the thunderbirds occupying Mount Hood and Mount Jefferson in Oregon," she explains. "And some angry Thunder Spirits hurled the eggs at each other."
Galindo explains further, "It fascinates me that in spite of their ugliness they can be so beautiful inside. What interests me most is the variety. They are different, in color, pattern, inclusions, and hollow or not hollow.
"And of course the geological process of how they were made is interesting."
Global Collection
Making up the balance of her collection is 471 cabochons, 295 agates from 27 countries, a few examples of petrified wood, slabs, an estimated 120 fossils, and a few skulls.
Like many of her contemporaries, Galindo finds and acquires specimens for her collection in many different places. It's part of the hunt and one of the many enjoyable aspects of being part of the rock, gem, mineral, fossil, and lapidary community.
"I'd say that half of my collection I've purchased at shows in Sweden, and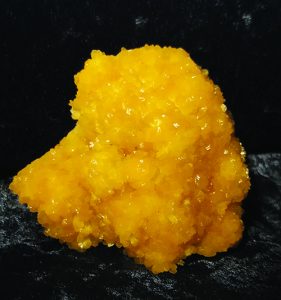 the other half I acquired from different websites, Facebook groups (which there are many)," she says.
While each specimen in her collection mean something special to Galindo, some also represent memorable moments as well. Such is the case with some of the thunder eggs in her collection, which she proudly dug herself at Richardson's Rock Ranch in Oregon.
"My friend and I went on a five-week road trip in the western U.S," she explains. "He wanted to buy car parts and I wanted to go to Oregon to dig some thunder eggs at the ranch I had read about. We spent one year planning for the trip."
Making Plans for Another Visit
While they were in the region the duo visited Death Valley, Yosemite, the Grand Canyon, and many other interesting places, Galindo states. She's also pretty certain they will return to the U.S. for another such road trip in the future.
While rock, gem, mineral, fossil, and lapidary interests appear to be growing in her region of the world, Galindo reports, it's still a lesser-known interest compared to other parts of the world.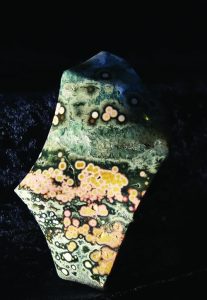 "I think it has increased, as there is more selling on the Internet, but I also think there are the 'rock people or rockhounds' and then there are those who haven't got a clue about rocks and gems," she adds. "We will never reach the interest of that of the U.S.
"My cabs are mostly cut by Americans and the pricing is also American. In Sweden, I buy them for half price or less. Unfortunately, There are not many (lapidaries) in Sweden like Russ, Erin, Rick, Lorrie, Lexx, Clint, Chuck, Darryl, Alva, Jerry, Karen, John, Keith, Kinney, Levi, Troi, William and all the other amazing cabbing artists I've bought from."
Display Details
With a collection of this size, the act of displaying and storing the specimens can be challenging. When asked to share the biggest challenge, Galindo had this to say…
"What I've learned about displaying is that I soon will run out of space," she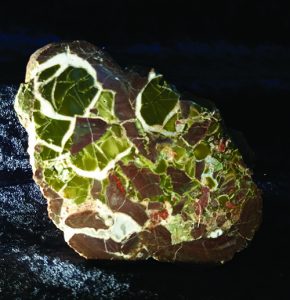 said. "I want to have them so I can see them on a daily basis, so the majority are in my living room — on shelves, on the wall, and on tables. "
Although her children and grandchildren often tell her that her house resembles a museum, Galindo says she doesn't mind, not one bit.
"(The specimens) are beautiful to look at, and they make me happy."