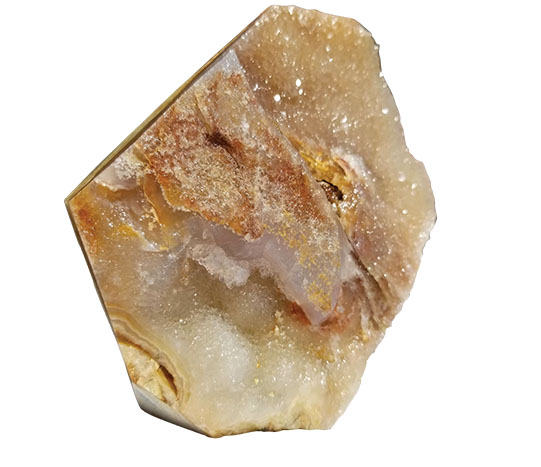 SPECIMEN: Druzy agate
MEASUREMENT: 4 x 6 inches
LOCATION DISCOVERED: Vancouver Island, Nanaimo, British Columbia, Canada
ROCKHOUND: Sterling Gagnon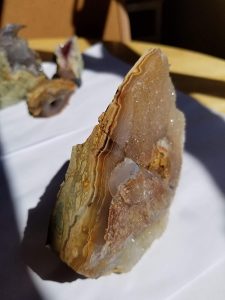 HOW LONG HAVE YOU BEEN A ROCKHOUND AND HOW DID YOU GET STARTED?
Sterling Gagnon: I always kind of liked rocks growing up, but in the last few years I've been hard rock hounding and finding gems with my wife, Myliss Gagnon.
IF YOU WERE TO DESCRIBE THE APPEAL OF SEARCHING FOR, COLLECTING, AND ADMIRING ROCKS, GEMS, AND MINERALS, WHAT WOULD YOU SAY?
SG: I love the suspense of digging for crystals and other minerals and rocks. There's nothing better than the feeling of opening up a pocket and pulling out these 'gems.' It's great to get outside, into the fresh air, and enjoy a workout finding the world's treasures like these agates we've been hounding.
These agates are super rare for around here. I also want to give a shout out to Kevin Copeman as well for always helping out other rockhounders with tips and places to dig.
---
Do You Have a Dynamic Dig Discovery to Share?
We welcome photos and stories about the rocks, gems, minerals, and fossils you come upon during digging excursions, mine explorations, and whatever other means you use to examine the rockhounding bounty the earth provides. To participate, you'll need to submit the following information:
• Your name (initials are fine).
• The identity of the specimen you've discovered and include a photo if possible.
• Measurement of the specimen.
• Location (county or region and state) where you made the discovery.
• Length of time you've been a rockhound and how you got started.
• How would you describe the appeal of searching for, collecting, and admiring rocks, gems, and minerals?
Send your responses to these questions, along with 3-4 high resolution photos of the specimen at the specimen, to arahn@beckett.com.