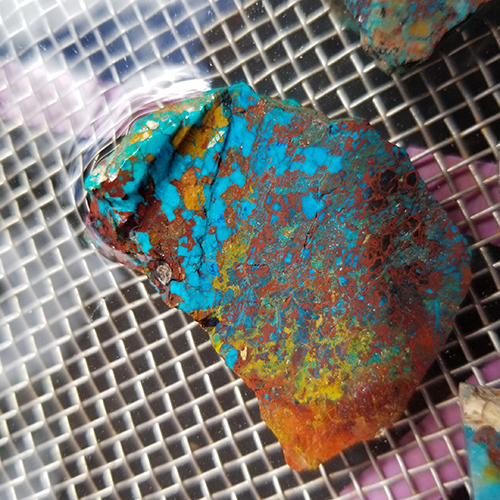 Editor's Note: Enjoy this latest Dynamic Dig Discovery profile and be sure to check out the end of the article to learn how you can share the story of your dynamic dig! 
ROCKHOUND: Carl Moran
SPECIMEN: Bisbee turquoise
MEASUREMENT: About 8 inches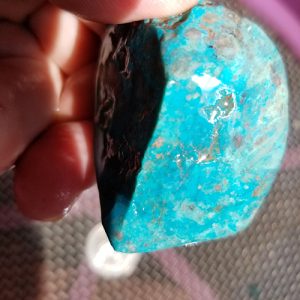 LOCATION DISCOVERED: I found it on Nov 11, 2017, within 50 miles northwest of Bisbee, Arizona.
It was in an old tailing pile next to an abandoned shallow mine. This find includes Chrysocolla turquoise gem silica, azurite, among others. It's showing green turquoise in places, and colors I've never seen. As a prospector, I learned to follow the movement of the tectonic plates. If something occurred once it occurs again with the movement of the plates.
HOW LONG HAVE YOU BEEN A ROCKHOUND AND HOW DID YOU GET STARTED?
I've been a passionate rockhound for over 25 years. I got started one day when my father-in-law said to me "We're not doing nothing on the weekends, do you want to go find gold?" After that, we joined rock clubs then one day on an outing I met my friend and mentor, miner Blue Sheppard of Gems of Pala. I could see the passion in his eyes and the rest is history.
IF YOU WERE GOING TO DESCRIBE THE APPEAL OF SEARCHING FOR, COLLECTING, AND ADMIRING ROCKS, GEMS, AND MINERALS, WHAT WOULD YOU SAY?
For me, it was like an instant love. It's the thrill of the find.
Spending time among Mother Earth and her gifts of splendor. The adventure and a love for the deserts, wilderness, and sunrises and sunsets in all their beauty, fill my heart. I just want to get my story out, to encourage others never to give up on their dreams.
---
ARE YOU INTERESTED IN SHARING A DYNAMIC DIG DISCOVERY?
We welcome photos and stories about the rocks, gems, minerals, and fossils you come upon during digging excursions, mine explorations, and whatever other means you use to examine the rockhounding bounty the earth provides.
To participate, you'll need to submit the following information: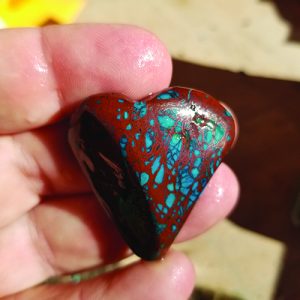 • Your name (initials are fine).
• The identity of the specimen you've discovered and include a
photo if possible.
• Measurement of the specimen.
• Location (county or region and state) where you made the
discovery.
• Length of time you've been a rockhound and how you got
started.
• How would you describe the appeal of searching for, collecting,
and admiring rocks, gems, and minerals?