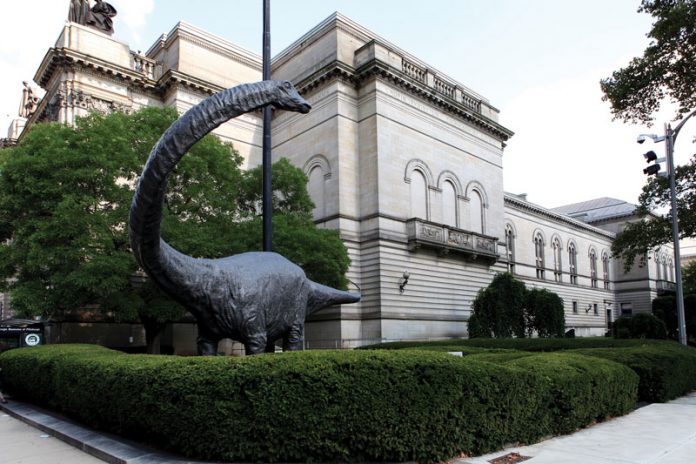 Originally funded by Andrew Carnegie and opened to the public in 1895, the Carnegie Museum of Natural History (CMNH) is one of the four Carnegie Museums in Pittsburgh and is one of the top natural history museums in the country. With over 20 exhibitions including Native American, Ancient Egypt, the Benedum Hall of Geology and the working paleontological lab, there's something for everyone.
Greek Silver Mines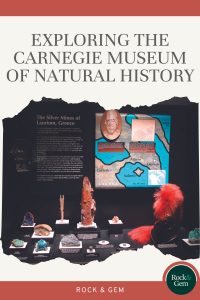 I appreciated the richly colored exhibit called The Silver Mines of Laurium, Greece including silver-ore minerals and ancient Greek silver coins, even with a fifth-century Corinthian-style helmet replica. The exhibit tells the history of how the Laurium silver mines strengthened Athens' naval forces and helped to usher Greece into its Golden Age.
The Carnegie Museum of Art
The Carnegie Museum of Art (CMOA) is housed with the Natural History Museum in a separate wing. The over 30,000-item collection of contemporary art includes paintings, sculptures, prints, drawings, photographs, decorative arts and design, and film, video and digital imagery.
Two beautiful halls, the Sculpture Hall inspired by the Greek Parthenon and the Hall of Architecture which holds a huge collection of casts and reproductions of famous sculptures, are among the museum's highlights. A well-stocked gift shop has something for everyone and the CMOA's Café Carnegie has a beautiful view of the outside water fountains.
Stunning Specimens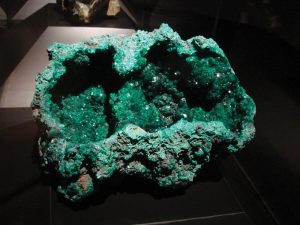 We loved the huge native copper specimen from Michigan's Keweenaw region. According to the label, this is a float copper specimen from about 70,000 years ago, when chunks of pure copper were torn out of the bedrock and carried along within the moving glacier's ice. The specimen weighs 2,200 pounds. It was found in 1956 in a field south of Houghton, Michigan.
We were attracted to the large blue-green cuprian calcite stalactite specimen (CM29330) from the Copper Queen Mine in Bisbee, Arizona, on display in Masterpiece Gallery. The specimen measures 44 x 35 x 33 cm. The calcite's beautiful formation is reminiscent of ice formations in the arctic and falls under Henry Hillman's sculptural concept of minerals. This stalactite/helictite was on display at the Columbian Exposition in Chicago in 1893 as part of the Copper Queen Mining Company display. CMNH acquired it in 2007.
Stunning is also the double geode of dioptase (CM15874) with crystals up to 1.5 cm, from the Renéville District in the Republic of Congo, on display in Masterpiece Gallery. The specimen measures 31 x 22.5 x 13 cm.
Pegmatite Gems
The Pegmatite Gem Pocket is a reproduction of a gem pocket from the Stewart Mine in San Diego, California. It shows how pegmatite pockets formed with mineral crystals formed and are discovered in the mine and the crystals they may hold including the common minerals of quartz, feldspar and mica, and the precious tourmaline (pink elbaite and black schorl), beryl, topaz and kunzite. The exhibit also points to the importance of mining pegmatite minerals, which are used for electronic components, metallurgical alloys, radioactive products and ceramics. It highlights their importance as mineral specimens and gemstones.
The Hillman Hall of Minerals & Gems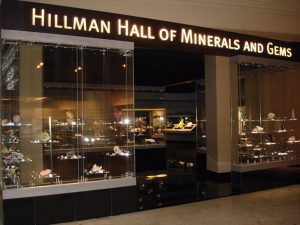 The Hillman Hall of Minerals and Gems opened in 1980 through the generosity of Henry Hillman who envisioned a mineral exhibit with "minerals exhibited in a manner of sculptures, shown for their beauty, physical properties and economical uses." This concept is still in effect today.
The Hillman Hall of Minerals and Gems collection includes more than 30,000 specimens, with over 1,300 mineral specimens from all over the world on exhibit. Thirteen hexagonal glass cases on black pedestals hold the Systematic Mineral Collection and create a dazzling display with brightly colored minerals and fascinating formations.
Minerals are systematically displayed based on their chemical composition. The bright orange colors and delicate crystal formations of the wulfenite minerals –a molybdate of lead – make them among the most popular specimens. Everything is carefully labeled with information about the specimens' chemical composition, origin and locality. A dramatic display of fluorescent minerals is transformed under ultraviolet light.
The Hillman Hall of Minerals and Gems evolved under the previous Collection Manager and Head of Minerals Marc Wilson (now retired after a 25-year-tenure since 1992). His wife, Debra Wilson, took over as Collection Manager in 2017.
Dinosaur Exhibit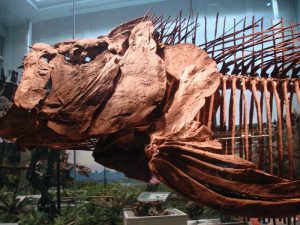 Dinosaurs in their Time includes fossils from the Mesozoic Era known as the Age of Dinosaurs. More than 230 objects are displayed in scientifically accurate reconstructions together with other animals of the time in their ancient flora habitats, adding a realistic element of nature.
Over 75% of the dinosaur skeletons are original fossils, not replicas. In the Jurassic gallery, are the famous Apatosaurus louisae (the Late Jurassic sauropod dinosaur from the Morrison Formation named after Andrew Carnegie's wife Louise), and the Diplodocus carnegii (named after Andrew Carnegie), nicknamed Dippy and discovered after the 1890's expedition to the Western United States. These dinosaurs are holotypes.
There are also great fossils of Allosaurus from Dinosaur National Monument in Utah, Stegosaurus and Comptosaurus. In the Cretaceous gallery, two enormous Tyrannosaurus rex fossils face each other. One is a holotype specimen, shown with its head lowered in a defensive position over a hadrosaur carcass. It was discovered in 1902 and bought by the Carnegie Museum in 1941. Several dinosaur species which lived together such as the Cretaceous Didelphodon and the larger Triceratops, whose fossils were found together, are displayed together.
All Things Pennsylvania
Inside the Wertz Gallery, the Cut & Polished Pennsylvania Gems & Minerals exhibit features gems, jewelry, gemstones, cabochons, polished spheres and carvings made from minerals unearthed in the state of Pennsylvania. Among them, is a type of hard coal known as jet, and williamsite (the highly translucent gem variety of antigorite or serpentine) found along the state line with Maryland in Lancaster County's Chromite District. Williamsite was named after mineralogist and geologist Lewis White Williams, of West Chester, Pennsylvania.
Several faceted gemstones of quartz, amethyst, aquamarine and titanite are on exhibit along with cabochons of malachite, blue quartz, sunstone, amazonite, a polished sphere of copper and quartz, and blue quartz. Two other cabochon pieces on exhibit — epidote and cuprite in silicified rhyolite — are self-collected and cut and polished by the famous John Sinkankas, the 1988 Carnegie Mineralogical Award winner.
Personal Specimens on Display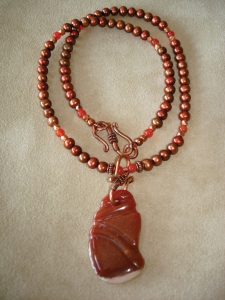 My husband and I are honored that several specimens from our collection are part of the CMNH permanent collection, including a huge Brazilian agate slab (part of the Mineral Slices illuminated entry display) and two rainbow suites with faceted sapphires from Montana, one of which is now mounted in a necklace.
Also from our collection, is a suite of four sunstones from Oregon (three faceted), a cabochon of chrysocolla, malachite and atacamite from the Tiger Mine in Arizona, a pendant with bright natural turquoise from the Hachita Mine in New Mexico, and a necklace featuring the rare flint occurrence from the Greek island of Kefalonia.
They also appreciated eleven consecutive slabs, which we slabbed from a whole agate nodule from the Rio Grande do Sul, as a great educational exhibit. Every year the CMNH participates with a special case at the annual Tucson Gem & Mineral Show® sponsored by the Tucson Gem & Mineral Society. Make sure you spot their case next year when the 2022 TGMS® show returns!
Minerals of Pennsylvania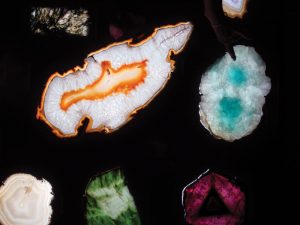 A special section is dedicated to minerals from Pennsylvania. The collection includes a historically important suite of about 5,000 Pennsylvania minerals formerly owned by the Academy of Natural Sciences in Philadelphia and another 2,700 Pennsylvania minerals acquired from the Byron Brookmyer collection. (Photo is a close-up of the Mineral Slices illuminated entry display seen from inside the Hillman Hall.)
The Wertz Gallery of Gems & Jewels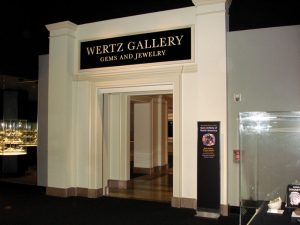 The Wertz Gallery of Gems & Jewels opened in 2007 and is a 2,000-square-foot addition to the Hillman Hall of Minerals and Gems dedicated to natural gem specimens that have been crafted into finished gemstones and jewelry. The Wertz Gallery is named after Ronald W. Wertz, a longtime President of the Hillman Foundation. The Wertz Gallery's collection comprises 631 gems, crystals, and jewelry including a birthstone display, amber and large diamonds. Special exhibitions often take place in this gallery. No photography is allowed inside the Wertz Gallery.
For the Carnegie Museum of Natural History please visit www.carnegiemnh.org or call (412)622.3131.
This story about the Carnegie Museum of Natural History previously appeared in Rock & Gem magazine. Click here to subscribe! Story and photos by Helen Serras-Herman.