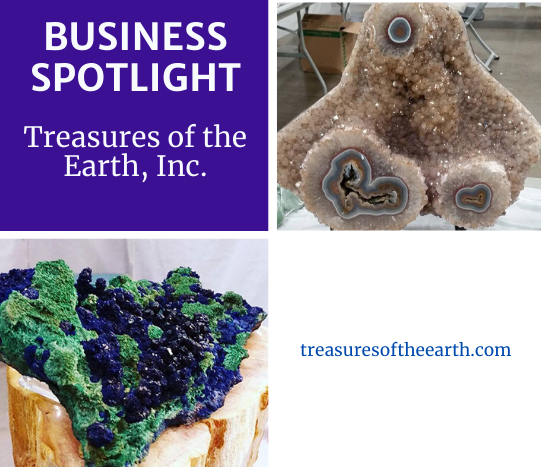 By Antoinette Rahn
From the Editor: We are connecting with our regular advertisers during this time of self-quarantine in response to the COVID-19 pandemic, to learn how they are spending this time, discover more about them and their business.
Decades-Long History of Show Promotion
If you've attended a mineral show, not sponsored by a club, in Virginia Beach and Richmond, Virginia, Raleigh, North Carolina, or Ocean City, Maryland, it's very possible you've experienced a Treasures of the Earth show.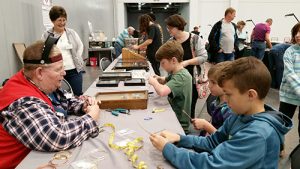 The business itself has served the rockhounding, lapidary, and mineralogical community for nearly 40 years. Since 2014, Jane Westbrook and Ellen White have owned and operated this iconic mineral show.
With the lockdown restrictions and quarantine protocols in response to the COVID-19 pandemic, Treasures of the Earth show schedule is on hold at present. However, as Ellen White explained, their team is continuing to keep in touch with vendors and customers via Facebook and other communication methods.
Holding to Hope
"(We) look forward to resuming shows, hopefully, in the not-too-distant future," White said.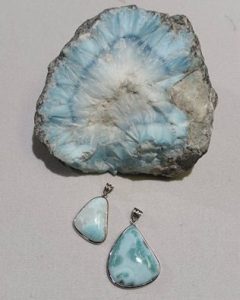 Before the onset of the COVID-19 pandemic, Treasures of the Earth was seeing an active, energetic, and encouraging market among the vendors with whom they work. Many vendors returned from the start-of-the-year buying trips to Tucson with a lot of great new merchandise, according to White. Among the highlights are rare finds in gems, mineral specimens, as well as stunning custom-crafted jewelry and Tahitian pearls and gemstone beads.
"Jane and I can't wait to see all of these new and exciting pieces," said White. "Our shows also include wire-wrapped designs, gorgeous gemstone trees, a large selection of fossils, and beautifully custom-crafted snow globes featuring carefully selected minerals."
As the Treasures of the Earth staff work to prepare for the day when people are able to gather together once again and attend events like mineral and gem shows, they urge all to follow recommended measures to prevent the spread of the virus and stay connected.
---
Get In Touch With Treasures of the Earth
Online: www.TreasuresOfTheEarth.com
Phone: 804-642-2011
Email: Ellen@treasuresoftheearth.com
---