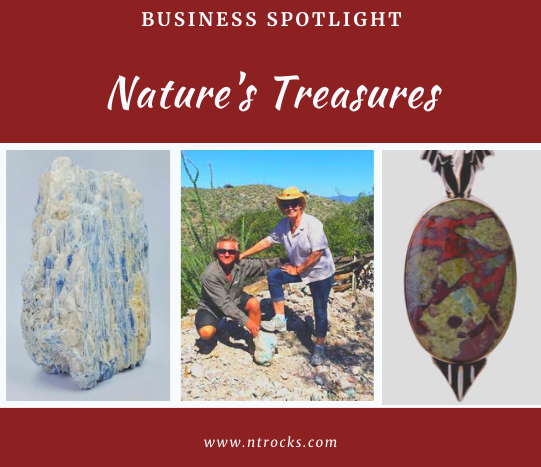 By Antoinette Rahn
From the Editor: We are connecting with our regular advertisers during this time of self-quarantine in response to the COVID-19 pandemic, to learn how they are spending this time, discover more about them and their business.
Nature's Treasures is designed, as described by owner Karen Richards, to be a blending of science and spirituality. It's a business that fosters community — through the retail shop, activities and special events that take place on Nature's Treasure campus, and now, more than ever, through the company's online store and virtual connections.
It's been 20 years since Richards started the business, which has become a community hub, both in its hometown of Austin, Texas, and online. Undoubtedly, Nature's Treasures (www.ntrocks.com) is the product of years of hard work, planning, saving and investing, and collaboration. Still, it is also the result of dreams, a deep-rooted belief in the importance of community and the immeasurable value of nature, and the power of faith.
Celebrating and Supporting Nature
When asked by the public what Nature's Treasures is about, the usual response is it's a retail shop geared towards educating the general public on rocks, minerals, fossils, crystals, and the great ways to reconnect with nature, by inviting her into one's home, explains Michael Kallstrom, Nature's Treasures retail store manager. This mindset is at the core of who Richards is, as someone who has always drawn on Spirit and Mother Nature for inspiration and guidance, resulting in the belief that by blending science and spirituality, one can have the "best of both worlds," Kallstrom added.
As mentioned earlier, during this time of quarantine in response to the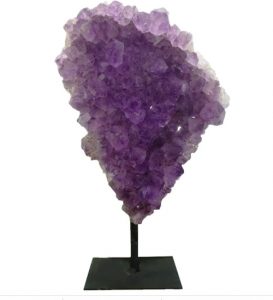 COVID-19 pandemic, Nature's Treasures continues to serve the needs of customers with varied interests through its active online store and social media platforms. Before isolation orders, Nature's Treasures team practiced strict capacity restrictions and social distancing guidelines, extensive disinfecting and cleaning throughout every day, and encouraged online shopping and curbside pick-up, Kallstrom said. Since closing the doors to Nature's Treasures physical shop and campus, the team has added a record number of products to their store, with new items added several times a week. Also, a new service offered is personal shopping arranged via Nature's Treasures Facebook page.
With many staff not currently working on-site, many have eagerly helped spread the word about the online shop. Also, like many businesses across the nation, Richards and leadership have researched the CARES Act to see what resources are available to help the company provide for employees during this time, including if it means having to reach into the business reserves to do so in the meantime, Kallstrom stated.
Service to Others and Community
We asked the Nature's Treasures team a few additional questions to learn
more about the business, personalities, and the overall commitment to supporting people's desire to learn about, study, be part of, and appreciate nature to the fullest.
Rock & Gem: Who or what is one of the greatest sources of inspiration for you, and why?
Michael Kallstrom: Karen Richards, owner of Nature's Treasures, has always drawn on Spirit and Mother Nature for inspiration and guidance. By blending science and spirituality, Karen believes that you can have the best of both worlds.
RG: What is the best piece of advice you've ever received?
MK: Don't put your eggs all in one basket! Having had run several businesses, Karen Richards knows the value of branching out. With this experience, on a typical day, we offer retail shopping, bulk shopping, online shopping, lapidary services, and even a community event center available for rent to house family-friendly and educational events.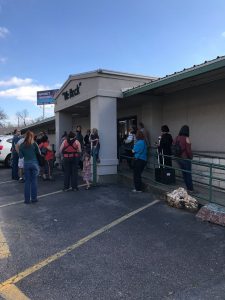 RG: What is one thing for which you are most grateful?
MK: During any time of trial, we have always been deeply touched by the family we have established at Nature's Treasures. The kindness and support of customers as well as the eagerness of employees to pitch in — however they can — make it possible for us to give back to the community and our employees, respectively.
RG: Think back to when you were a child, what was one of your favorite things to do, and what made it special?
MK: As a child, I loved going to rock and crystal shops, even when road tripping. My interest in gems and minerals first began with my dad, who used to travel frequently to the Southwest for work. After every trip, dad would bring me back a crystal or mineral and the Native American legend behind it. From that point on, I had a passion for the stones. My fascination with the natural sciences grew, leading me to earn a Bachelor of Science and Master's degrees in geology. While expanding my scientific knowledge of the stones, I also maintained my passion for the spiritual benefits of them. Now I manage all aspects of the business, and I am happy being able to continue to learn, express, and share with my second home and family at Nature's Treasures.
---
Get In Touch With Nature's Treasures
Online: ntrocks.com
Phone: 512-472-5015
Email: Rocks@ntrocks.com
Facebook: https://www.facebook.com/NTRocksTX
---