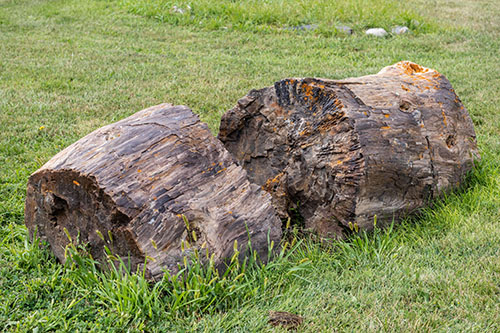 ADVERTORIAL
By Antoinette Rahn
What do 80 tons of Black Hills petrified wood, rare minerals and agates, and a variety of fossils have in common?
They are all part of a collection set to sell, after dutifully serving as a part of the legendary Badlands Petrified Gardens, a popular roadside attraction in Kadoka, South Dakota.
After 64 years of operation in Kadoka, this tourist season was the last in the storied history of this uncommon showplace of earth's geological bounty. The closure of the attraction creates a unique opportunity for someone with an interest in rocks, minerals, and fossils to acquire an impressive 10,000-piece collection.
Legendary Collection
For realtor Jim Hoag, owner of West River Realty, the firm handling sale of the Badland Petrified Gardens collection, it is a bit of a bittersweet experience.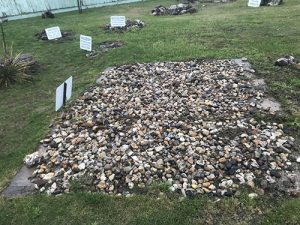 "It has been a great learning experience. I have learned so much about rocks, fossils, and gems, and it's been fascinating to learn about the close-knit community of rock and gem hounds," Hoag said. "Being from the Black Hills area it will be sad to see a gem like the Badlands Petrified Gardens close. I am proud to be part of making sure these rocks, fossils, and gems go to a good home or museum where they can be enjoyed and possibly be part of a teaching community, long into the future."
Education and community have been at the core of this attraction since conception. According to information in an article by Elizabeth "Liz" Meighen published in the Kadoka Press, the concept that would become Badlands Petrified Gardens began with logger Hugh Fugate, the grandfather of the Gardens' current owners, siblings Bob, Bill, and Patty. While working the forests of Rapid City, South Dakota in the first quarter of the 20th century, Hugh reportedly discovered petrified wood, which captivated his attention. Entering into a partnership with a friend, Hugh purchased property near Piedmont, South Dakota, where petrified wood was abundant.
Family Tradition
By the time Hugh's son Edgar, father to Bob, Bill, and Patty, was a young man and logger he was quite knowledgeable about the forests of South Dakota and shared his father's fascination with petrified wood. In 1938 the Fugate men decided to transform their interest into an opportunity, and they opened Black Hills Petrified Forest near Piedmont, South Dakota. From 1938 until 1955, the unique attraction operated in this location, until construction of Interstate 90 prompted the Fugate family to make a change.
After relocating their family to Kadoka, Edgar and his wife Floy, reopened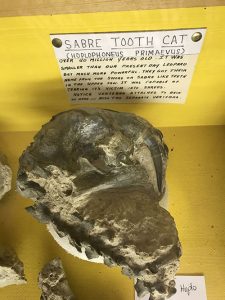 the gardens, renaming it Badlands Petrified Gardens. Over the decades, the Fugate family added to the collection, treating each specimen with care and respect, while welcoming visitors from around the globe to their slice of geologic paradise.
Among the variety of items within the collection, which is being sold as a single lot, is a multitude of agates — including local favorite Fairburn agates, crystals, ammonites, baculites, scaphites, calcite, barite, geodes, fluorite, malachite, an abundance of petrified wood specimens, and a bevy of fossils of animals that roamed the earth as long ago as 2500 million years ago.
Early interest in the items of the collection has been exciting, reports Hoag.
"The saber-tooth cat (fossil) has piqued the interest of both collectors and museums. The agate part of the collection is also extensive and impressive; featuring many of our local Fairburn agates."
He continued, "Plus, there are the large sand crystals from our local Badlands, and of course, the 20-foot petrified log that has exquisite details of knots, bark, and rings."
For more information about the collection and to view the price, visit http://www.badlandspetrifiedgardensforsale.com.