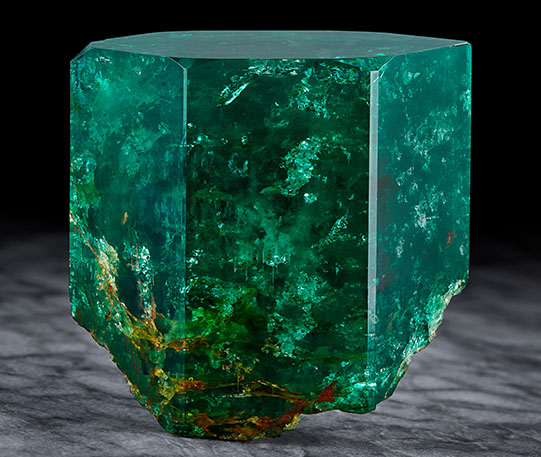 NEW YORK — An extensive and uncommon collection of emerald minerals will take center stage at Wilensky Minerals, with the opening of the exhibition "Magnificent Emeralds: Fura's Tears." The exhibition opens Thursday, Sept. 26.
The exhibition is on display in the Wilensky Minerals gallery, located in New York's Chelsea district.
"This exhibition is focused on natural emeralds, as found and preserved in specimen and crystal form. By bringing together many of the world's finest known examples of natural emerald specimens, we can better understand all emerald specimens," explained Stuart Wilensky, president of Wilensky Minerals, in a press release issued by the firm. "Important emerald stones and jewelry can be found in every gem collection around the world. The same cannot be said about exceptional natural emerald specimens. We estimate that there are less than twenty-five in the world that would qualify. Of that twenty-five, half of them are here on exhibit."
Amongst mineral collectors, emeralds are one of the most difficult specimens to acquire. Likened to the world's greatest works of art, each emerald on display is a masterpiece. Elements of connoisseurship confirm significance, including: provenance, color, luster, and composition. Internationally renowned for building one-of-a-kind collections for many of the world's most influential collectors, Wilensky is uniquely able to curate and elevate an emerald show of this caliber.
The highlights of the exhibition, which is slated to run through Dec. 30, 2019, include:
•Emerald on calcite specimen from the Muzo Mine, formerly part of the collection of renowned mineral collector James Horner. It presents as a deep rich green, with large, thick, double terminated crystals, sitting atop a whitish to clear calcite crystal.
• Emerald on calcite from the Rice Northwest Museum, also from the Muzo Mine, presenting as a spray of more than 20 emeralds.
For more information about this new exhibition, visit www.wilenskyminerals.com, email info@wilenskyminerals.com, call 646-822-0837, or visit the gallery at 173 10th Ave., New York, NY.