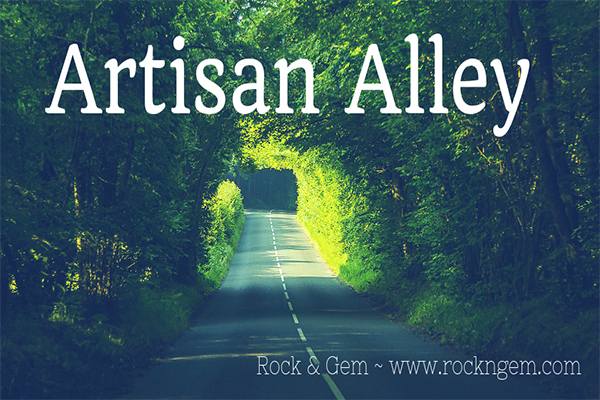 By Antoinette Rahn and Erin Dana Balzrette
"Be brave enough to live life creatively. The creative is the place where no one else has ever been."

—Alan Alda, actor, director, and screenwriter
This quote by Alan Alda seems to aptly describe the 'creative place' where these five enchanting works of art emerged.
Each installment of the Artisan Alley blog/column provides the opportunity to examine the results of pure creative collaborations, and enjoy a 'sneak peek' into the minds of the lapidary artists and silversmiths behind these works of art. This comes as responses to the question: What's the inspiration behind your work in this piece?
The brilliant pieces showcased in the Artisan Alley blog/column are the genius of silversmiths and lapidary artists who are members of the Stone and Silver Facebook group.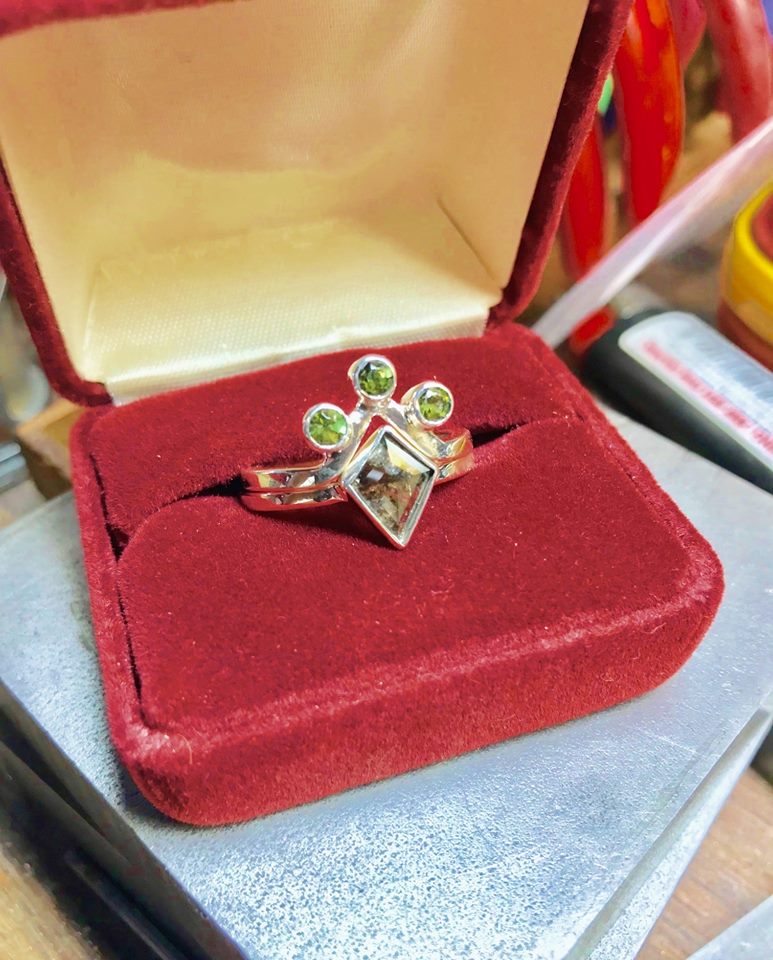 Salt & Pepper Diamond and Peridots Wedding Ring
Silversmith and lapidary artist Larry Ross
"When my daughter, Lyndsie, told me she was getting married and asked if I would make her wedding rings, I was honored! What dad wouldn't be? She likes things that are different. While I'm a bit of newbie when it comes to making jewelry, I've been a maker for years and I also like 'different' and a challenge," explains Larry Ross.
"This was a collaboration of thought and design between her and me, and this is what we came up with. For me, the most important thing was that she like it, and she does!"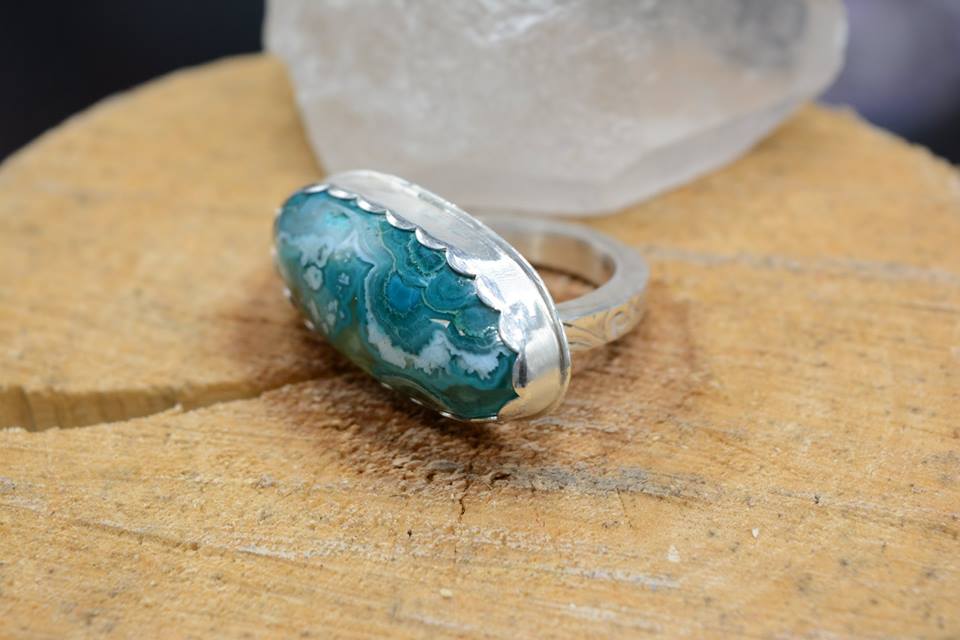 Chrysocolla Sterling Silver Ring
Silversmith Lissette Alarcon Sardelis
Lapidary artist Joe Spencer
"Water for me means calmness and means peace…this ring reminds me of swimming under the waves when I was a kid," explains Lissette Alarcon Sardelis. "When you look up you can watch how the waves move, and you feel the rocking motion. I could close my eyes and feel it. Silver represents the strength of the oceans as a whole….water contained by the grip of the ocean. That is my vision."
Lapidary artist Joe Spencer speaks about another element of nature reminiscent in the cabochon.
"The color was the first thing that drew me to chrysocolla when I began cutting. It reminded me of flowers with the growths." 
Argentium Silver and Blue Topaz Cabochon Pendant
"Seafoam"
Silversmith Kaelin Cordis
Lapidary artist Robert Heath
The ocean also serves as inspiration for this collaborative artistry.
"I am captivated by the ocean in all its forms. From the briny deeps to the shallowest tide pool, each face of the ocean is breathtaking and inspiring," says Kaelin Cordis. "All of the world is touched in one way or another by the ocean, and yet so much of it is still undiscovered. Mysterious and overwhelming, or gently lapping on sunlit beaches — the ocean is indescribably wonderful.
"This piece is directly inspired by the ebb and flow of sea foam along the shore. It is a myriad of sparkling mirrored bubbles, ephemeral and intermittent. Like a dozen trillion tiny worlds that exist only to delight, there and then gone.
Kaelin adds, "I see these temporary beauties as a reflection of the multitude of small miracles that make life astonishing. The shifting seas revealing breathtaking beauty, before life sweeps along and reveals something completely different."
Much like the path of the ocean, unique with each rolling tide and shaped by each moment, Robert Heath's inspiration for the cabochons in this piece are the stones themselves.
"In general, I let the shape of the rough decide the shape of the finished gem, whether it be a true shape or free form. I cut most everything on the fly and seldom use a diagram, making the cut up in my head as I do it.
"Kaelin asked me for a suite of blue topaz in free form shapes and sizes, so the quick answer is, I really just cut and let the stone decide these things."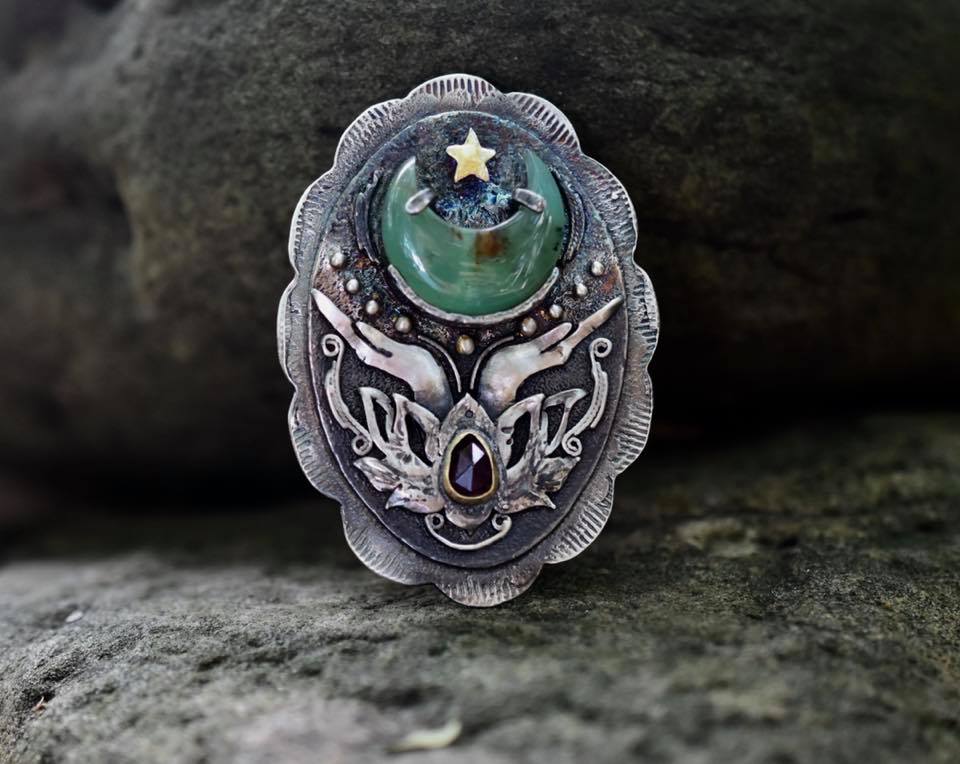 Silver, Chrysoprase Moon, Rhodolite, Keum-boo Gold Accessory
"Breathe"
Silversmith Ling Ling M.
Lapidary artist David Oscar Wethington
"I have always loved (the) moon. I love nights and darkness," explains Ling Ling M. "And this piece is all about love, peace, harmony and balance."
Lapidary artist David Oscar Wethington echoed the sentiments of appreciation for lunar influence.
"My inspiration comes from the beautiful gifts of our Mother Earth, and my love affair with the moon."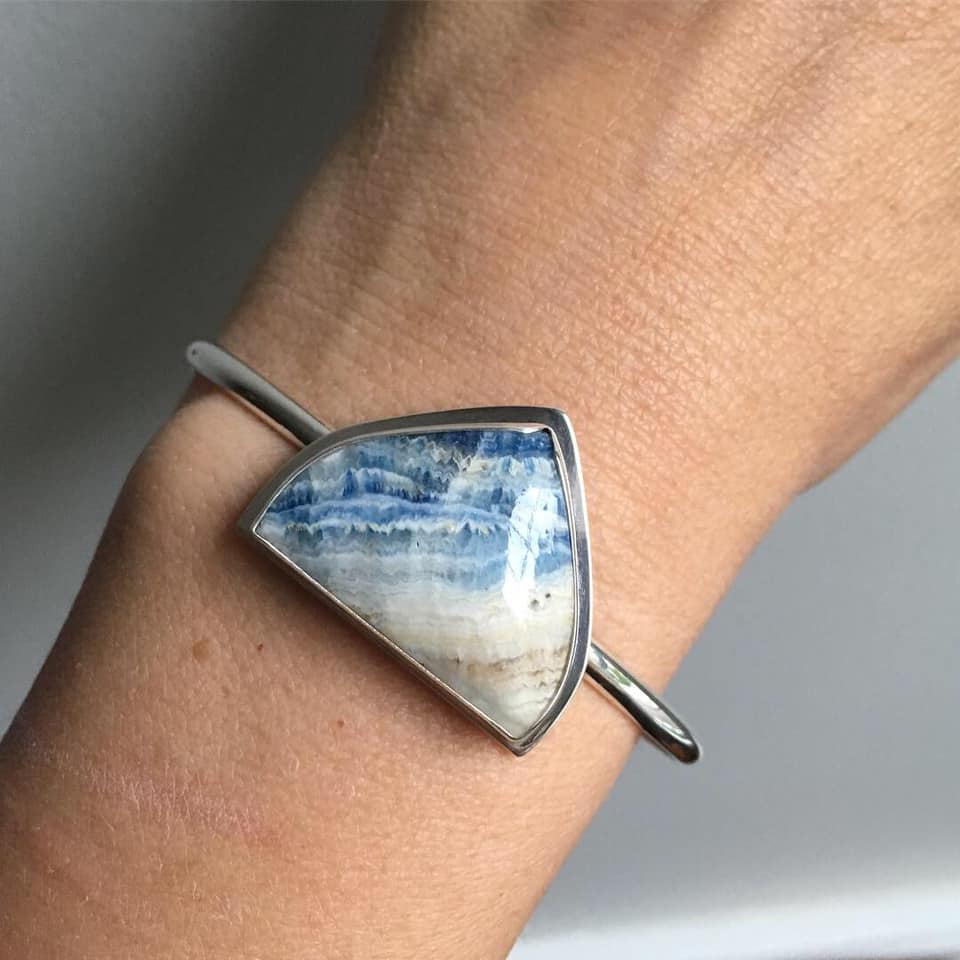 Turkish Blue Lace Onyx and Silver Cuff Bracelet
Silversmith and lapidary artist Heather DiLello
A big part of creativity is being open to unexpected change in direction. Such was the case for Heather DiLello when creating the cabochon at the center of this cuff bracelet.
"I actually cut that cab with the intention of it being used as a pendant, but I really loved how the shape looked on the wrist, so I decided to use it to create a silver cuff," she describes. "I think Lapis Lace Onyx looks great with denim, so I intentionally kept the silver elements very streamlined, so this could be a 'jeans and tee shirt' piece."
Be sure to look for new Artisan Alley showcase blogs/columns each week.