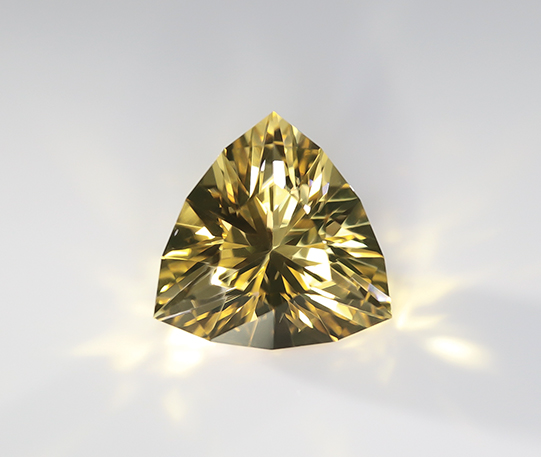 By Jim Perkins and Antoinette Rahn
There is something quite remarkable about the way the trillion cut design captures and then seemingly radiates an abundance of color and light. However, it is not surprising, since the trillion cut is an extension of the brilliant cut, with a vast number of facets.
Words such as fiery, sparkling, intense, lively, and fervent are used to describe the appearance of trillion cut gemstones, and none of that is lost on Jim Perkins, the man behind the Faceting Focus patterns.
"I really like trillions due to their triple bounce effect," Perkins said. "I wanted a design that was simple and easy, universal with good brilliance and good contrast. This design fits the bill."
Given the legacy of one source associated with the development of this cut, it also stands to reason that the trillion cut would become a popular choice not only among faceters, but also consumers enchanted by triangular gemstones. Various sources cite the cut's roots hail from the esteemed Royal Asscher Diamond Company of Amsterdam. At the turn of the 20th century, brothers Joseph and Abraham Asscher earned world-wide acclaim for their diamond cutting.
Another element of the early development of the trillion cut involves the Henry Meyer Diamond Company of New York, which is the company that trademarked the cut in the 1960s.
Among the benefits of this cut is its application with various gemstones. Light-colored gems, such as the gemstone featured, as well as aquamarine and beryl, are popular choices. Plus, some gem cutters turn to trillion to brighten the appearance of stones of darker colors, such as tanzanite, garnet, and amethyst. In addition, Perkins said, it's a pattern that faceters of various skill levels can cut. It's part of what Perkins enjoys most about his work, "making complex designs work simply for all faceters."
In addition, if you are a fan of Perkins' previously published faceting books, you're in for a treat. One of the many things he is working on during this time of self-quarantine during the COVID-19 pandemic is writing a new faceting book.
To learn more and purchase books by Perkins, visit www.northcoastlapidary.com. Also, watch for more information about the new book in future Faceting Focus columns.
Enjoy the Pattern...