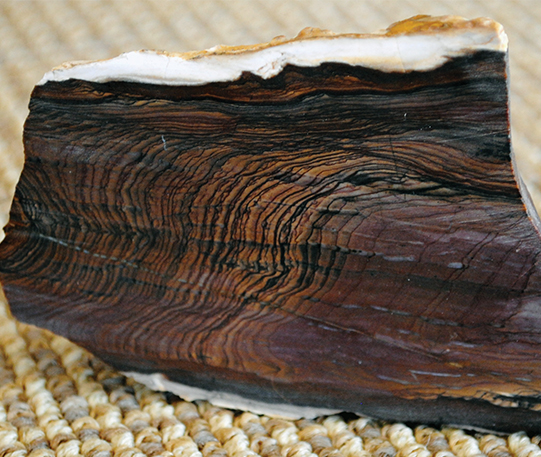 By George Lindsay
More than the raising of wheat and cattle or the breeding of quarter horses for work and racing, a new vocation has captured the imagination and sparked the enthusiasm of an Oregon rancher, Fred Dormaier of Wasco.
The origin of this change of direction for the longtime rancher is a vein of picture rock on his ranch. He is now mining and cutting and polishing this rock largely for its ornamental uses at his shop in an abandoned garage building in downtown Wasco, a northern Oregon town of about 400 people. The rock is known to geologists as Biggs jasper picture rock.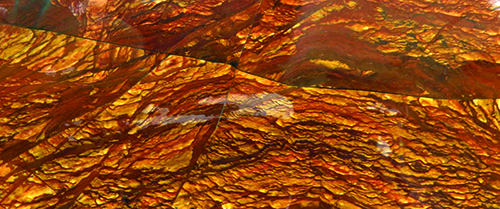 More than 10 years ago, the outcropping was uncovered in a cut on the canyon road of highway US 97 about two miles south of Biggs Junction, a center of motels and restaurants lying at the intersection of the north-south highway with Interstate 80N Freeway. For several years, the vein went undiscovered, Dormaier said.
Then a sharp-eyed rockhound carried a sliver to the Albany, Oregon, rock shop of Geoge Gali, who later sold his shop and moved to Lebanon, Oregon. Gali noted the discovery in an article for a lapidary magazine. Other magazines carried the news, and soon the ledges of rock left by the cut were covered with burrowing enthusiasts with rock hammers. This invasion of men and women armed with the hammers spread up and down the hill.
DISCOVERY OF DYNAMIC VEINS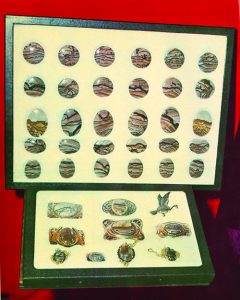 Then the rancher discovered the veins continued on up the highway slopes across the fence line onto a part of his ranch. But it was several years before Dormaier, who was operating a 6,000-acre wheat and cattle ranch with overtones of the production of racehorses, caught the rock fever and began disposing of the ranch holdings he had operated for 40 years to spend more time with his picture rocks.
With his wheat and pastureland down to about 2,000 acres, including the sites for his two mines, one for picture rock and the other for agate, he set up a rock shop up the canyon at Wasco.
Born on a wheat ranch near Wheeler, Washington, Dormaier has been a rancher for most of his life. For one seven-year interval, he was a road superintendent for the U.S. Department of Interior on the Olympic Peninsula in Washington. During the war, he was an equipment instructor in the Vancouver shipyards. But the rest of the time, he has been a rancher.
So, why did this jasper so inspire his enthusiasm?
"Anywhere with such pictures," he declared. "Cut and polished, it's really beautiful."
Dormier said geologists have told him his jaspers were originally volcanic muds that solidified and were infiltrated with minerals in solution.
When the rancher and former road superintendent got into the rock business, he decided to do it with heavy equipment to make possible largely a one-man operation for mining, cutting, and polishing — and he is that man. Most of his jasper is sold uncut except for cuts to determine the picture quality.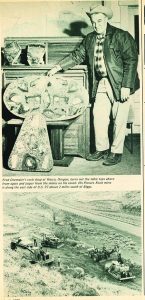 In winter, he works mostly at his mines and in making shipments of rocks in burlap sacks from his stockpile at Wasco, largely to dealers and jewelers. During the tourist season, Dormaier is at his shop and store handling cutting and polishing between customers. His shop inventory includes seven rock saws.
By the use of modern heavy equipment, he said he is able to keep the cost of his shipments as low as 10 cents a pound, with the best specimens having proven patterns running as high as $5. He has customers in "about one-half of the States in the Union, and in quite an area of Canada. Recently, I have shipped rocks to Japan and Germany, and the other day to Sweden."
In addition to his picture rock mine alongside the highway, Dormaier takes agate from his China Hollow mine, moving his power equipment between the two locations.
But even while examining a choice gem in his new role as a rock connoisseur, Dormaier still has the weathered look of a stockman and rancher. He retains his enthusiasm for western attire, including Stetson hats and a collection of cowboy boots, one pair with silver and gold trim.
---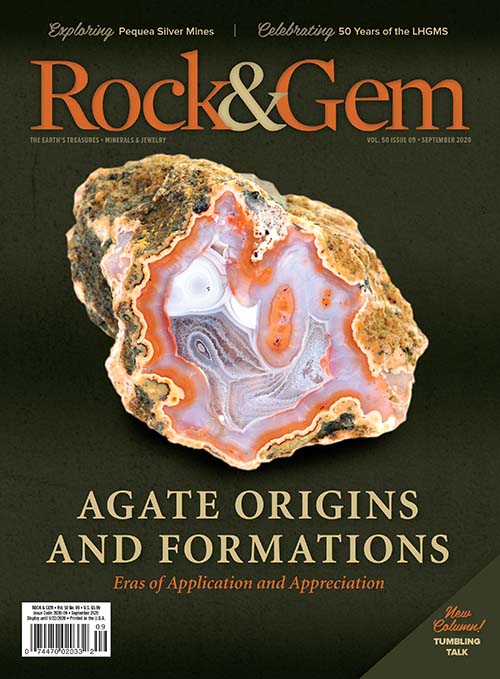 If you enjoyed what you've read here we invite you to consider signing up for the FREE Rock & Gem weekly newsletter. Learn more>>>
In addition, we invite you to consider subscribing to Rock & Gem magazine. The cost for a one-year U.S. subscription (12 issues) is $29.95. Learn more >>>
---