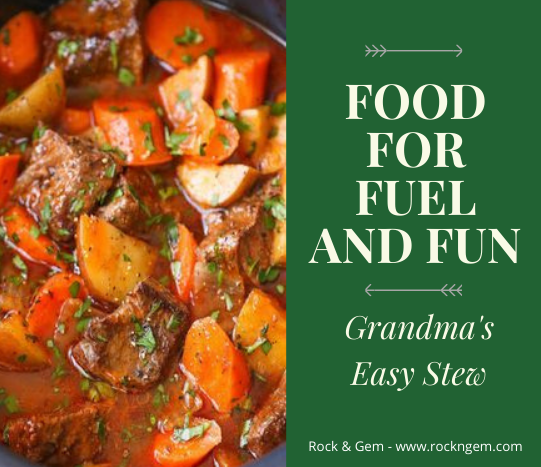 By Antoinette Rahn
My late mother and grandmother were not stereotypical when it came to being grandmas. However, after speaking with various people in the rockhounding community, I'm less convinced there is a stereotypical grandma these days.
My grandmother and grandfather had a small farm in northwestern Wisconsin, and while other grandmothers of the day might have enjoyed tending to the house, cooking, and the like, my Grandma Anne much preferred working in the barn and in the garden to house tending duties. In fact, there's a story that floats around our family about how my grandmother, having lost all time as she was tending to her garden, was known to take a roast out of the freezer with little time to spare and try and move and heaven and earth to de-thaw the meat for evening dinner. She was rarely successful.
My mother (Helen-Pat) was another unconventional sort for different reasons. She was widowed for much of her life (twice) and was the lone parent to my sisters and me. While I came along during her second marriage, she found herself widowed again quite early on. With that being the case, she began working two jobs to keep things moving in our household. Working a full-time factory job during the day and a part-time customer service job in the evenings left little time to make the traditional type of dinners she hoped to. That's when she became a pro at making the most of the handy device known as the slow cooker.
Whether your reasons for having limited time to spend in the kitchen are because of work, community projects, family events, or like my grandmother, a desire to simply stay outdoors as long as possible, maybe you'll find Grandma's Easy Stew to be an answer to help feed your hunger and your limited time to cook.
Ingredients
2 pounds cubed stew meat
3 medium-sized potatoes (peeled or not and cut into chunks)
5 carrots (peeled and cut)
3 small onions (sliced thinly)
1 can of peas (drained) *optional
1 can of tomato soup
1 can of cream of celery soup
Add salt and pepper to taste
Directions
Put all ingredients into a Crock-Pot/slow cooker and cook on medium for 4-5 hours. Enjoy!