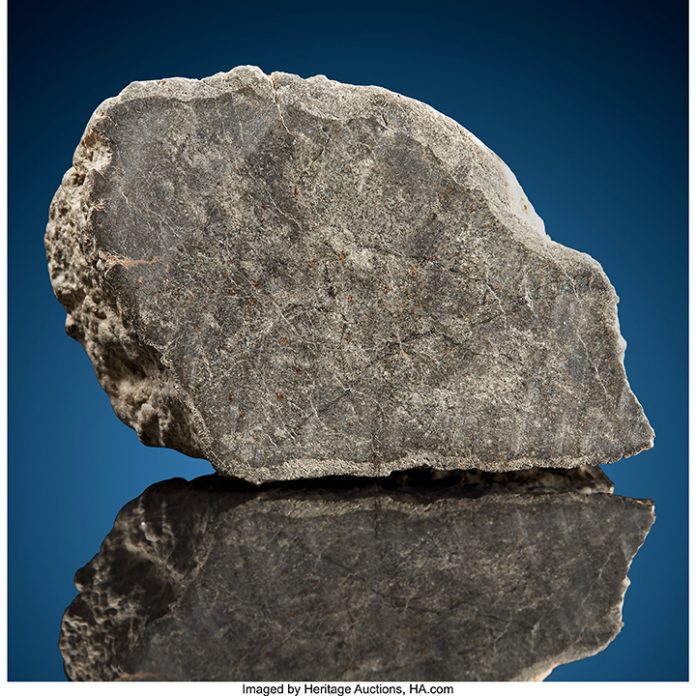 By Antoinette Rahn
If there is one word to sum up Heritage Auction's upcoming Nature & Science Signature Auction, it would be "meteorite."
A meteorite, as defined by the Encyclopedia Britannica, is "any fairly small natural object from interplanetary space —i.e., a meteoroid—that survives its passage through Earth's atmosphere and lands on the surface."
The thought of discovering, viewing, handling, and owning something from space is mind-boggling in and of itself. In addition, the length of time and distance these specimens likely traveled before landing on Earth, and the additional time that may have passed before they were found, all adds up to a fascinating history contained in these rocks from space. And that's not even taking into consideration the various locations on Earth where meteorites have been found. Could you imagine venturing out on a rockhounding excursion where impact crater locations are the destinations? That sounds like an epic adventure!
Not only can we all use the information in Heritage Auction's July 20 Nature & Science auction catalog as a guide for considering an "out of this world" rockhounding road trip, but we can also enjoy learning about impact crater remnants and bid in the auction for a chance to own a unique natural object from space.
In this installment of the Common Ground blog, let's take a glimpse at six of the many intriguing lots in this auction…
First up is a piece from the news-making Martian augite basalt meteorite, also identified as NW 8159. The specimen was discovered in Morocco, and then brought to the U.S. in 2013 for testing and research at the University of New Mexico, in Albuquerque. In the course of researching the specimen scientists discovered, in addition to augite, the presence of olivine, magnetite, and orthpyroxene with its composition, according to the Heritage Auctions catalog.
It is one of more than 61,300 different meteorites listed in the Meteoritical Bulletin, which is the official catalog of meteorite species catalog by scientists studying meteoritics. Of that number, only 235 are Martian meteorites. This specimen is the largest known piece of a meteorite of its kind, weighing 49.8 grams. It carries a presale estimate of $500,000-$700,000 into the auction.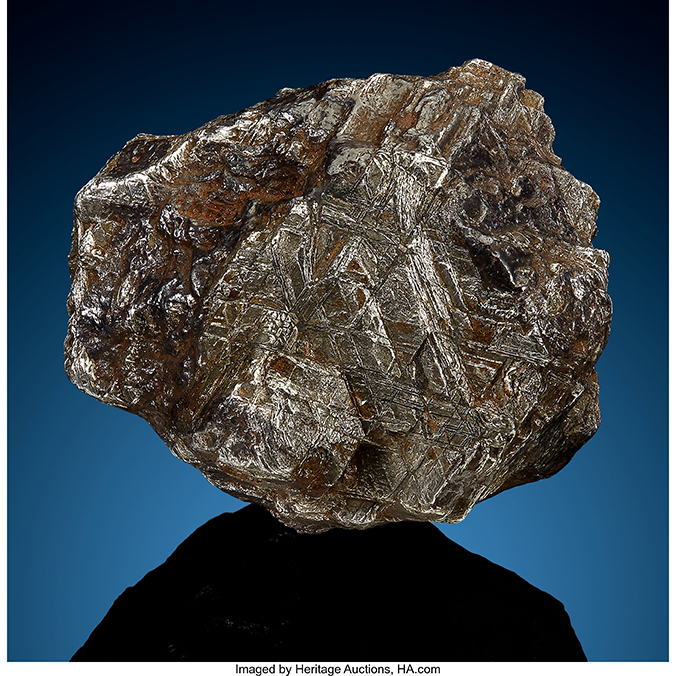 It's been said some things just get better with time. We know that's the case when it comes to wine, but the same could also be said about meteorites. At least this specimen, which is reportedly one of the earliest iron meteorites ever classified. According to The Meteoritical Society's Meteoritical Bulletin Database, it was found in 1906 in the area of northern Sweden. Various sources report that research shows the specimen may have landed on earth around one million years ago.
Equally impressive is the type of specimen it is, a crystalized meteorite. It's reportedly the purest form, with what are called "arctic iron" geometric forms and striations across its surface. In other classified examples, only sections of the specimen exhibit crystallization, whereas this represents full crystallization. It weighs 1,673 grams and carries a presale estimate of $1,000 to $1,500.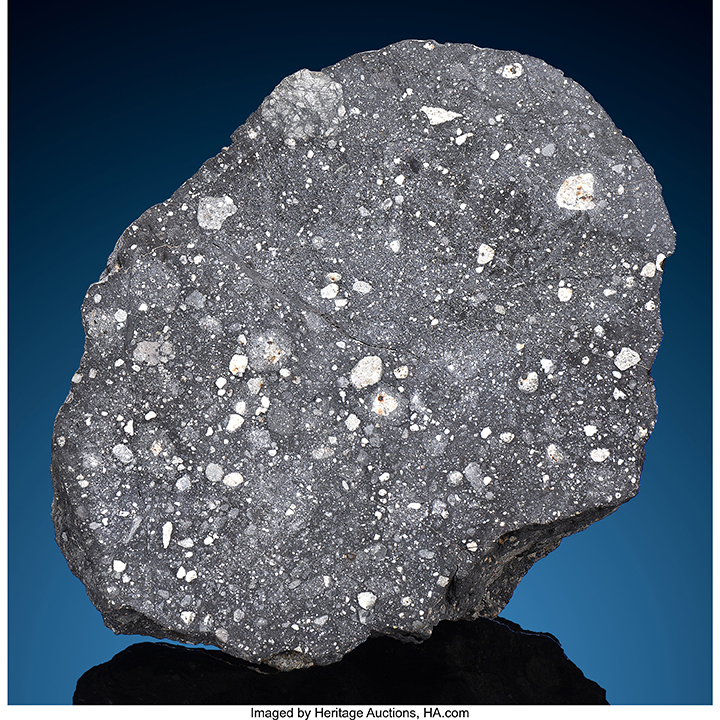 Did you know that less than 0.5% of the meteorites recovered and classified are considered lunar meteorites? Many examples of lunar specimens that have been brought to Earth by astronauts are in the hands of the government and the revered Smithsonian Institution, which makes specimens like this a rarity.
According to the Heritage Auction catalog description for this lot, this specimen is an end piece of a lunar breccia rock. In essence, it is a specimen containing fragments of a variety of rocks and minerals formed into a single mass through interstitial impact melt. How's that for a cool phrase, "interstitial impact melt"? Another interesting aspect of this lunar meteorite is that it is among the largest specimens classified, and it is the 8,641st to be recovered in Northwest Africa. It weighs 6.4 pounds and carries a presale estimate of $250,000 to $350,000.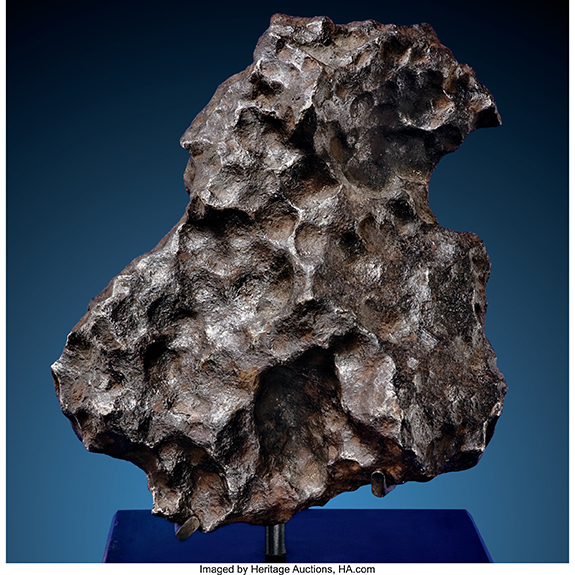 This meteorite is impressive in size and story.
Physically, it measures a staggering 16 x 11-½ x 9-½ inches and weighs 238 pounds. Meteorically, it reportedly landed on Earth nearly 4,000 years ago, after its decent from its location in an asteroid belt located between Mars and Jupiter. It also contains a fusion crust and a feature known as regmaglypts, which presents as a burnt appearance and indentions.
Historically, specimens of Campo del Ciel meteorites were mentioned in the writings of 16th century explorers from Spain, and it was this type of meteorite specimen that became the first large meteorite to be displayed at a museum, the British Museum of Natural History, according to information in Heritage Auctions' lot description.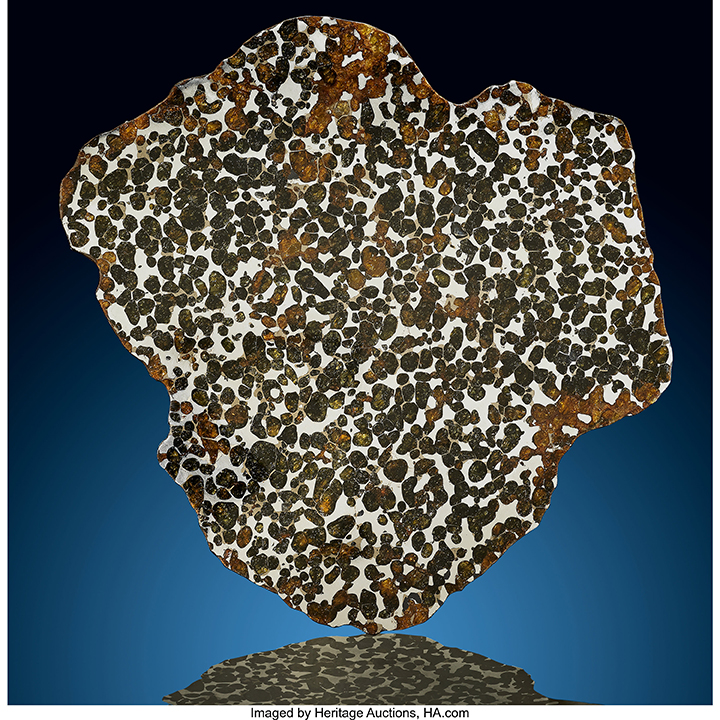 This eye-catching pallasite meteorite slice boasts striking Olivine crystals, which is the primary mineral present in pallasites. According to information found at the Arizona State University's Center for Meteorite Studies, the pallasite meteorite was a bit of an unexpected discovery, made by two brothers near Serich, Kenya. As word has it, the brothers came across many large stones in an area not known for rocks.
Although it wasn't until 2016 that the stones were classified as meteorites, during conversations with various elders of the village, the unusually large stones were known by villagers for years, according to ASU's report.
The meteorite weighs 518.7 grams and is headed to auction with a presale estimate of $5,000 to $7,000.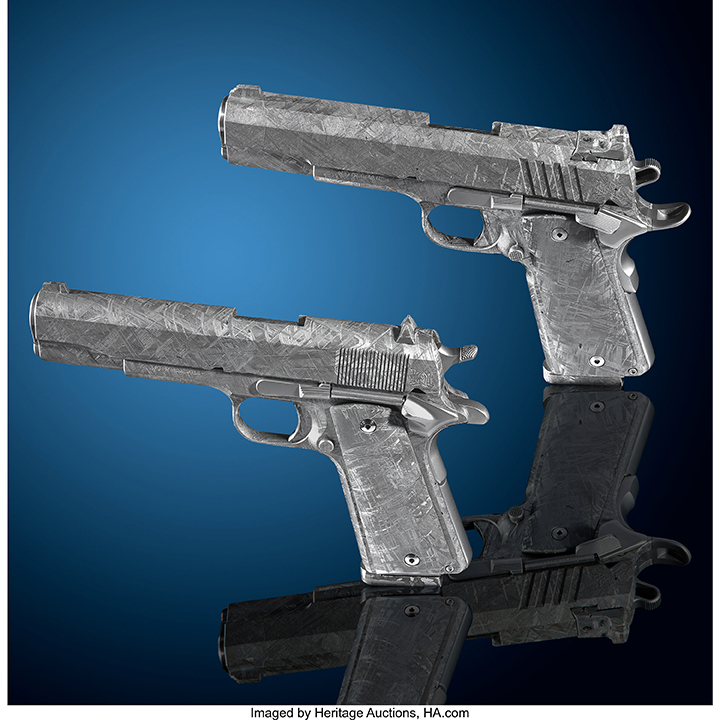 Rounding out this glimpse of uncommon lots slated for sale July 20, during Heritage Auctions Nature and Science Signature Auction, is this pair of Model 1911 type pistols made from pieces of the Muonionalusta meteorite.
The often-discussed meteorite, which is the focus of this one-of-a-kind creation, was discovered in Sweden in 1906. Yet, research has revealed that it is one of the oldest known meteorites, at around 4.5 billion years, according to the lot description in the auction catalog. The fusion of meteorite and firearm design was accomplished by noted gunsmith Lou Biondo. While both pistols have been test fired successfully, they are not considered pistols for regular use.
This lot heads into the auction with the highest presale estimate: $1 million to $1.5 million.
As I hope you've seen in this small glimpse, there are a number of fascinating specimens of nature with equally intriguing histories featured in this July 20 auction presented by Heritage Auctions. In addition, be sure to mark your calendars for these additional auctions to be presented by Nature & Science division of this leading global auction house:
• Aug. 26 — Rock H. Currier Collection of Fine Minerals Signature Auction
• Sept. 28 — Nature & Science Signature Auction H. Currier Collection of Fine Minerals Signature Auction
• Sept. 28 — Nature & Science Signature Auction
• Dec. 7 — The Jena Blue Collection of Gemstones Signature Auction
For more information or to register to bid in the auction, visit www.ha.com or call 877-HERITAGE (437-4824).