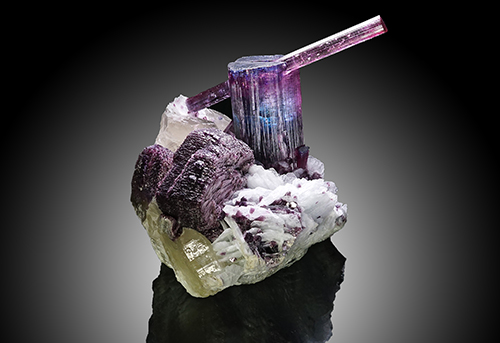 By Antoinette Rahn
It's a pretty challenging deal selecting just 10 outstanding specimens that appeared in the pages of Rock & Gem between the summer of 2017 and the summer of 2018.
With that said, it's been pretty fantastic 'revisiting' each of the past issues of RG, to select the 'Top 10'. It's a bit like a recap of some of the most inspiring and informative highlights year-over-year. Now we're closing in on the top two.
#2 Bicolor Pink Tourmaline on Albite With Lepedolite
There is a lot going on in this 6 by 7 by 7 inch specimen, which was the first found in the Pederneira Mine in Brazil. Not unexpected, since it is one-of-a-kind. A pink tourmaline blade juts out of the top of the segment of pink-and-blue tourmaline, which sits beside examples of albite and lepedolite. It was offered by Astro Gallery of Gems/www.astrogallery.com.
Keep an eye out for #1 of the Top 10.