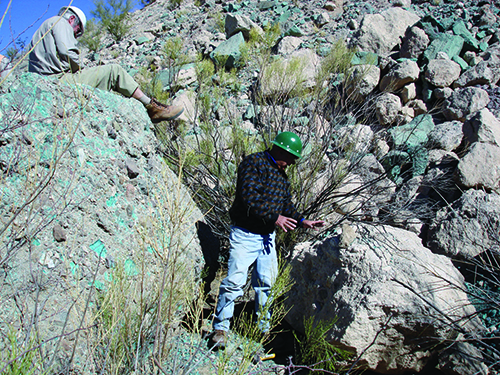 By Helen Serras-Herman
Wolfgang and Diana Mueller, known by their company name DiWolf, is a dynamic couple, with lots of knowledge and years of experience in lapidary and jewelry artwork.
Wolfgang Mueller is a retired geologist, mineral collector, and a very active lapidary. He has rockhounded in many places around the country, especially for his favorite wulfenite and copper ore minerals. He is famous for his hand-cut spheres and eggs, as well as rare gem material cabochons and one-of-a-kind beads.
Career and Collecting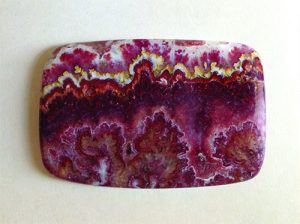 Wolfgang was born in 1942 in the same town (Belgrade) as the person for whom the naming of wulfenite is based, Franz Wulfen, a Jesuit born in 1725. Wolfgang earned a bachelor's and master's degree in geology at the University of California. He worked at San Manuel Magma Copper, which was once a surface and underground porphyry copper mine in San Manuel, Pinal County, Arizona. During this time, he gained a deep understanding of all copper-related minerals, including the associated oxide minerals of chrysocolla, malachite, native copper, and cuprite. Later, he worked for the Magma Copper Company's corporate entity Newmont Mining in Danbury, Connecticut.
Wolfgang moved back to Arizona, to the town of Oracle just north of Tucson, some 25 years ago, with his wife, Diana. She was born and raised in Ulster County, New York. The two met in the early 1990s and formed an amazing life and work partnership. They both love going rockhounding and mineral collecting, and are active members of two local clubs- the Tucson Gem & Mineral Society (TGMS) – Wolfgang joined in 1975 and Diana in 1995- and the Old Pueblo Lapidary Club (OPLC). Wolfgang has led several field trips for both clubs. He can still swing a 20-pound sledgehammer, which I saw him do when my husband and Wolfgang tried to break-up a considerable boulder to extract precious chrysocolla, during a TGMS field trip to the Asarco Mine in 2010.
Wolfgang also serves as Curator of Minerals at the Bullion Plaza Cultural Center & Museum, which is in historic Miami, Arizona, about a two-hour drive north of Tucson. It is a great little museum with large mining equipment outside, and a terrific mineral exhibit inside featuring minerals and fossils from the Globe-Miami area and beyond. Wolfgang worked very hard for the proper display of the museum's exhibits.
Lapidary & Jewelry Artwork
Wolfgang and Diana have joined forces in all aspects of rockhounding and lapidary work. They are always together from the field to the shop to the show. The years of ore mineralogy and mineral collecting has contributed to the duo knowing what is best to collect and cut. They both developed a high level of craftsmanship that distinguishes their lapidary artwork. Wolfgang has a great way of cutting and polishing copper ore specimens as cabochons, eggs, and spheres, along with unique gem marbles.
The two specialize in unusual, rare, obscure, and difficult-to-cut gemstones. The more challenging examples include those made of complex materials like chrysocolla, cuprite, eudialyte from Canada, as well as Crabtree emerald from North Carolina, and fluorescent materials from New Jersey and Canada. The Muellers love cutting rare Arizona materials, such as cambellite from Bisbee, bohmeite from Globe, copper in quartz, and gem chrysocolla from the Ray Mine. Besides, they enjoy working with orbicular jasper from Quartzsite, and petrified wood from Holbrook in northern Arizona.
Diana's specialty is creating beautiful hand-crafted jewelry, often with the cabochons and focal beads they've cut. I love her delicate necklaces and earrings woven with small gem beads. Her jewelry features many different types of Arizona turquoise and pink tourmalines from the Pala District in California, gem chrysocolla, and kyanite. The variety of her selection of artistic jewelry changes depending on their newly-cut stones.
Diana sets some in high karat gold -18K and 14K, others appear in copper, gold-filled,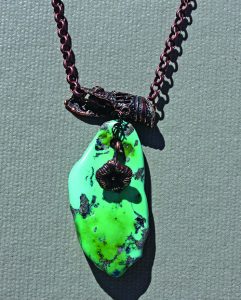 bronze, and sterling silver, and still more, are set with mixed metals, resulting in a wide range of unique jewelry. It's the natural patterns in the stones that fuel Diana's inspiration for jewelry design. Additional influences include living in a small community and the typical presence of sunny weather, which, according to Diana, "allows for more changes in design and components."
Through their company, DiWolf—Fine Stone Emporium, the couple participates and exhibits in several gem mineral shows, noticeably the Tucson Gem & Mineral Show® and the Denver Gem & Mineral show. We are grateful our booth is close to DiWolf—Fine Stone Emporium during the annual Tuscon show, as it provides time for us to touch base with one another.
My husband and I visited their studio a few years ago, and we were planning to return following the 2020 Tucson show. However, with the restrictions and precautions set in place to avoid the spread of COVID-19, we postponed our visit for the time being. As you can imagine, the Muller workshop is as full as any other lapidary shop. The equipment includes the primary grinding and sphere machines suited for each of their crafting projects, but it is the magic they create, using the machinery, that is most extraordinary.
Competitive Exhibits & Presentations
Wolfgang is always happy to share his wealth of knowledge with anyone who expresses interest. He does this as a guest speaker, discussing topics that range from mineral collecting to lapidary. He has presented several programs to clubs in Tucson and many other clubs across the country. His educational programs, exhibits, and writings have earned him countless awards and recognition.
Among the honors is an award-winning presentation about wulfenite and vanadinite for the American Federation of Mineralogical Societies (AFMS) slide competition, best-of-class award at the 2019 Tucson Gem & Mineral Show® for his exhibit of a self-collected wulfenite specimen, and publication of his article about Arizona gemstones, appearing in Rocks & Minerals magazine, as part of the Arizona Centennial issue. Also, photographs by the Muellers have appeared in dozens of articles and on covers of mineralogical publications.

This fall, Wolfgang will be the speaker-in-residence for the Eastern Federation of Mineralogical & Lapidary Societies (EFMLS) Wildacres Workshop at Wildacres Retreat in North Carolina (www.efmls.org/wildacres). Diana will accompany Wolfgang to the workshop, marking her third time visiting Wildacres, and Wolfgang's fifth. They will make the long cross-country trip to North Carolina, and on their return trip, they will go to Denver for the September gem show. Workshop participants will most certainly have a fabulous time, learn a lot, and enjoy their guests' humor and personalities.
For more information about the Muellers, two truly amazing lapidary and jewelry artists, and their artwork, visit their website, www.diwolf.com.