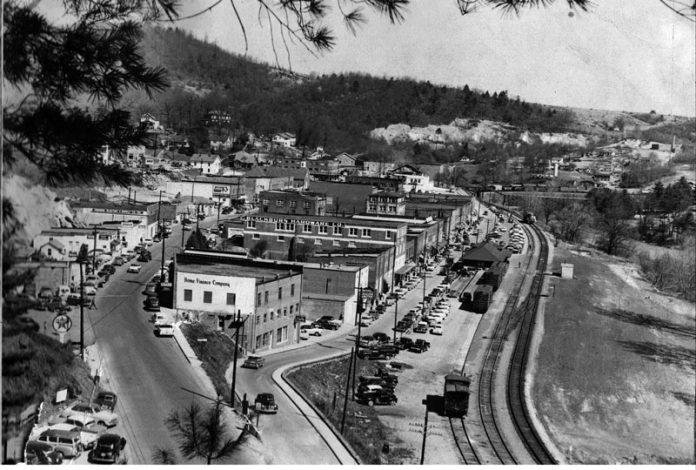 The Spruce Pine, NC, Mining District is a world-class mineral deposit that produces the minerals used in everyday life that we don't always think about – in our computers, smart devices and more.
"It is amazing that this small (25 miles long by 10 miles wide) batholith of the Spruce Pine Mining District lying in Mitchell, Avery and Yancey Counties is a world-class mineral deposit, and so important an ingredient to making the products we use daily," says Alex Glover, whose 45-year career in the mining industry reflects a rock-solid list of geological credentials. "We often take for granted the role minerals play in the quality of life we enjoy today."
Modern-Day Minerals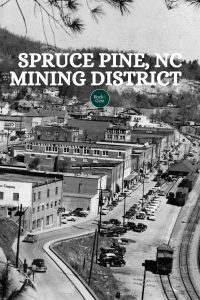 The U.S. Geological Survey describes a batholith as a type of igneous rock that forms when magma rises into the earth's crust but does not erupt onto the surface. But the Spruce Pine, NC, Mining District isn't just any old mass of cooled magma. The 380-million-year-old feldspar, mica and quartz deposits found in these three neighboring counties run most of our modern-day conveniences.
"Almost everyone uses products every day derived from the Spruce Pine Mining District," Alex says. "Even more amazing is how it took colliding continents and millions of years to place this valuable resource in western North Carolina."
"If you came to Mitchell County you wouldn't have a clue as to the importance of this area to the entire world," says Mandi Polly, who worked in quartz operations for 21 years before her role as executive director with the Mitchell County Chamber of Commerce.
"Think what would happen if the world couldn't produce computer chips! This district supplies the production of fiber optic cable, solar components and many products in our daily lives. I honestly don't think," she grins, "that the majority of people in this area even realize the significance of our mines!"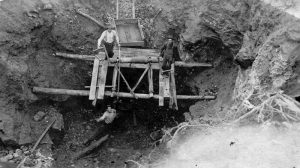 Mineral City From the Ground Up
"Spruce Pine, NC, has mining deep in its roots and is known as The Mineral City," she says. In addition to historic old mines like the Hoot Owl, the region has gem mines and the Mineral Museum of North Carolina. It is host to the NC Mineral and Gem Festival (now in its 64th year) and the 36th annual Grassy Creek Mineral and Gem Show.
A neat local side note she adds is how Spruce Pine Quartz supplies the sand for the Masters Golf Tournament, "because it's so white and pristine."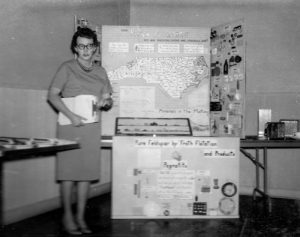 Early Mining Fame
Some of the oldest original mines — the Clarissa, Ray and Sinkhole — are believed to have been resourced hundreds of years earlier by First Nations in search of decorative mica for ceremonial events and, after Massachusetts Bay Colony recognized wampum as currency in 1650, for monetary exchange.
Alex says local lore recounts how word of North American mica mining by Native Peoples drew Hernando DeSoto to Spruce Pine in the 1540s, in search of mineral wealth he presumed would be gold and silver. But the only "silver" DeSoto found was Muscovite mica.
Wedgewood & Spruce Pine, NC
Two centuries later and an ocean away, English ceramics maker Josiah Wedgewood heard about feldspar and kaolin being mined by the Cherokee, from pegmatite deposits in what would become Macon County. The softer (Mohs 6) feldspar, in opaque shades of white to gray to rose, easily broke along flat faces (in a process known as cleavage) in comparison to irregular, curved breaks created by the conchoidal fractures of harder (Mohs 7) quartz.
Wedgewood had five tons of this "Indian clay" shipped to Staffordshire to use in the creamcolored earthenware that so entranced King George III's wife, Queen Charlotte, that Wedgewood was granted permission to style himself, "Potter to Her Majesty" and call his fine pieces, Queen's Ware. The feldspar clay had come from what would be incorporated in 1855 as Franklin, North Carolina. It was dubbed the Gem Capital of the World after discoveries like the 64.83-carat Carolina Emperor, the largest emerald ever found (2010) in North America.
Rubies & Sapphires
Baltimore gem prospector William E. Dibbell was a century ahead of his good instincts when it came to the rubies and sapphires the region would one day prove to yield but, at the turn of the 20th century, he did see untapped potential in the residual feldspar being discarded by mica mines like Flat Rock.
So did the Golding Sons ceramic plant in East Liverpool (Ohio), who liked Dibbell's ceramic-grade feldspar so much that they wanted more, leading to the creation of the Carolina Minerals Company of Penland and the opening of the Deer Park Mine to satisfy the appetites of ceramic plants in Trenton, Wilmington and Liverpool.
The 1940s were a game-changer. Until then most of the work, especially the ore separation of minerals (feldspar, mica, quartz) was done by hand or crude machinery. Between 1944 and 1949, a chemical separation process jointly developed by feldspar mining companies, the Tennessee Valley Authority and North Carolina State University Minerals Research Laboratory, led to a high-capacity process still used today known as 'Froth Flotation,' that separates feldspar and quartz as well as mica and iron (mostly garnet) from rock and ore.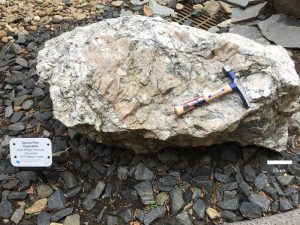 Not-So-Hidden Gems – Feldspar
"Modern-day mining methods, research, plant production, safety, and product development have enabled the extraction and use of these high-purity mineral resources from the earth to enhance our quality of life," says Alex.
It's that extraordinary purity that makes the natural treasures from Spruce Pine, NC, so valuable.
Feldspar makes up roughly 65% of the igneous pegmatite in Spruce Pine, NC, and is an important source of aluminum, potassium, and sodium for making glass – from windshields and computer screens to baby bottles and light bulbs.
"Feldspar is the most abundant mineral on the earth's surface and crust, but its purity as an ore is rare," he says.
Spruce Pine, NC, feldspar has come a long way from Wedgewood ceramic teacups. Today, feldspar serves as a flux to fuse or melt other ceramic ingredients at a lower temperature, cementing the crystalline phases of other ingredients together while imparting improved strength and durability. "Its special qualities allow ceramic manufacture of pottery, plumbing fixtures, electrical insulators, tile, dinnerware, planters, and structural ceramics to name a few."
Mica in Spruce Pine, NC
If feldspar composes 65% of the local pegmatite, mica accounts for another 10% of deposits. Originally used in heat-resistant glass for wood and coal stoves (isinglass), and insulating World War I and II radio tubes, the same properties are used today as a reinforcing plastics and oil well drilling fluid additive, in specialty component electrical insulation, metallic flake automobile paint and cosmetics.
The flat particle shape of the silver-to-white variety called muscovite mica lends itself to drywall joint compound and sheetrock joint cement.
"Muscovite's flat particle shape and light color allow it to serve as an anti-shrinking agent," Alex explains. "It applies as a smooth, damp putty, but because of mica's flat particle shape, it interlocks the mud as it dries, thus reinforcing a filled area without shrinkage and also serving as a fire retardant within drywall joints."
In the early years of production, the quartz composing 25% of this pegmatite was treated as discarded waste but now it is the most valuable component of the region's three major minerals. "Froth Flotation enabled better separation of the three minerals, especially the quartz," he says, thus ensuring that Spruce Pine Quartz ranks among the most important strategic minerals in the world today. Its lower-purity quartz is used as industrial white sand and valued for use on such fine golf courses as Augusta National Course in Georgia, host of the Masters Tournament. More recently, it has been incorporated into the development of quartz countertops for the home.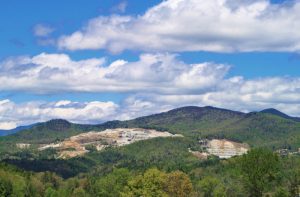 Down to the Roots
"It's important to know that even before computers were a concept, mining was a very important part of Mitchell County's economy and history," says Mandi. "The quartz business helped my family as I was growing up. My husband's work in rocks and sand supports our family. My son-in-law works in the quartz business. So it is definitely supporting future generations!
"As of 2022, according to the NC Department of Commerce, mining corporations are the second-twelfth-largest employers in Mitchell County. The mining companies are not only crucial for supplying many jobs but are also very active in the communities. Many serve on boards, help with local schools, sponsor sports teams and host events, support nonprofits, and give back, through volunteer hours and countless other projects.
"This is where I choose to stay and raise my children and grandchildren. We truly are – all pun intended — a hidden gem. Spruce Pine, NC, hasn't been called The Mineral City by chance. Because that is who we are, down to our roots."
This story about the Spruce Pine, NC, mining district previously appeared in Rock & Gem magazine. Click here to subscribe. Story by L.A. Sokolowski.