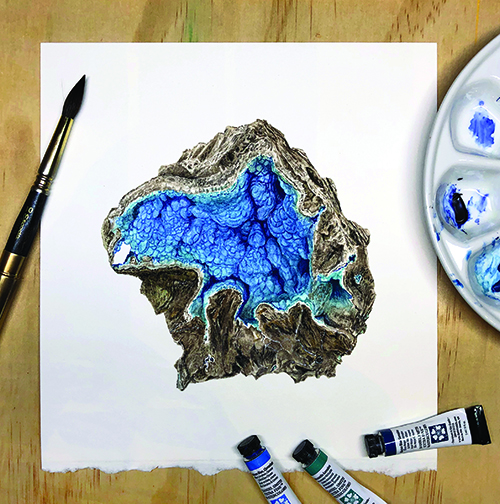 By Antoinette Rahn
It's a special occurrence when someone's career passion intersects with one of their beloved areas of interest. Benjamin Adelmann is one of those fortunate and dedicated individuals for whom such an occurrence is part of the fabric of his life.
This California-based artist and proud rockhound captures the intricate details and essence of rocks and minerals in watercolor paintings that are part of an ongoing series he's titled Giologica (www.instagram.com/giologica). It all began about 25 years ago, when 5-year-old Benjamin began collecting nature's treasures, including rocks and minerals.
Combining Two Loves Into a Profession
"The feeling of wonder at finding a geode or an opal is something that has never left me," said Adelmann, a formally trained and self-taught artist. "(As a child) I dug up our backyard looking for rocks, to my parents' dismay."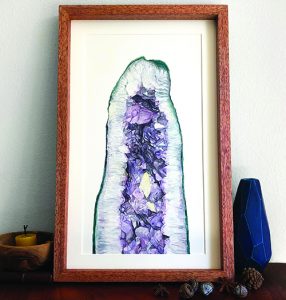 During a period of about 10 years, he studied, painted, and worked in various aspects of the art world. Some of his experience included studying under a prominent artist, attending an MFA painting program at Tyler School of Art in Philadelphia, living in Tokyo, and working at galleries and presenting his art during shows. These opportunities allowed him to meet and connect with a variety of notable artists, curators, and people who possess vibrant vision.
A few years back he felt drawn to focus his artistic creation on a subject that had been one of the most endearing to him, rocks and minerals.
"I always have to measure my practice with a yardstick of honesty, and keep my interest true to my heart," said Adelmann. "In my opinion, this is what produces the best work."
Surrounded by Inspiration
Adelmann adheres to a varied process when creating art. He paints with a specimen in front of him, or paints images he's come across in his online research, and other times he creates watercolor paintings of minerals he's seen (and photographed) during visits to various natural history museums.
His medium of choice is watercolor, he said, and this is because it allows him to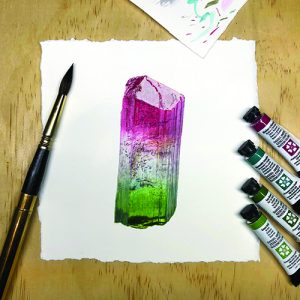 portray the delicacy and intricacy of transparent colors, light, and shadow inherent in so many minerals.
"Sometimes I'll paint glitzy rare specimens, but I also like to paint the simple, everyday rocks – pieces of granite and sandstone that just stand out to me as something special," he added.
Over time his artistry has expanded to include creating handmade frames as an option for housing his paintings.
Hand Painted and Framed
"When these specimens are painted and framed on the wall of someone's home, attention is brought to them in a unique and powerful way," said Adelmann. "They demand a reevaluation, and a kind of renewed interest is the result.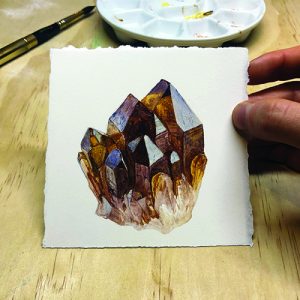 "I want this series to do just that, increase the awe and significance of geology as a whole for people everywhere."
Considering the following he has on social media and the regular requests he receives from around the globe for paintings of specific rocks and minerals, his intention of sharing the beauty and fascination of nature's treasures is more than active. The interest, especially from geologists, rockhounds, and art enthusiasts, provides the energy and evolving perspective to consistently produce new works of art.
Adelmann offers original paintings and prints of his work, and the artwork ranges in price from $39 for a non-framed print to $350 and more for a framed original painting.
Growing Appreciation
His appreciation of rocks and minerals continues to grow, as does his collection.
"(It's) something I've slowly grown since childhood," he said in regard to his collection of specimens. "It's not huge, but it's meaningful."
As for whether or not he has a favorite rock or mineral, he is quick to say his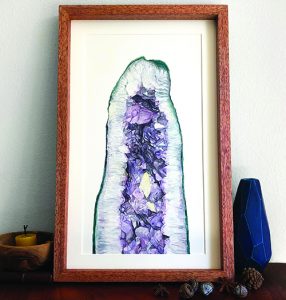 favorite changes.
"I typically love everything, especially the specimen I'm painting at the moment. If I had to choose, hematite for its forms and tanzanite for it trichroism," he said.
As Adelmann continues to evolve as an artist and a rockhound, it's clear his pursuit of both is enriching not only his life but the lives of many others as well.
---
For More Information
Website: www.giologica.com
---