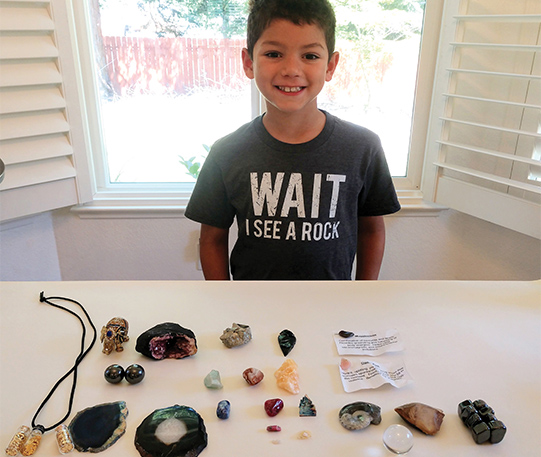 By Jim Brace-Thompson
Seven-year-old Theo Gallegos has been interested in rocks, minerals, and fossils for three years now. Already active in 4-H as well as swimming, baseball, and soccer teams, his interest in rocks, in particular, was ignited when friends at school brought shiny specimens to share with his class. He started his collection right away thanks initially to gifts from his family. That collection now includes more than 250 specimens.
In addition to gifts from others, Theo enjoys going to gem shows to buy still more specimens on his own. He likes such shows because, in his words, "there are lots of cool things to do and lots of cool things to buy." At shows, he loves the opportunity to talk with dealers so he can learn more about each rock that he's interested in.
Show Attendance Opens More Doors
Speaking of shows, Theo joined the Sacramento Mineral Society in 2018 after going to the annual rock and gem fair they host in central California. In addition to the show, he has enjoyed their monthly meetings and the opportunity to earn badges via the American Federation of Mineralogical Societies Future Rockhounds of America badge program.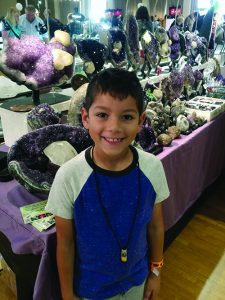 Theo also has had lots of fun at the club's workshop, which is open to responsible members young and old. His favorite machine is the combo grinder and polisher because he likes turning rough specimens into cabochons that shine. In fact, that's one of his major interests: collecting dirty, dull, and otherwise uninspiring unpolished stones and tumbling or polishing them to a fine shine to discover their inner beauty and bling!
Theo's favorite rocks are semi-precious and precious gemstones because they are beautiful to look at. Among these, his favorite gemstone is opal, both because it's his birthstone and because opals, in general, are valuable. He has three treasured opals in his collection: one pink and two white opals. Other favored specimens in his collection are polished obsidian, ruby, and topaz. He hopes one day to add precious emeralds and diamonds. Says Theo, "Rocks are great to study the history of the earth because everything is made up of minerals and elements. I think fossils and petrified things are interesting because they show creatures and plants that existed thousands or even millions of years ago."
Theo recently went on a field trip to Mercer Caverns with his school and learned about formations like stalactites and stalagmites. He also has been to Marshall Gold Discovery State Historical Park to pan for gold, where, in addition to gold, he found garnets and pyrite at the bottom of his pan. Theo's next trip will be to Black Butte Lake in northern California to seek and collect pieces of jasper. (As someone with wonderfully colorful Black Butte jasper in my collection, I can assure him that he won't go away disappointed.) Theo believes his home state of California is the best place to live because that's where the 49er gold rush took place and because there are so many places near Sacramento to collect rare, special, and valuable rocks.
Future Aspirations and Advice
Theo hopes to become a gemologist because of his love of rocks and gems. Says Theo, "I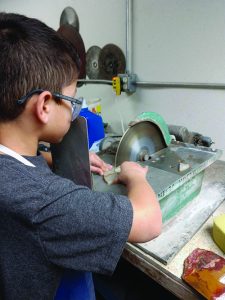 want to study and work with precious gems. I would love to go to Africa to find diamonds and other kinds of valuable rocks!"
For his latest birthday, Theo got a rock tumbler. He loves to get the dirt off his rocks and polish them to bring out their best, shiny potential. Says Theo, "The rocks I want in my future collection are diamonds, amethyst, rubies, emeralds, opals, turquoise, and a big crystal ball."
Theo's advice to fellow budding rockhounds? "Get out there! Head into the streambeds, caves, and caverns, where all these amazing and beautiful rocks and minerals are found in nature."
He also urges fellow juniors to interact with experienced adult rock collectors and to read books so that they can learn about all the things of beauty and bling still to be discovered and explored on our wonderful Earth!