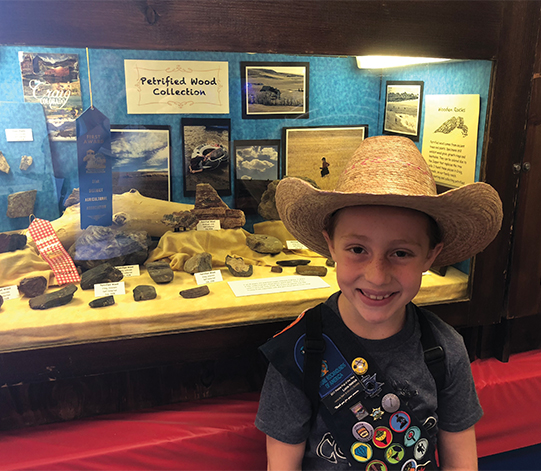 By Jim Brace-Thompson
When Raul Barraza ramped up efforts to rebuild the Ventura Gem & Mineral Society (VGMS) kids program in California several years ago, one girl stood out as a pied piper in bringing other kids due to her infectious enthusiasm.
Eight-year-old Lucia Hetrick has been a VGMS member since she was five. In that time, their Pebble Pups Program has grown to 40+ members. At least 17 are from Lucia's Montessori School of Ojai as a result of her fondness for all things rock related!
Early Passion for Collecting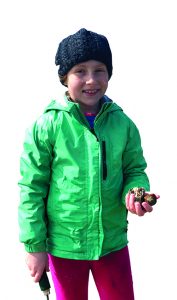 Lucia has picked up natural items from the time she began to walk and shares her finds. She collects everywhere she can and finds value in everything she collects: rocks, minerals, petrified wood, pinecones, seashells, antlers, fossils, etc. Her favorite items are fossils and petrified wood. Lucia enjoys being in nature exploring. Her favorite places are the beach with her mom, hiking with her dad or going to the family ranch in Colorado. She loves to share her collections with her friends.
As a member of the AFMS Future Rockhounds of America program, Lucia has earned 12 of the 20 badges offered and has earned numerous badges from the National Park Service Junior Ranger program. She has participated in the VGMS gem show with exhibits for two years, has exhibited in Federation shows, and has won first place trophies for two years in the Ventura County Fair. She recently began the certification process with VGMS to enable her to cut and polish rocks in the club workshop.
Awarded Achievement
As a result of her accomplishments, Lucia has been awarded an
AFMS/FRA Leadership badge and was recognized as VGMS 2017 Junior Rockhound of the Year. She dreams of becoming a paleontologist, scientist, or artist. She clearly shows the passion to accomplish any of these or more!
For more information about the Ventura Gem & Mineral Society (VGMS) visit www.vgms.org and for more information about the AFMS Future Rockhounds of America visit www.amfed.org/fra/fut_rock.htm.