By Rock & Gem Staff
She didn't have much education, but she made major contributions to the science of
paleontology through the fossil discoveries she made. Mary Anning was born in 1799, in the seaside town of Lyme Regis, in southwestern England. The area was rich in Jurassic marine fossils, which came to light as they weathered out of the coastal cliffs.
She and her brother, Joseph, grew up collecting seashells and fossils on the beach with their father, but when he died, gathering and selling fossils became a family business, and its main source of income.
Early Discoveries
At the age of 11 or 12, Mary uncovered the first complete ichthyosaur skeleton (her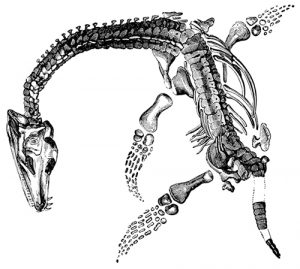 brother found the skull) found in Great Britain. It wasn't until wealthy collectors came calling for specimens that the family fortunes really took off. This brought Mary to the attention of the scientific community. Her fossil finds contributed greatly to a new, scientific understanding of early life forms.
Mary not only collected fossils, she taught herself geology, anatomy, paleontology, and scientific illustration. In her early 20s, she discovered a new dinosaur, the plesiosaur. She contributed the second known pterosaur fossil (the first was found in Germany), and a complete pterodactyl skeleton, as well as fossils. She also helped make the discovery that the curiosities known as "fossilized fir cones" were actually fossilized poop.
Accolades for Anning
Her name was known to geologists in Britain, Europe and America, but Mary's gender and amateur status kept her out of the male-dominated scientific societies of her day. She got little credit for her discoveries during her lifetime, although the Geological Society of
London took notice of her death in 1847. History, however, has caught up with Mary Anning. In 1995, Hugh Torrens, President of the British Society for the History of Science, declared her "the greatest fossilist the world ever knew", and 2010, the Royal Society named her one of the most influential women scientists in British history.