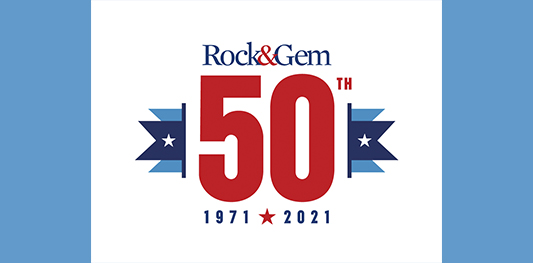 By The Rock & Gem Team
2021 is a big year for Rock & Gem! The brand is celebrating 50 years of serving the rockhounding, lapidary, and mineralogy community. 
Since reaching a 50-year-milestone of any kind is something special, we're celebrating all year long. The celebration will fuse our past, present, and future of service to the rockhounding, lapidary, and mineralogy community we love. The curiosity, boundless spirit of camaraderie, and life-long passion for learning that is ever-present in this community is why we do what we do. 
Throughout 2021 we'll be presenting various activities and new elements, including: 
• Monthly Contests with unique prizes for readers and advertisers alike. 
• Club Call Out: Regular print column, social posts, and club profiles to celebrate and showcase clubs' awesomeness. Plus, we have exclusive club advertising options...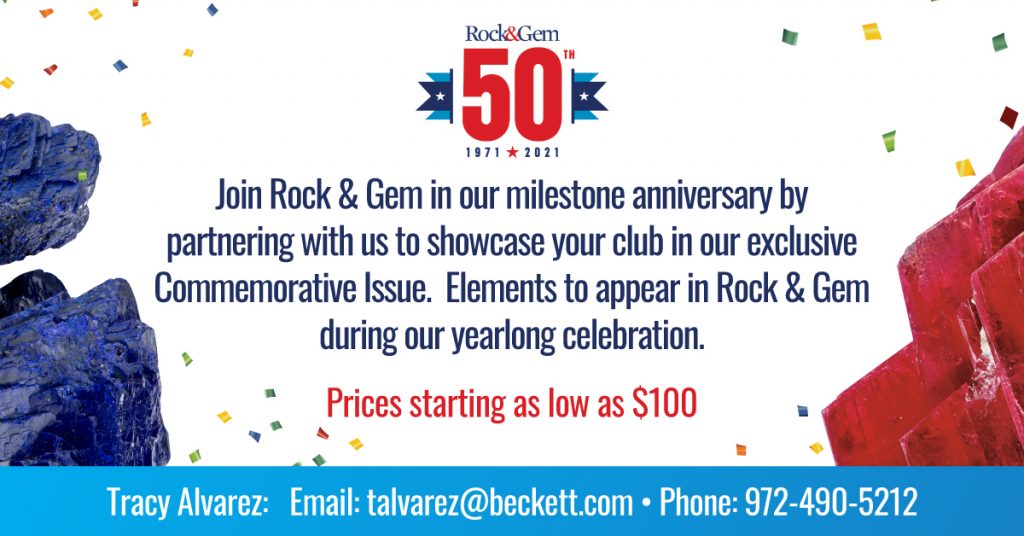 • Regular Rock Shop Shout-Outs: These will be part of the print magazine, with an expanded presence on our site and social. 
• Rock & Gem Revisited: Encore publication of timeless articles from the Rock & Gem archives. 
• Community Contributor Q&A: Column profiling individuals who positively impact the rockhounding, mineralogy, and lapidary community.
• 50th Anniversary Commemorative Issue of Rock & Gem: This special publication (offered in print and digital) will be available at the end of June/beginning of July 2021 - and it will illustrate our fusion of past, present, and future in celebrating this milestone. 
We'll announce even more new offerings as the year proceeds, and the best way to keep up with what Rock & Gem is to do the following:
• Sign up for the Weekly Review free newsletter. Register today>>>
• Subscribe to Rock & Gem (1-year print: $29.99 or $27.99 for digital). Learn more and subscribe>>>
• If you own a business, contact advertising executive Tracy Alvarez, to discuss how Rock & Gem can partner with you to devise a tailor-made plan to help achieve your goals. Email: talvarez@beckett.com Phone: 972-490-5212