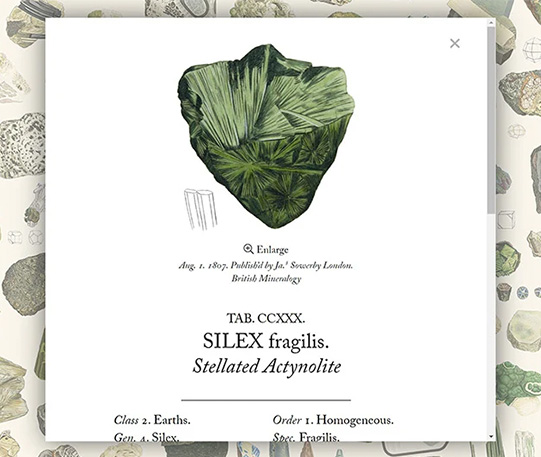 By Antoinette Rahn
A 21st-century web designer and data artist recently brought modern innovation and interactive accessibility to an extraordinary selection of 19th-century drawings of minerals.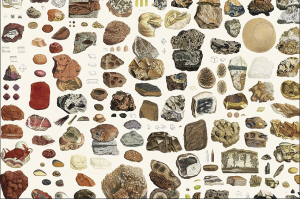 The minerals featured are illustrations of noted British naturalist, illustrator and mineralogist James Sowerby (1757-1822). Modern artist Nicholas Rougeux studied hundreds of detailed and notable mineral illustrations drawn by Sowerby and published between 1802 and 1817, according to information presented at www.designbloom.com. Then Rougeux color-coded hundreds of the illustrations and arranged them in a spectrum of hue and brightness. The minerals presentation extends from red-toned minerals on the left, through a myriad of yellow and green-hued minerals in the middle, to blue-hued minerals on the right. The interactive display accessible, for free, at www.c82.net/mineralogy allows viewers to select any mineral illustration and click on the image to view details (name, classification, species, and a short description) compiled and illustrated by Sowerby and published in his compendium, British Mineralogy and Exotic Mineralogy. In addition to the interactive online display, copies of a presentation poster are available for $27.80. View Poster for Purchase>>>
See the end of this post to learn how you could win one of three posters!
I'm not entirely sure how Sowerby would feel about Rougeux's innovative presentation of his illustrations. But, based on the fact that the man, both artist and scientist, was the first in a multi-generational family of nature artists, makes me believe he'd find favor in the respectful ode to his work. According to information presented at www.illustratedgarden.org, Sowerby came to his unique illustration style after completing studies at the Royal Academy of Schools. He decided to follow the path of a painter of floral art. However, instead of focusing solely on the subject's visual beauty, he fused his appreciation for science with his artistry. During his career, Sowerby created extensive libraries of illustrations featuring botanicals, fossils, florals, British Mineralogy and Exotic Mineralogy. Sowerby's life and work are the subject of relatively new (2015) book by Paul Henderson entitled James Sowerby: The Engl
This project captivated my attention because of the beautiful fusion of science and art, the unique connection between 19th and 21st-century artists, and rockhounds of the distant past and present. I think this project speaks to the idea that while time, space, and personalities may be different, we are far more similar than different in many critical ways.
To view and experience Rougex's interactive display, visit www.c82.net/mineralogy. PLUS, we will be giving away 2 of the posters to subscribers of the Rock & Gem Weekly Review e-newsletter. Recipients will be selected randomly from all subscribers on Sept. 16, and notified via email, social media, and at the end of this article. To subscribe to the free e-newsletter, enter your email address in the STAY IN THE KNOW promo at the top of our site.