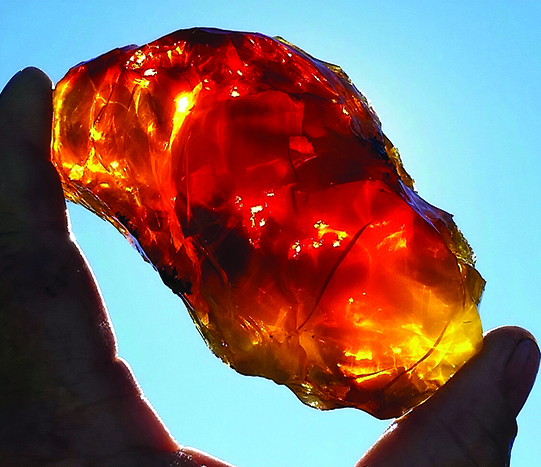 Outlaw Rocks, LLC, is a sponsor of

By Bruce McKay
The first fire opal I met from the Opal Queen Mine was brownish, had no play-of-color or any life to it, and didn't impress me with its beauty. What did impress me was that this thing was as big as a football. The next time I saw material from this mine, it was some very beautiful rough and cut material; much of it reminded me of Mexican fire opal. The reddish-orange, glassy clear rough yielded lively, beautiful faceted stones and cabs. Although I had hoped to get to the mine and dig some of this material for myself, the mine was soon closed to public digging and remains so today.
This opal was first mined 100 years ago, and Tiffany's of New York was among the early retailers that sold fire opal cut gems. The discovery of Mexican fire opal resulted in the material flooding the market, causing the value to drop and abandonment of the Opal Queen Mine. Today, Troy Newman and Michelle Shepherd of Outlaw Rocks in Lakeview, Oregon, own the mine and have generated renewed attention and appreciation for material from the Opal Queen.
Family Tradition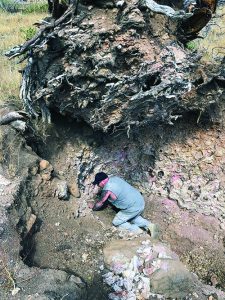 Both Troy and Michelle come from mining families going back generations. Troy's father and uncles were gold miners, and his grandfather mined for gold and Mariposite. His great-grandfather was also a miner, making Troy a fourth-generation miner and his son a fifth-generation miner. Michelle's mother was a gold miner in Northern California, and her grandfather and great-grandfather were Kentucky coal miners and moonshiners. While she certainly picked up the mining gene, I don't think she has continued the moonshining tradition.
The home base for Outlaw Rocks LLC is Lakeview, a small town in eastern Oregon just north of the California border and a long way from almost anything. The locals claim that the community holds the distinction of being farther away from a freeway than any other town in the United States. Troy and Michelle mine opal from three different mines in the mountains west of Lakeview, mining opal in many different colors: red, red/orange, pink, white, blue, and brown.
The Opal Queen produces the reddish-orange opal, transparent and translucent varieties, and chocolate brown opaque to translucent opal. No play-of-color opal has yet been found at this mine. The miners cure larger pieces by putting the rough in a bucket in a cool dark area with consistent climatic conditions for up to a year before selling. This curing process helps prevent or reduce crazing or cracking of the stone after removal from the conditions it lived in for thousands or millions of years. The opal from this mine is marketed in the United States and Britain as American Fire Opal.
The Pink Lady Mine yields mostly opaque pink common opal in shades from light pink to red plus some opaque white. The opal from this mine needs no curing.
The Blue Maiden Mine is the most recent discovery by Outlaw Rocks, producing opaque blue common opal in a beautiful denim blue color. Troy and Michelle found this mine by old-fashioned sleuthing after hearing that blue opal, including a variety with play-of-color, was found in a creek in the nearby Fremont National Forest. Troy began to scour the hills, working up from where they found traces in the creek. He consistently searched for six years before he found a large tree that had fallen over. In the hole left by the tree root, he found the source of the blue opal he had been searching for so long to find. He quickly filed a claim and named it the Blue Maiden Mine.
All of the blue opal mined so far has come from this one hole, and all of it is opaque common opal with no play-of-color. The knowledge that play-of-color opal must be nearby has kept Troy and Michelle hopeful and digging.
First-Hand Adventures
Troy and Michelle invited me to visit their mines in the summer of 2019. I asked my friend Ken to come along, even though he has no particular interest in rocks but does enjoy a good adventure. We camped in the backyard of Troy and Michelle's property near Lakeview, Oregon, which is located within an hour of the three mines. First, we went to the Pink Lady Mine. The mine is a V trench that cuts up the hillside a few hundred yards. It is surrounded by trees with a beautiful view over the Fremont National Forest.
We drove to the top of the trench and walked down to the most recent opal discovery. Using hand digging, we soon found some very nice Pink Lady opal, some lighter and some richer in color. The color in this area ranges from white to red, with most material appearing in the pink range. I did not uncover any white or red opals, just some pretty pink opal.

The next mine we went to was the historic Opal Queen. This mine sits on top of a sparsely treed hillside with an expansive view over a large ranch valley and the Fremont National Forest. We walked down the hillside from the mine over a rocky slope, and opal pieces were scattered everywhere. It is easy to see how people discovered this mine. The deposit is an open-pit, measuring about a quarter acre. At the bottom of one section of the pit, about 20 feet in depth, is a pond full of tadpoles. Thick seams of opal up to two inches wide could be seen filling the surrounding volcanic basalt cracks. The mining here is done with electric jackhammers, working around the opal to break it free from the basalt without fracturing the opal.
We jackhammered around exposed seams near the floor of the pit and on the face of a wall that had visible vugs of opal. We found some very nice red-orange opal with excellent transparency, plus some more translucent to opaque. I could also recover from the pit wall, a 15-pound piece, with color that ranges from chocolate to a translucent orange-brown. That chunk will be large enough for me to create a carving someday. My friend Ken found a nice piece of fire opal that I'll cut and use to create a piece of jewelry for Ken's wife, Anita.
Our next destination was the Blue Maiden Mine, where Ken and I climbed down into the hole beneath the storied tree root ball. We dug and dug and dug for maybe 15 minutes, coming up empty. The opal material in this mine comes in thundereggs, and we found plenty of empty eggs but no opal. While we were digging away down in the pit, Troy found a couple of nice pieces in the tailings pile.
The Blue Maiden Mine is on a gently sloping hillside that is mostly forested. A fire came through this part of the forest a few years ago, thinning out the trees quite a bit. Within a hundred yards of the pit are multiple pits where rockhounds have dug agate thundereggs. We picked up a couple of thundereggs, so we did not come off the hillside empty handed. The Blue Maiden holds much promise, and if they ever hit a pocket of blue play-of-color opal, it will be historic.
Opal Availability
You may have seen opal examples from this area, as chocolate opal from the Opal Queen Mine has been set into a line of jewelry and sold through QVC. Opal Queen Mine fire opal has been sold through Rio Grande, a jewelry-making supplier in the United States. Also, jewelry made using the fire opal from this area has been sold to Gemporia in England. Opal from the Pink Lady Mine has also been put into a jewelry collection and sold on television through ShopLC. And of course, Outlaw Rocks sells beads cut from the orange-red fire opal plus rough of all qualities from the mines at their site, www.outlawrocksllc.com.
Please note, none of the Outlaw Rocks-owned mines are open for public digging. However, you can enjoy a virtual dig excursion to the mines by visiting the Outlaw Rocks channel on YouTube.
---
For More Information
Visit: www.outlawrocksllc.com or www.facebook.com/royalpeacockopalmine
YouTube: Outlaw Rocks
Email: outlawrocksllc@gmail.com
---