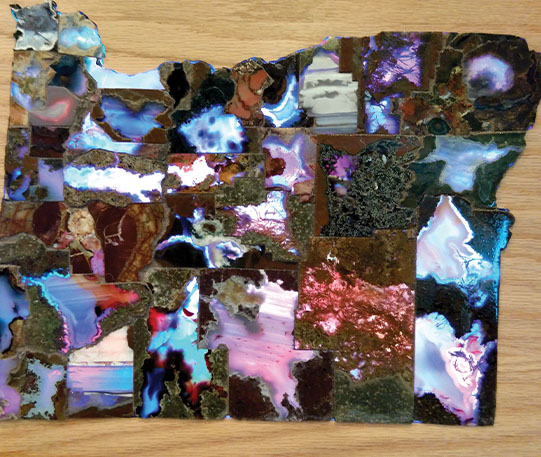 By Antoinette Rahn
One look at the inside of a thunderegg, and it's easy to understand the wild interest in these rocks with agate-filled nodules. Plus, it's not every day you come across a rock or mineral that an ancient legend is based on. As the story goes, the name came from Native American tribes living in central Oregon, eons ago, who spoke about uncommon stones actually thrown in battle by the "Thunder Spirits" who lived atop Mount Jefferson and Mount Hood in Oregon. Hence the name.
For Oregon rockhound Gary Knutson, a member of the Mt. Hood Rock Club, it was an appreciation for thundereggs and Oregon pride that led him to create a fascinating display in the shape of Oregon, made from slices of thundereggs.
Combining Multiple Aspects of An Interest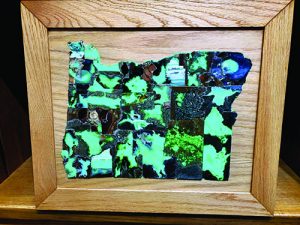 Knutson's creative process involved several aspects of his love for rockhounding and lapidary work. First, he turned to his collection of Oregon thundereggs to select the perfect specimens for the project. Then he enlarged a map of Oregon, which shows each of the state's 36 counties. After cutting out each county, he glued the pieces to the slices of thunderegg. After a lot of cutting and grinding to fit them together, Knutson glued them to a piece of clear acrylic and built an oak display box. He proceeded to mount LED lights behind the display to create a striking glow.
Knutson's unique thunderegg display is often a big hit whenever he brings it to the Mt. Hood Rock club's shows and meetings. In 2017, he won the Project of the Year award for the thunderegg display. As one might expect, children are among the most impressed with the display, explained Knutson, who regularly began rockhounding following his retirement in 2015.
"I think what inspired me most about it was, 'here is something that is millions of years old — that no one has ever seen before," he said. "You cut (rocks). Polish them and turn them into a thing of beauty."
Having spent a great deal of time collecting and examining thundereggs, Knutson never tires of the unexpected thrill that comes from discovering the beauty inside. Over the years, he's developed sub-categories within his collection, including thundereggs that look to include animals' faces, others that appear to present an image of a waterfall, and still many others that reveal ocean scenes.
Using Lapidary Art to Introduce Rockhounding to Others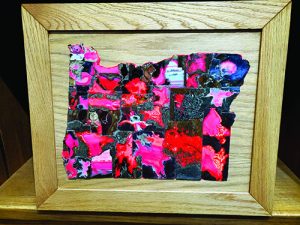 A member of the Mt. Hood club for the past five years, Knutson has steadily expanded his lapidary experience, with the latest skill involving cutting cabochons, he said. The opportunity to grow as a lapidary artist, and share stories and experiences with fellow rockhounds are a couple of the many things he enjoys about the hobby, but the thing he enjoys most is seeing the joy that comes from introducing and supporting children as they discover the wonder of rocks.
"When we have our annual show for the public. I volunteer to greet people as they enter the show," Knutson said. "I like to visit with the little kids that come for their first time. After they go to the kid's corner and receive some rocks, they can't wait to show me what they have. That just makes my day."
The Mt. Hood Rock Club (www.mthoodrockclub.com), like many clubs across the country had to cancel its 2020 show, in response to the COVID-19 pandemic. However, the group is looking forward to hopefully presenting a show in 2021, and gathering for in-person meetings, hosting shop hours, and organizing rockhounding field trips to various locales, including the club's own thunderegg claim.
In the meantime, for Knutson, whether it's spending the day hunting for rocks, cutting and polishing thundereggs, creating a truly unique and inspiring showcase, or actively encouraging the rockhounding spirit in youth, it's all part of living life well.