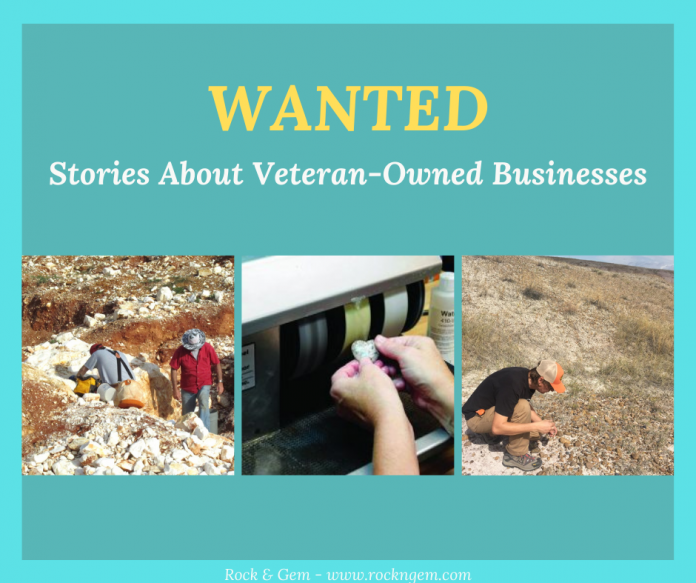 In recognition of Veterans Day, the November issue of Rock & Gem contains articles highlighting individuals in the mineralogy, lapidary, and geology community whose military service and deeply ingrained patriotism was interwoven with their passion for rocks, minerals, gems, and fossils.
With the 101st observation of Veterans Day (initially Armistice Day) recognized in 2020, we wanted to share a few examples we've discovered where the mining industry and mineralogy hobby are meeting veterans where they are in their lives and offering support and opportunity.
We are also working on a new element you'll see incorporated in an upcoming issue of Rock & Gem and on our website, "showcasing veterans who operate businesses in the rockhounding and mineralogy hobby and industries. Learn more about the program and how you can participate at the end of this article.
Mindful Mentoring
Of the various companies with active recruitment programs to hire military veterans is Coeur Mining, with headquarters in Chicago, Ill. This company's Coeur Heroes program is designed to mentor military personnel through various on-the-job experience, where the specific skills gained and honed during service are used. Of the company's more than 2,000 employees, 48% have four or more years of military service.
Driven Digging
Have you heard of "rehabilitation archaeology"? Since 2016 the organization American Veterans Archaeological Recovery (AVAR) has been serving military veterans by providing opportunities to participate in archaeological fieldwork, using many of the skills, drive, and attention for detail that they earned during service. A team of professional archaeologists works with and trains the veterans in archaeological excavation techniques and processes.
Founded by veterans Stephen Humphreys and Mark Reed, the non-profit group teams up with other organizations and businesses to complete various projects, such as the 2018-2019 collaboration between AVAR and DigVentures, funded by a grant from the National Geographic Society, to excavate an area in Mount Lebanon, New York that was the site of a significant Shaker community in the 18th and 19th century. www.americanveteransarchaeology.org
U.S. Veterans Mining "Down Under"
Earlier this year, Stars and Stripes, the U.S. military's news resource, reported a growing trend among Australian mining companies promoting workforce opportunities to U.S. military veterans.
With the Australian mining industry continuing to play a significant role in that country's economy, and more new mining operations in the works, the country — which reports a population of just over 20 million — needs more skilled workers to the jobs. That's where the Australian government hopes U.S. military veterans can lend a hand. Prior to COVID-19-related travel restrictions, the Australian government streamlined American workers' process to gain visas.
WANTED: Stories About Veteran-Owned Businesses
As mentioned earlier in this article, another new aspect we'll be featuring in Rock & Gem (in print and online) in the coming months is a spotlight on military veterans who own a business or work in the fields of rockhounding, lapidary, dig site operations, earth science education, gem shows and shops, and paleontology. We see the tremendous sacrifice, dedication, and commitment veterans give day after day, and Rock & Gem would like to try and give a little back in the way of support.
If the above describes you or someone you know, please take a minute to email, call or write Managing Editor Antoinette Rahn with the following information: Your name, branch and years of service, type of business, as well the name and contact information of your business. Antoinette will get in touch with you to confirm additional details. Contact Antoinette via email at arahn@beckett.com, phone 715-721-0532, mail C/o Rock & Gem 415 West Fulton St. #9 Wauapca, WI 54981.