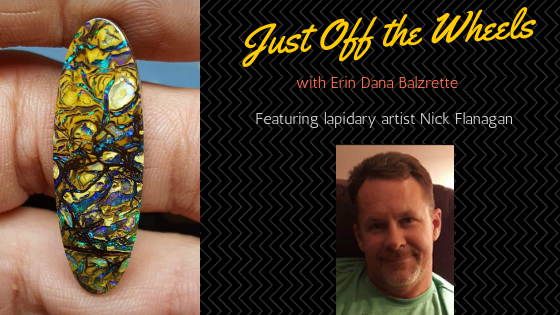 By Erin Dana Balzrette
An astounding lapidary artist, dazzling all with his ability to get a mirror shine on any material, Nick Flanagan's work is admired by many. He is a masterful artist, with an amazing sense of humor. Most importantly, his pug, "Henry", is the envy of all who know him. It is always a pleasure to chat with Nick Flanagan.
Erin Dana Balzrette: Where did you get the material for this cab, and what drew you to it?
Nick Flanagan: This material is from the Comet Opal mine in Koroit, Queensland, Australia. I was drawn to this beautiful and rare material after seeing Gene McDevitt's Facebook posts. I wanted to get ahold of some to cut as soon as possible. I have heard other lapidary artists describe this material as being challenging to cut and to get a good shine on. I was very curious.
EDB: How long have you been a rockhound and lapidary artist, and what attracted you to cabbing?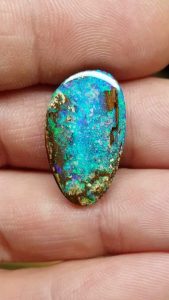 NF: I have been a rockhound ever since I can remember. I was always picking up stones wherever I went, bringing them home. I started mining crystals and minerals about eight years ago. My daughter and I used to sell crystals, and minerals at gem shows.
I also enjoyed the learning process when I began to tumble stones. I went to buy a flat lap off of an add I saw on Craigslist. I ended up buying a bunch of saws, and a Genie lapidary machine. The wheels were very worn on the Genie, but I managed to make a few stones. I was given a set of used wheels and a lot of encouragement from a lapidary master. His generosity made an impact on me. Now I try and give help to new lapidary people, like was freely given to me.
EDB: What process do you use when creating cabs? Is there any special technique used when creating the featured cab?
NF: My attitude and my frame of mind directly affect my cutting. The set up of my machine is very important to me. I stand when I cut. Having the machine set up at the right height, and being comfortable is key. I use foam pads for a hand rest. I usually start out by putting on some noise canceling headphones and choose some music. Having a relaxed stance while cutting, and being mindful, has improved my cutting.
When I cut any stones, I take my time. I cut a $50 stone the same as I would cut a $500 stone. These particular stones, when I would start to grind them, I would do it a very little bit at a time. Trying to expose as much colorful opal as possible. I know from experience if I grind too much too fast all can be lost. I cut by intuition, and do my best. Sometimes it works out, sometimes it doesn't. That is what makes this material extra fun to cut. I don't use templates. When cutting this material I am constantly changing shapes and sizes to go with the natural flow of the stone. Each stone is different.
EDB: What is a new cabbing approach that is bringing you great excitement?
NF: I try to be a better cutter than I was yesterday. The only person I'm in competition with is myself. I focus on quality rather than quantity. This goes for the stones I cut, and the machines I use to cut them.
EDB: What advice you would like to give new lapidary artists?
NF: Don't take cutting too seriously. Any worthwhile endeavor will be full of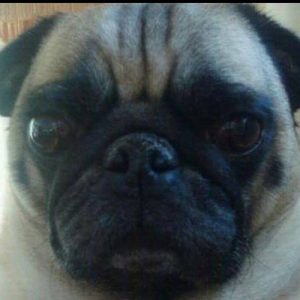 failures, and success. Remember, you're polishing stones not your fingers! Have fun!
EDB: What is your motivation to create, and your favorite part of the process?
NF: My motivation is to grow each and every day, to stay open-minded, and teachable. If I do my best and put my soul into it, I need not worry about the results.
---
WHERE TO FIND NICK
Company name: Cassidy's Crystals (Nick and Cassidy Flanagan): www.facebook.com/CassidysCrystals OR email nickflanagan73@gmail.com
Instagram: https://www.instagram.com/flanagannick/?hl=en
Facebook Groups: Cabs are Here - Nick Flanagan
---
Author: Erin Dana Balzrette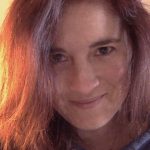 Owner of Tree Climbers Stones, co-founder of Facebook's 'Stone and Silver' group, and weekly host of the 'Ladies Day/Night' Auction on Facebook's 'Cabs and Slabs' group.
She is a long-time rockhound and a GIA AJP. To view more of her work, visit www.tcstones.com.