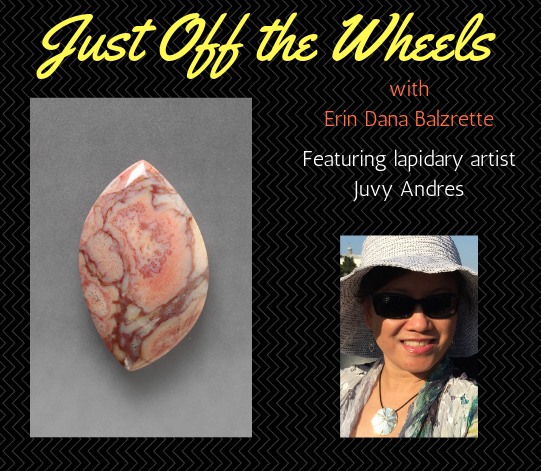 By Erin Dana Balzarette
Juvy Andres' quiet, polite, compassionate, and kind-hearted way of chatting could easily make you fast friends. If you are fortunate enough to know her well, you would also learn, this amazingly talented lapidary artist has courage beyond measure. Enjoy her beautiful work and conversation with Juvy. 
Erin Dana Balzrette: Where is this material found? What drew you to this material?
Juvy Andres: This (Souris agate) was collected last year in Souris, a small town in Manitoba, Canada. When I found this material, I knew it was different from the other agates I found in that area. There was a circular pattern that was quite noticeable on the surface of the rock.
EDB: How long have you been a rockhound and/or lapidary artist, and what attracted you to cabbing?
JA: I was attracted to rocks starting in childhood. I was always fascinated by their colors. When my son was about five years old, we went to a town called Hecla Island in Manitoba. The ground was just full of rocks, mostly granite and a few obsidians. I collected the rocks that I thought had beautiful coloring, hoping to draw my son into collecting. I even bought him a rock tumbler and books.
My official rockhounding days started about five years ago. I make jewelry, and I previously bought cabs to set, but I got frustrated when I couldn't find the right sizes and shapes that I wanted. That's when I decided to try my hands on cabbing. That was eight years ago.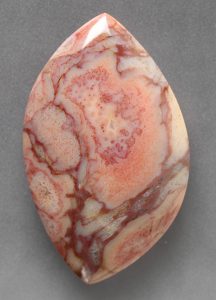 EDB: What general creative process do you use when creating cabs? Is there any special technique you would like to share that was used when creating the Souris agate featured here?
JA: I examine the slab; find what I think is its best feature, and start from there. For this particular cabochon, as soon as I slabbed it, I saw right away the pattern I wanted.
EDB: What is one bit of advice you'd share with someone considering learning about cabbing?
JA: My advice for new cabbers is to practice patience, patience, and patience. Do not rush your work. Quality, over quantity, is always better.
EDB: What is a new cabbing technique/process/approach you've picked up recently that is bringing you great excitement?
JA: I like to try to cab different shapes. I've done a few cabs with concave curves lately, and I'm pretty happy with the outcome. In the future, I'd like to try carving.
EDB: What motivates you to create, and what part of the entire process from finding the rough, to the finished cab is your favorite part of this lapidary process?
JA: What gives me the motivation is finding new materials to work on. Something different and unusual. My favorite parts of the process are the early stages of grinding and forming the dome. It's just like peeling the cab layer by layer until it reveals its true beauty.
---
WHERE TO FIND JUVY
Company Name: JC Cabochons (for cabs) and JayCi Gems (for jewelry)
Facebook: JuvyAndres52
Facebook: JC Cabochons
Facebook Groups: Cabs and Slabs
---
Author: Erin Dana Balzrette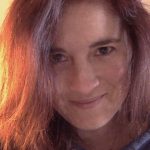 Owner of Tree Climbers Stones, co-founder of Facebook's 'Stone and Silver' group, and weekly host of the 'Ladies Day/Night' Auction on Facebook's 'Cabs and Slabs' group.
She is a long-time rockhound and a GIA AJP. To view more of her work, visit www.tcstones.com.