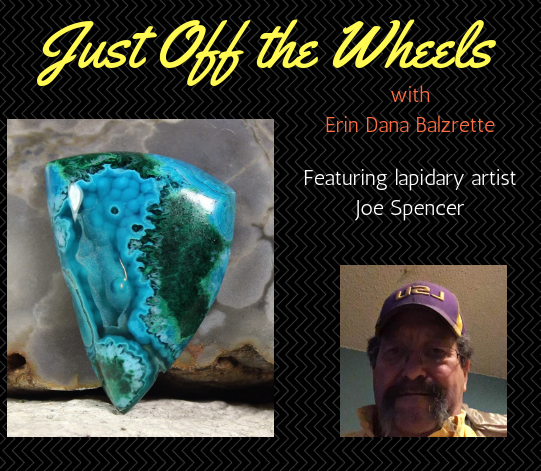 By Erin Dana Balzrette
A fellow Texan, as well as lapidary artist, I always enjoy chatting with Joe. Discussing lapidary work, as well as his extensive knowledge of rocks in general, is ranked closely with hearing him describe his BBQ!
An avid fisherman, family man, and artist, his work reflects the kind and generous person he is. Please enjoy this introduction to Joe Spencer.
Erin Dana Balzrette: Where did you get the material for this cab, and what drew you to it? 
Joe Spencer: The chrysocolla is from the Inspiration Mine in Globe, Arizona. The vibrant blue color has always attracted me to it. The beauty of the copper rich material is always a big selling point.
EDB: How long have you been a rockhound and lapidary artist, and what attracted you to cabbing?
JS: I began rockhounding in 2010 after being disabled and could not continue doing the work I had always done. I needed something to occupy my mind and hands.
I began tumbling rocks and soon knew I wanted to cut cabs instead of just polishing rocks to sit around the house. I joined websites to learn more about rocks and eventually knew I wanted to create jewelry.
EDB: What process do you use when creating cabs? Is there any special technique used when creating the featured cab?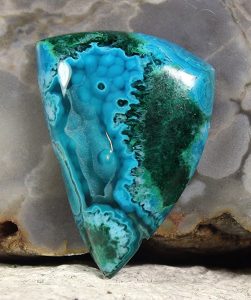 JS: I rarely use a template to mark out my cabs. I mostly do free form work. I will see a figure or pattern to highlight and find a way to border that feature with smooth flowing lines versus geometric shapes preferred.
The cab featured today had the awesome window with botryoidal growth that was the main target with the field of color there to balance the look.
EDB: What is a new cabbing approach that is bringing you great excitement?
JS: I can't really say that I have any new approaches to cabbing since they were all new to me a short time ago. I am completely self taught and basically developed my own style of cabbing after watching a few videos.
EDB: What advice you would like to give new lapidary artists?
JS: Don't be afraid to try new things. Mistakes will happen. Use them as a learning tool. Never be afraid to ask for advice from someone more experienced. Rock hounds will almost always be more than happy to help you become better at what you do.
EDB: What is your motivation to create, and your favorite part of the process?
JS: My motivation comes from the rock itself. When I look at a rock or slab and a feature in that rock just stands out, I know I have to capture it. My favorite part of the process is the initial grinding to cut the borders and begin my dome. If the preform breaks it usually happens during this stage. You have the choice to toss the rock or reshape it. This can help you become more creative and be a plus.
---
WHERE TO FIND JOE
Facebook Groups: Cabs & Slabs, the premiere lapidary group on Facebook, which Joe helps administer.
Plus, Joe's wife, Donna, also makes jewelry using many of his cabs to sell. Learn more about her business: Wraps O'D.
---
Author: Erin Dana Balzrette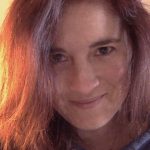 Owner of Tree Climbers Stones, co-founder of Facebook's 'Stone and Silver' group, and weekly host of the 'Ladies Day/Night' Auction on Facebook's 'Cabs and Slabs' group.
She is a long-time rockhound and a GIA AJP. To view more of her work, visit www.tcstones.com.