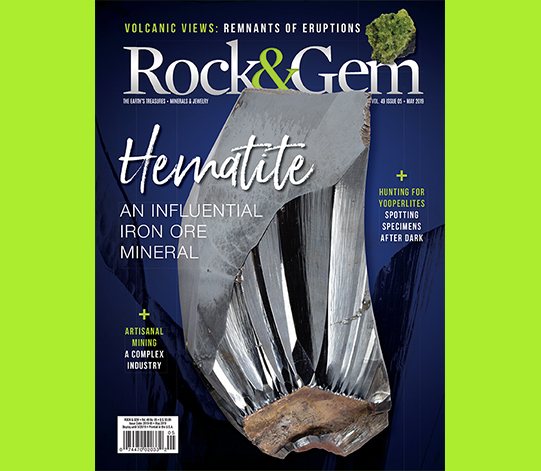 Below is a snapshot of some of the topics and interests you can expect to see in the pages of the May 2019 issue of Rock & Gem. Plus, we've included a couple of sample pages for you to enjoy.
• Hematite: Globally Influential and Accessible. By Bob Jones
• Volcanic Gems: Fragments of Clear Magma Dot Wine Country. By Bill Rozday
• Artisanal Mining: It's Dangerous, Illegal, Undocumented - Booming. By Steve Voynick
• Botryoidal Hematite and Goethite: Exploring New Mexico's U.S. 60 Mine. By Mark Leatherman
• Proustite: A Red Silver Treasure. By Bob Jones
• Hunting For Yooperlites (Part II): Spotting Sodalite on the Shores at Night. By Wayne Peterson
• The Minerals Of Kilauea: More Than Meets the Eye. By Donna Albrecht
In addition, you'll find the following regular R&G columns: Bench Tips with Bob Rush, Rock Science with Steve Voynick, What to Cut with Russ Kaniuth, On the Rocks with Bob Jones, Just Off the Wheels with Erin Dana Balzrette, Question of the Month, Picks & Pans, as well as an extensive Show Dates section, and the always popular Parting Shot.