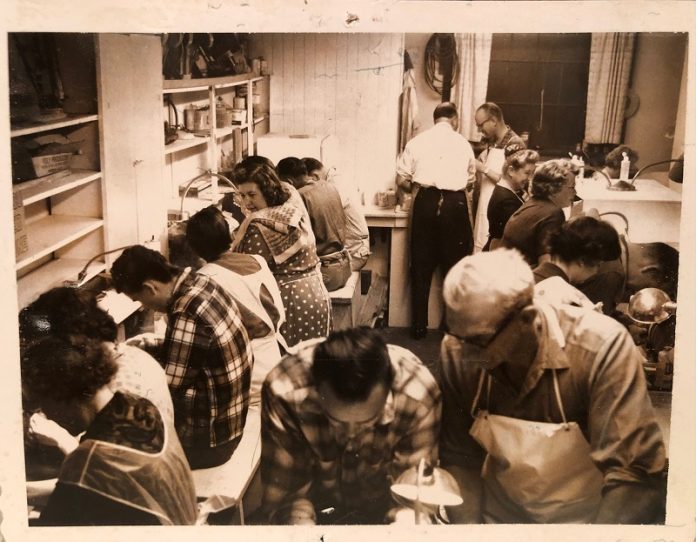 Growing up in a rock store is a rockhound's dream. For Velma (nee Medley) Stockton-Henken, she lived this dream in her mother's rock shop learning all things rock and lapidary. Here's a look back at a childhood and young adulthood like no other.
Starting a Rock Store
Isobel Medley was an only child and was raised in the early 1920s on a prairie farm in Carberry, Manitoba. She attended a one-room school with one teacher for first through 12th-grade students. Isobel developed a strong interest in rocks and geology in those formative years. She eventually moved to Vancouver, British Columbia. In 1945 she married Al, for whom she waited eight years for his return from the War. She became the mother of three children while studying geology. Her love of rocks ultimately inspired her to open a rock store.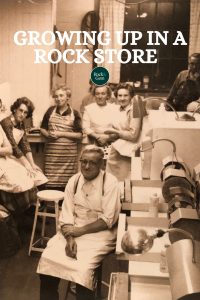 The Fraser Rock Shop opened in 1960 and it became the place her daughter Velma spent most of her childhood every day after school. Velma holds many fond memories of her experiences there. For instance, the original shop was located next to a Chinese market – one that Velma frequented when the fresh produce was being delivered. She remembers the shop had an apartment upstairs and she often played with children who lived there.
Quickly though, the shop grew and needed more space. Isobel had visions of a larger shop and space to teach classes. Velma recalls that this move, also on Fraser Street, brought the shop closer to her middle and high school. Growing up in a rock shop, Velma developed skills that helped her throughout her life – listening, providing for each customer, public speaking, asking questions and developing relationships that lead to lasting clients. In those years, Velma didn't realize just what a skilled lapidary her mother was.
Isobel was a lifelong learner and pursued lapidary skills that reflected her expertise and experience, and Velma learned those same skills.
A Family Affair
The Fraser Rock Shop may have been Isobel's brainchild, but it was really a family affair. Velma recalls her father Al being an active part of shop operations. He was a career business agent and traveled during the week, but on weekends he was involved in cutting larger rocks — Brazilian agates, jades and petrified woods to name a few. Eventually, their mutual interest led Al to purchase a jade mine with a partner. Helicopters were needed to fly to the Birkenhead Jade Mine in the interior of British Columbia where huge, on-site saws were used by her father to cut pieces of jade which were later sold in the rock store.
Velma recalls that family vacations included spending time rock hunting. "It didn't matter what direction we were traveling; we were always looking for rocks," Velma explained. She still has a jar of opals she collected in Mexico on a family adventure. Trips also provided insights into how stonework was done in other parts of the world. For example, Velma remembers antiquated tools in use in Mexico and a stunning European trip where they observed rocks being cut by lapidary artists lying on their stomachs.
Rock Store Adventures
Growing up in the rock shop seemed natural to Velma. She didn't realize how uniquely special it was until high school. Velma had many wonderful experiences working alongside her mom. For instance, she recalls her mom announcing her participation in a local children's television program called "Show and Tell." Her mom thought it would be a great experience for her and suggested she speak about thunder eggs.
Thundereggs are found in Oregon and are formed in rhyolite lava. Customers to the shop found them to be interesting – and would choose one to cut with a diamond blade saw to reveal their internal patterns and colors. "I was feeling mortified, scared and nervous," Velma said. "Mom stayed focused on the positives and I being obedient and not wanting to let her down, agreed to participate." While Velma doesn't remember the filming beyond the gentleman who took her through it, the experience was an opportunity to learn and grow.
Another time Velma recalled waiting on a young, handsome man with curly blond hair. He wanted to have a special pendant made for his fiancé at the time. Her mother cut and polished the stone, setting it to his preselected settings. Later they learned that this young man was the Canadian musician Terry Jacks, famous for the song Seasons in the Sun.
Developing Clients
Slowly, Velma developed clients of her own. She worked for a visually impaired gentleman who paid her to polish the stones he would give as gifts. Velma's mother tasked her with teaching a legally blind girl to shape cabochons on the grinder. This was a good challenge because it's easy for a sighted person to grind away a layer or two of skin!
"There was a lot of activity in the rock shop, so it was fun being there," Velma said. Not only were there classes for adults and youth, but often people came in and rented equipment by the hour. People renting equipment for .35 cents an hour always had her mom as a resource while polishing and cutting stones. The shop was a hub for rock club events, students of all ages and anyone interested in learning about rocks.
Lifetime Achievements
"I do admire the sense of achievement my parents shared throughout their lives," Velma declared. "The joy of work for us, I think, could be attributed to all the wonderful people we met, helped, taught and encouraged."
Velma went on to say that over the years, they had belonged to a couple of different rock clubs building life-long friendships that spanned fun annual gatherings, food, games, music and memories which of course included attending rock shows!
"Rockhounds come in all ages," she added. "Even from prairie farms."
Rocks for Sale
While Velma was living in Alberta, her parents sold the rock store in the mid-1980s, (or so she thought) only to fully realize after their deaths that they had retained their extensive collection of finished jewelry, cut and uncut stones. Recently, Velma has been working to sell the entire collection.
This story about growing up in a rock store appeared in Rock & Gem magazine. Click here to subscribe. Story by Deb Brandt.