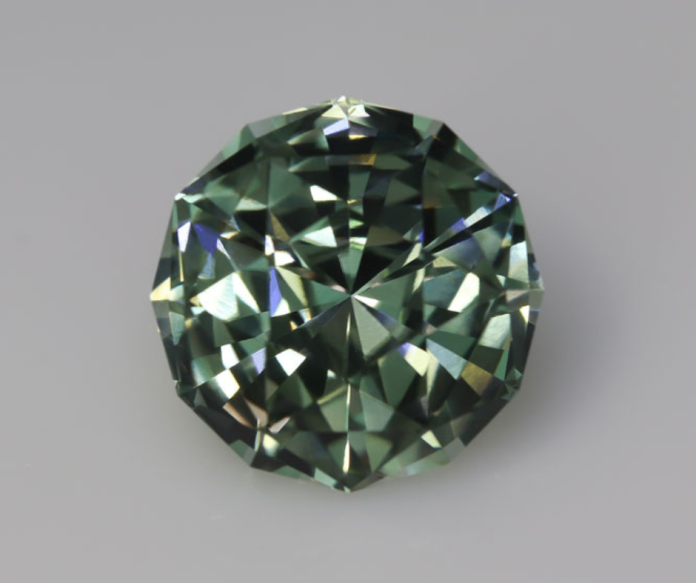 Gem faceting the Super Star gemstone design by Andrew Brown is a little misleading upon initial review. It appears to be a typical round brilliant gemstone design. However, with a deeper understanding of the symmetry, you see that it has a three-fold symmetry. Andrew has taken the dodecagon girdle and transformed it by making the pavilion a trillion, giving the gemstone a traditional round appearance while adding the benefits of the trillion's light return and scintillation.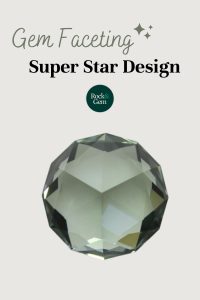 Andrew's design is more about the overall appearance, using facets that provide a pleasing and complex composition. The combination of both round and triangular symmetries invites the beholder to reflect on a unique and inviting set of patterns.
Andrew paid special attention to the low refractive index (how much light will bend when entering the gem) for quartz to minimize windowing (losing the reflective nature of the gem's facets), allowing the gemstone to be seen at greater angles without losing its reflective properties.
For modern jewelry designs, the first place I look is at Andrew Brown's five gemstone design books. In my opinion, Andrew's innovative and well-performing designs are on the cutting edge. His designs are either new impressions on classics or a complete break from tradition.
The Super Star design is straightforward and should pose no big challenges to faceters of any level. The design is created for quartz and looks better in a larger gemstone. Larger quartz gemstones can be frustrating to polish so I recommend that you take your time and establish a superior pre-polish before polishing.
Andrew is a prolific gemstone designer and author, having completed five gemstone design books and currently working on his sixth. I had the honor and pleasure of working with Andrew on the faceting book Twelve Easy Gemstone Faceting Designs - A Guide for the Beginner Gemcutter. You can find our book collaboration at https://www. hashnustones.com/twelve-stones1.html. You can find Andrew's books at https://facetingdesigns.com.
If you have any questions about faceting this design or would like to make suggestions for future gemstone designs, please contact me at https://www.hashnustones.com and use the contact form.
Gemstone Description
Stone: Prasiolite Quartz
Origin: Brazil
Treatment: Irradiated
Carat: 15.5
Size: 15.6 mm
Grade: Flawless
Design: Super Star
Designer: Andrew Brown
Faceted by: Mark Oros
Studio: Hashnu Stones & Gems LLC
Price: $312
This story about gem faceting the Super Star gemstone design previously appeared in Rock & Gem magazine. Click here to subscribe. Story by Mark Oros.