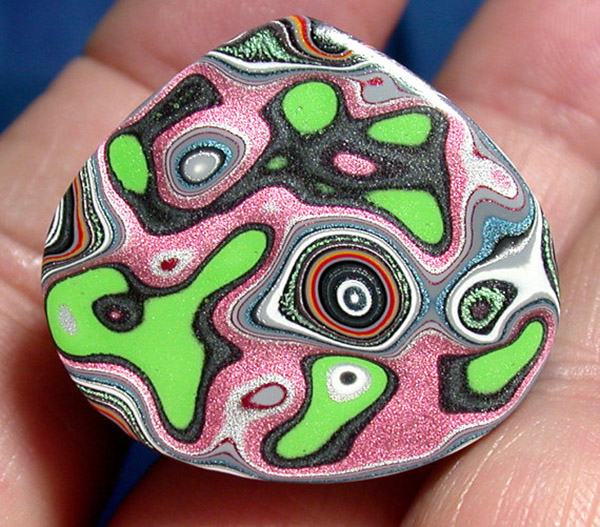 Story by Dave Fisk
For years, I had been seeing cabochons and rough called "Detroit agate" or "fordite". They are extremely colorful, and they make fabulously colored and patterned pieces that can be set in jewelry. I was hooked. I decided to try making some.
Fordite is not a stone, but a manmade material that came out of the assembly lines of the Ford Motor Co. The process that created fordite is no longer in use. In the old days, cars were painted using hand-operated spray guns, and the overspray adhered to the racks, which were then run through the ovens with the cars. (Today, the paint is electrostatically magnetized to adhere to the car bodies, leaving no overspray to accumulate in the painting bays.) Many repetitions resulted in tens or hundreds of layers of oven-hardened paint. When the buildup got in the way, it was chipped off.
It seems a few workers saw the potential for using these chips in creative pursuits. They found the fordite could easily be shaped and polished and could be used in many artistic applications. Jewelry made from fordite is often fabulously patterned and colored, but is susceptible to scratching if exposed to a harsh environment. A few of the old pieces are primarily black or brown, as most cars were painted these colors in the late 1940s. The colorful lacquers from the 1960s and the very bright acrylic colors from the late 1980s produce the more interesting stones, at least according to my taste.
One of my best friends from college is a retired Ford Motor Co. vice president. He was very instrumental in the paint area evolution at Ford. While he was going to college, he worked on the production line full-time at the local plant. His actual middle name is Ford. While we were in college in the late '60s, I introduced him to the sister of another of my old friends. They hit it off and have been married ever since.
Creating a few pieces of jewelry for them using fordite, inspired by his Ford Motor Co. association, seemed a natural way to get into using this material creatively and exploring how to cut it.
The first step for me was to purchase some rough. I went to eBay, searched for "fordite", and purchased three pieces for a whopping $9.95, plus $4.95 shipping. When they arrived, I was pleased with the colors and patterns.
I thought about what jewelry I might make. The susceptibility to scratches led me to decide on a tiepin for him and a pendant for her. I wanted something that screamed "Ford!" to be part of his piece, so I did an online search for Ford memorabilia and found a tiepin that was from Philco Ford, an old subsidiary. I decided the fordite cabochon could simply be shaped to overlay the half of the tiepin with the word "Philco", leaving the distinct blue-and-silver Ford logo. For the pendant, I decided I didn't need to tie it as closely to Ford—after all she didn't work there, he did.
I went to Etsy.com and searched for fordite and found Susan Hamby (a.k.a. suzybones), who was selling cabochons. The cabochons were delightful and extremely colorful. I purchased a stone that I felt would make a lovely pendant for a reasonable $31.99, plus $2.99 shipping.
I asked Susan what process she used in creating the fordite cabs and got this reply:
"Cut [the] blank with [a] bandsaw. I use a Genie to grind and sand to 600 grit. Then wet sand over the sink to 1500 grit. Then spray with automotive clear coat. This is for the base coat material (from the '80s). For lacquer (from the '60s) the process is similar, but instead of clear coat I buff to gloss with rubbing compound on a medium felt wheel. Keep your heat low."
I did a search to see what process other people were using to sand and polish the stones. These are some of the recommendations I found on blogs:
"Hit it with Zam™ on a buffer wheel."
"It's very cool stuff to work with, and from what I have seen, you will often have to throw out the standard dome shape and instead go with a basically flat top with some variance in thickness."
(Note: The layers are so thin you get very little pattern at an angle; a flat top is almost mandatory.)
"I just recently worked my first piece of Minnesota fordite. First, I was very surprised how lightweight it was. I started it on a Genie 280 and quickly moved it along the Nova wheels ending on the 14000. I finished it with Zam on a Dremel."
"I used a compound called 'Varnax' when polishing and it worked very well."
"I consulted with an auto paint supplier … he recommended Meguiars mirror glaze #2 'fine cut cleaner' to polish the fordite. It creates a nice polish even using a damp paper towel … and by hand."
For the tiepin, I needed a 6 mm by 22 mm cabochon. I selected one of the three slabs and marked off a rectangle a few millimeters larger than required. I sawed it out on my band saw. I also cut one on my diamond trim saw just to see how that worked. I preferred the diamond saw, but the band saw worked well, too.
I proceeded to cut two cabochons on the Diamond Pacific Genie. I started with the 220 grit hard wheel, but because I am not overly patient, I dropped back one wheel to a 60 grit cross-hatch to do the rough grinding. Then I moved to the 220 grit hard wheel, and then the 280, 600, 1200 and 3000 grit soft wheels. I then polished with Zam on a muslin buff on my jewelry buffer. The finish was terrific. The material I was cutting was very solid—no pits or crumbling—so it worked about like variscite.
Now that the tiepin was complete, it was time to create a finding for the pendant cab I had purchased from suzybones. To start, I traced the outline of the cab onto paper. I then drew a bail and prongs on the outline. I glued the drawing to a sheet of 24 gauge sterling silver sheet using rubber cement. I cut the pendant from the pattern using a jeweler's saw with a 3.0 blade. Once the blank was cut out, I filed the edges smooth and sanded all over it with superfine, ultrafine and microfine sandpaper. Then I took it to the buff and polished it with Tripoli, washed it with soap and water, and polished again with rouge.
I bent the prongs gently into place around the cab and strung the finished piece on the chain. I was very happy with my fordite tiepin and pendant.
Fordite Care
I learned about fordite care from Cindy Dempsey at Urban Relic Design (www.urbanrelicdesign.com).
"Fordite comes in different varieties that have somewhat different tolerances and strengths. It is inherently rather fragile to begin with, so it should be treated with care. You might compare it in that regard to a pearl. Fordite has a soft to medium surface hardness, and it will take a nice glassy polish.
"General cleaning can be accomplished with warm soapy water. However, like other softer materials used in jewelry, fordite may pick up tiny, light scratches with frequent wear. The quick solution? Using a fine car polishing compound like Turtle Wax®, and buffing to a high shine with a soft, 100% cotton cloth, or just green jewelers rouge. This will revive the luster in a well-worn piece without damaging the pattern.
"Fordite jewelry set in silver should be cleaned with a silver polishing cloth. [S]ilver dips are not recommended, as they may interact with the enamel and discolor the metal.
"All of the fordite cabochons and beads that we use in our finished jewelry have been put through a preliminary ultrasonic stress test to ensure good surface tension and adhesion of enamel layers. If any of the finished cabs or beads show structural weakness, or delamination, they do not pass our test and are rejected for use in our jewelry.
"However, please note that using an ultrasonic jewelry cleaner to clean fordite jewelry is not recommended. Arbitrary time spent in an ultrasonic cleaner could be damaging to even the most hearty pieces. You opal and pearl fans know what I mean … ."