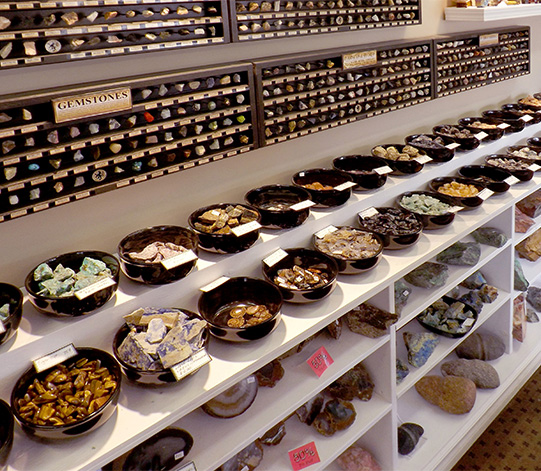 Editor's Note: A lot of good and some bad has occurred since this story first appeared in Rock & Gem in 2016. It's been three years since teenager Judah Tyreman opened the Sesula Mineral & Gem Museum and people from all walks of life and corners of the globe have visited the museum. That's the great part of the story, the not-so-great part of the story is that in the spring of 2018 Tyreman's shop and museum was broken into with the thieves stealing an estimated $8,000 worth of inventory. However, when news of the theft spread, the global community and geological community rallied to support the young and dedicated rockhound and museum director. Local geologists replaced many of the specimens taken from the museum, while a GoFundMe page raised more than $10,000 to help with replacement efforts. 
Story and Photos by Chris and Judah Tyreman
It's been three years since Judah Tyreman, now 16, of Radisson, Saskatchewan, did something that no one else has ever done: He opened up Canada's only hands-on mineral, fossil and gem museum.
It's a concept that is changing the way that people are looking at the idea of a museum, and it all started with a rock polisher.
Judah explains, "It's really strange how one event leads to another until here we are with a full museum. It started with my parents buying me a Vibra 10 polisher. I began searching everywhere to find cool rocks to polish up into something cool. Even my friends began collecting stuff that they wanted me to polish for them.
"What I ended up with was a huge pile of shiny rocks and a need to find newer and more interesting stuff, so my sister, Avi, and I would haul Dad to gravel pits and the like to look for specimens. If we went on trips, we had to stop at rock shops.
Geological Gifts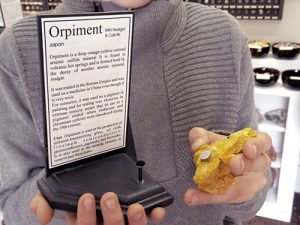 "Once people know this, of course, you know what happens: An uncle's or grandpa's or friend's collection, which was taking up space at their house, began taking up space in my room, then the closets, then the garage.
"This is when Mrs. Cochran, from our town, saw that there was a grant available to put up a natural history display at the newly renovated Goodrich Center in town for four months over the summer. As it had a granite floor, the idea of my mineral collection came to mind.
"With the grant, my dad and I sat down and decided that if we were going to create a display, then it would be for kids to touch and learn with. So we created display stands with information about each mineral. I knew kids would want to handle them, so I came up with the idea of fixing magnets to the bottoms of the specimens so they could be removed from and replaced on each stand. Thus was born the idea of hands-on displays.
Forging a Vision to Educate and Inspire
"Between my rocks and Dad's butterfly collection, we filled 800 square feet of room, and away we went. We put signs on the highway and watched as people filtered through all summer long, from places all over the world.
"As people began leaving donations, I began to look for newer and bigger items that would make kids 'ooh' and 'ahh', because that's how you get them interested. So I began looking on the Internet, and in short order I bumped into Stewart Sesula, who lived south of the closest city to us, Saskatoon.
"Mr. Sesula invited us out to the acreage he lived on, to a yard full of barrels, bathtubs and garages full of minerals from around the world. Little did I know at the time, he was selling me a lot of stuff cheaper than cost, just to help out with what we were doing. At the end of the summer, he even visited my display and said he was blown away.
"Then a couple of month later, we received word that he had caught double pneumonia. As Mr. Sesula was quadriplegic, this was a death sentence for him, and sadly he passed away that month.
Generosity Helps Bring a Dream to Light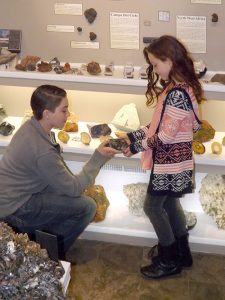 "After he died, I received a phone call from his wife telling me that Stewart didn't want his personal collection broken up, but he wanted me to have it because he knew I would do something with it for kids. I thought about it and realized that I had to open up a hands-on kids' museum."
With that idea in mind, Judah and his little sister, Avi, put together a Kickstarter video and raised C$5,000 to open up Phase I of the museum in 2016. The video sparked appearances on television, such as the Discovery Channel, and media coverage all over North America. People even helped out by sending more display samples to Judah for the museum.
"The Lawson Heights Mall, in Saskatoon, even let me display all of our samples to raise awareness of the museum, and the shops in the mall raised donations to help out also," says Judah. "It was an amazing day that raised $700."
So by May 15, 2016, Judah opened The Sesula Mineral & Gem Museum, which was designed not just for kids of all ages, but was completely wheelchair-accessible in honor of Stewart.
Seeking Opportunities to Become Involved
"Hands-on was the first part of making the museum different," says Judah. "I wanted it to be different in other ways, as well. I wanted it to be self-sustaining financially, so that it wouldn't always need to look for donations and volunteers to survive.
"I intended to do this through specimen and jewelry sales, but with a twist. Most museums have gift shops that you can buy samples from when you're done looking, but kids like myself find that frustrating. Trying to remember which ones you thought were cool, then trying to remember all of the names and the like was a huge headache. I would come home with a bag of rocks and no memory of what they were, so there was your collection, a bunch of pretty rocks in a bag.
"I wanted to change that, so I created a different way of doing it. We have specimens for sale right next to displays, so that kids can see and read about what they are interested in. Then they or their parents can use their cell phone and take a picture of the info stand. When they get home, not only can they remember what the samples are, but they can print out the pictures and have all of the information about them, also.
Learning Through Fun
"Second, I wanted kids to learn without knowing it, so when they come in,
I tell them that one of the displays has the only sample known in the world and that there is a reward for finding it. This way, they have to read all of the displays until they find it.
"What is it? The ultra-rare and -valuable naylepawlishite: a piece of plain, white quartz covered in my sister's iridescent nail polish. If they find it, they get a really nice mineral sample.
"And finally, we give free samples away to the rock lovers that come through the door. From pieces of larvikite, from Larvik, Norway, to white calcite from Brazil, to that big pile of rocks that I polished way back, we try to make sure that no rock lover leaves empty-handed, because that one special rock can change everything!"
But Judah was not finished. As soon as Phase I was open, he began planning Phase II of the museum.
He reached his first main goal this January with the addition of a Velociraptor dinosaur skeleton from Britain, and from there, he continued to dream. Phase II is now complete and boasts an additional $10,000 worth of new mineral specimens, plus a new 6-foot-diameter model of the Earth as the centerpiece for the astro-geology area.
Donations Fulfill the Dream
Phase II opened on May 15, 2017, a year to the day after Phase I. It has increased the museum's space by over 200%, thanks largely to the generous financial support of Eleanor Krimmel, from the United States, who funded a major portion of it.
To honor her support over the years, Judah has named the new annex after her. "With Mrs. Krimmel's donations," Judah continues, "I was able to create on a larger scale than the first area. I wanted people to come in and feel like they were stepping into a city museum and not some small country one with a couple of shelves.
"The displays were designed one by one to maximize every inch of space, while keeping the area wheelchair-accessible. After that, lighting was the second most important thing. Underlighting and spotlights bring light and life to the mineral displays. It gives a sense of wonder to the area, like stepping into a wonderland of minerals. You can really see it on the faces of kids as they rush from display to display yelling, 'Mom, come see this!'
"We have also received countless numbers of compliments from adults who have said that they never expected anything like this in a small town. Every time I hear it, it makes me feel like we hit the target I was aiming for."
Globally Sourced Collection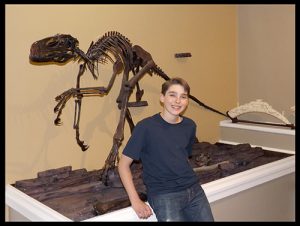 Now boasting more than 3,000 minerals, fossils, gems, and other items that are globally sourced, the collection grows daily. Whether it's pieces from the Crystal Cave World Heritage Site in Mexico or massive muscovite from Russia, items ranging from meteors to dinosaurs and geodes to gems make this one of the most complete and dazzling museum collections you will ever experience.
Now that Phase II is operational, Judah is looking to buy the museum building and work on Phase III in the upper level, a 4,000-piece Native American display, and then Phase IV on the lower level, which will let kids step back in time to walk through an old-style mine.
For a tactile experience rooted in reality, check out the Sesula Mineral & Gem Museum at 333 Main Street, in Radisson, and visit its Facebook page The Sesula Mineral & Gem Museum, for updates. You can contact Judah at the.mineral.kid@gmail.com