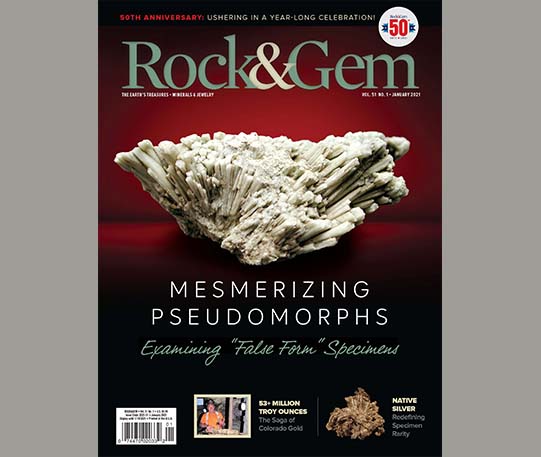 Below is a snapshot of some of the topics and interests you can expect to see in the pages of the January 2021 issue of Rock & Gem. Plus, we've included some sample pages for you to enjoy.
• THE SAGA OF COLORADO GOLD: 53 Million Troy Ounces and Counting. By Steve Voynick
• POPULAR PSEUDOMORPH MINERALS (PART II): More common Varieties Enhance Any Collection. By Bob Jones
• 50th ANNIVERSARY CELEBRATION: Year-Long Plans, Activities, Contests Explained.
• IN THE STUDIO: NANCY ARTHUR-MCGEHEE: Master Glass and Gem Engraver. By Helen Serras-Herman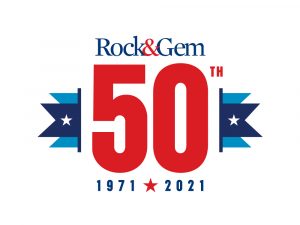 • ROCK & GEM REVISITED — Carlsbad Caverns (October 1998 Rock & Gem). By Bob Jones
• SPECTACULAR NATIVE SILVER: Rarer Than Gold In Specimen Form. By Bob Jones
• DIGGING IN AND MAKING DISCOVERIES ON HART MOUNTAIN: Expanding on a Hypotheses About Amygdale Pseudomorphs. By Steve Ewens
• SPENDING TIME AT KINGMAN MINE: Enthralled by Turquoise and a Rich Family History of Mining. By Bruce McKay
• EVOLUTION OF A GEMSTONE BUSINESS: New Era Gems — Carving a Path and Creating a Legacy. By Antoinette Rahn
In addition, you'll find the following regular R&G columns: Bench Tips with Bob Rush, Rock Science with Steve Voynick, What to Cut with Russ Kaniuth, On the Rocks with Bob Jones, Rock & Gem Kids and Earth Science In the News with Jim Brace-Thompson, Sneak Peek: Opals, The Road Report with Helen Serras-Herman, Show Dates, and the always popular Parting Shot.
---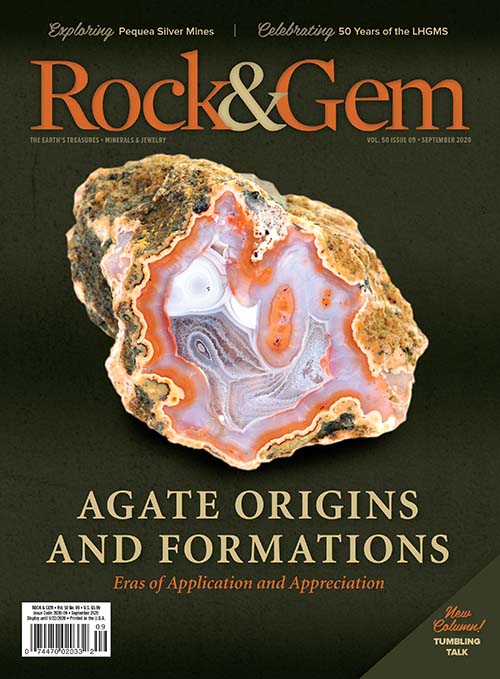 If you enjoyed what you've read here we invite you to consider signing up for the FREE Rock & Gem weekly newsletter. Learn more>>>
In addition, we invite you to consider subscribing to Rock & Gem magazine. The cost for a one-year U.S. subscription (12 issues) is $29.95. Learn more >>>
---