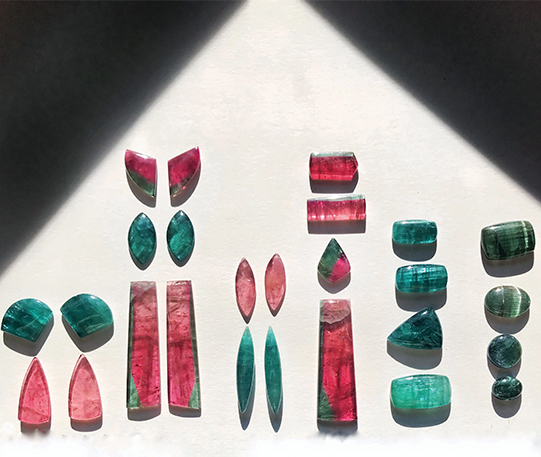 By Antoinette Rahn
Azur and Jesse McHugh
www.azurz.com
(The McHugh's are artists featured in the Tools of the Trade profile sponsored by Cutting Edge Supply Co.)
When asked to describe their rockhounding, gemstone, and lapidary interests in the most general terms, it's not uncommon to hear or see someone say in some form, "I collect rocks," or "I cut and polish stones." However, as is often the case, seemingly simple responses can describe intricate, complex, and enchanting matters.
Married couple Azur and Jesse McHugh, rockhounds, gemstone cutters, lapidary artists, and business owners residing in Rhode Island, provide on their website an example of a no-frills description of the fascinating work they do: We travel the world collecting rare and unusual minerals, lug them home to our shop, chop, shape, and polish them into some of the most unique stones in the industry. He's Jesse. She's Azur. He cuts. She sells.
Exploring and Evolving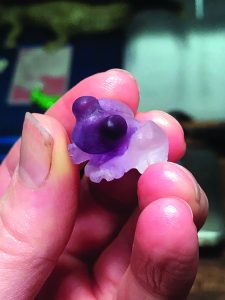 Like so many in the community, the McHugh's let their work speak for itself and speak it does. Helping this creative couple achieve their goals and continually expand their skills and creativity is the team at Cutting Edge Supply Co.
The couple has been active in the gemstone industry for more than a decade and met Cutting Edge Supply Co.'s father-son owners Darryl and Nick Alexander, through attendance at American Gem Trade Association events explained The McHughs.
"We have a full production cutting shop with all the lapidary tools you can think of, and Darryl and Nick are fellow lapidary artists and gem show dealers," they said.
By the time the Alexander's formally launched their business in January 2020, the families had known each other for years, developing a friendship and learning from one another's experiences and knowledge, the McHughs explained.
"Over the years, Nick and Darryl have helped (us) with diamond cutting bits, polishing sprays and buffing equipment, (which has) helped us cut our production time and effort," they added. "We know Cutting Edge Supply has hard to find carving tools and the knowledge."
The McHughs, who call themselves raving fans of Cutting Edge Supply, shared a specific example, "Having a high-quality diamond spray can make life so much better. After using Cutting Edge's sprays, we refuse to use any other."
The Alexanders impart their knowledge in various ways, be it product recommendations, demonstrating and explaining new variations on standard techniques, and, most often, by encouraging their customers to continue to explore and enjoy their work.
"We cut and sell stones for a living, and we love our jobs," they said. And that's Cutting Edge Supply's business aspirations in action.
FOR MORE INFORMATION
Visit: www.azurz.com  |   Email: azurzinc@gmail.com  |   Call Azur: 520-870-2604 or Jesse: 520-861-6405.