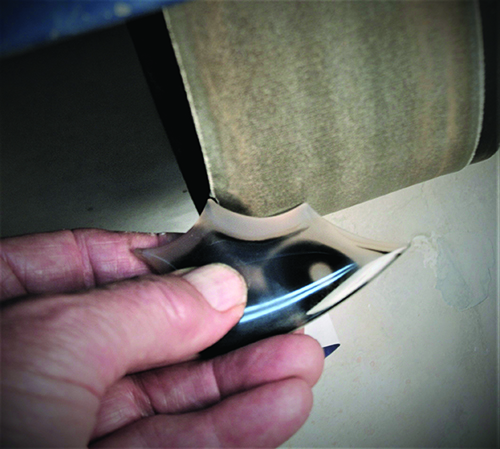 By Bob Rush
After cleaning the sludge from my 18" saw I got back to slabbing some older pieces of Brazilian Agate that had been in my pile of rocks since I moved into the Gold Country about 10 years ago. I noticed a 7" by 5" Brazilian Agate that I had cut a face onto before I moved. The face looked a bit dull, but there was a black pattern that piqued my curiosity. I mounted it in my saw and started slabbing.
After I got the second slab off the rock, I compared it with the first slab and there was an interesting difference. The slab that had been exposed to the bright sun and summer heat for many years had a reddish-brown layer that differed from all the remaining slabs. The layer is a definite color change, not just dirt or debris on the surface. I'm going to experiment with some heat treating on a piece of this material in the near future.
Intriguing Patterns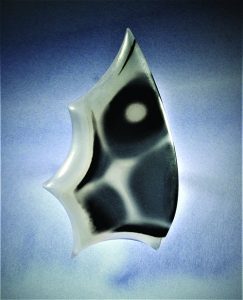 The pattern on the slabs is mostly black on a translucent milky background. As each slab came out of the saw, I got rather excited to see the pattern in each slice get more and more interesting. On the third slice, an intriguing pattern presented itself. I kept slabbing to see if the pattern would get more intricate, but it just kept changing into a larger pattern not as suitable for the particular project that I had in mind.
I sketched the pattern that I wanted the cab to be and trimmed and ground to this pattern. I liked the vague and indistinct look of the pattern, but when I flipped the cab over the other side spoke to me as being deeper and more foreboding as it stared back at me. I chose to finish this side as the front of the cab.
I ground the concave edges into the cab with my 1" diameter dry grinding Mizzy wheels. Using the same wheels, I tapered the sides into the front surface. Sanding was accomplished on my 8" silicon carbide belts on an expando drum. In my process, I move the belt off the side of the wheel about ¼" and push the concave part of the cab into the belt. The belt flexes and conforms to the cab and the sanding goes quickly.
Seeking Feedback
The polishing step on the concave edge is accomplished on the rounded portion of my carpet-covered polishing wheel.
I'm really pleased with the outcome of my work, but I am struggling with whether to mount a stone in the "eye" of the cab or not. I'm interested in hearing from some of the readers about their thoughts on this matter.
---
Author:
Bob Rush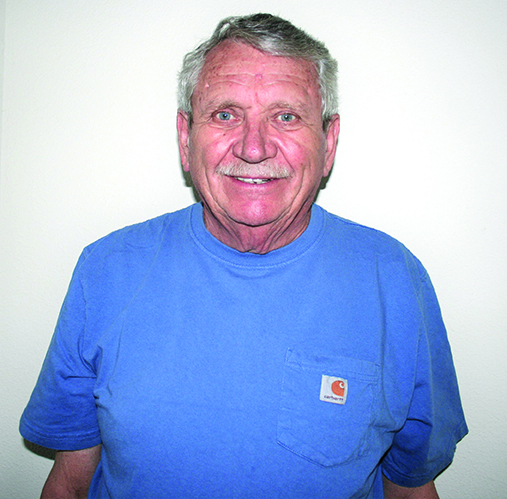 A professional within the lapidary industry since 1958 and metal work and jewelry since 1972.
He teaches at clubs and Modesto Junior College.