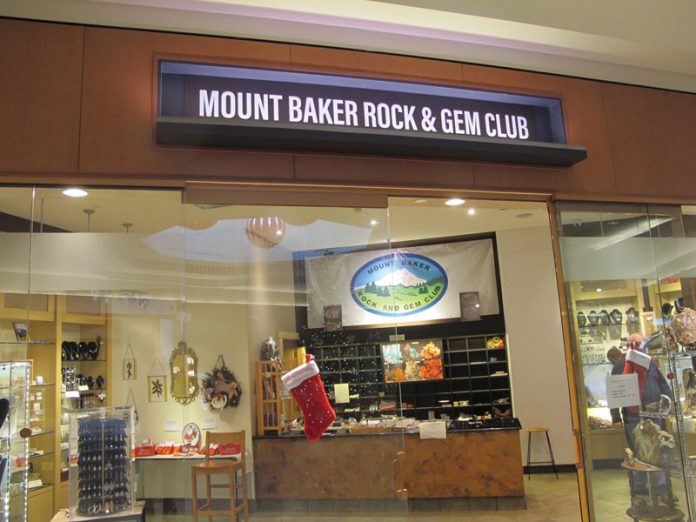 Rethinking how and where a club meets, like the Mount Baker Rock and Gem Club of Whatcom County, Washington, can often be influenced by changes in financial position and membership. For Mt. Baker, a local mall provided the perfect audience and opportunity.
About Mt. Baker Rock & Gem Club
Rock and gem clubs across the country have been challenged by declining membership and limited funding resources. Recently though, Mt. Baker celebrated an astonishing first anniversary. Their bold experiment led to new growth and the club is gaining momentum attracting people to rockhounding and lapidary skills.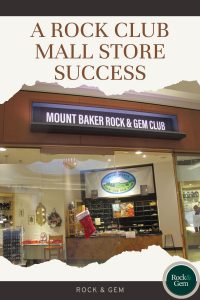 Located in the Cascade Mountains 90 minutes north of Seattle, Whatcom County is home to the community of Bellingham. The Mt. Baker Rock and Gem Club is one of the oldest continuously operated local nonprofits in the area. Attracting people of all ages, the organization's long-standing priorities include providing educational opportunities to the public and funding scholarships to geology students attending Western Washington University.
Making the Decision to Move
Founded in the 1950s, the club's history includes both abundant and lean times for financing their lapidary room. Since the 1980s, they used free space through the Bellingham Parks Department. This same building was rented by the club for monthly meetings and an annual show. Over the decades, the rates went from free to a modest space rental fee. Eventually, rates increased to be at or above those of renting commercial space in privately owned buildings.
Ultimately the Mt. Baker club faced the reality of being unable to pay the rates.
They moved out of their long-held space in early 2019 and needed to find space for meetings and the annual show.
Finding the Right Space
In November 2020, the club learned that the Bellis Fair Mall in Bellingham had space available. Like other malls, Bellis Fair Mall has suffered declining occupancy. There were two spaces in the mall that would work. These were spaces with a tile floor, sink, access to bathrooms and access to the mall's indoor foot traffic.
Club president, Candi Gerard, approached the mall to explore renting space. She reached out to the manager with a certain space rental budget in mind.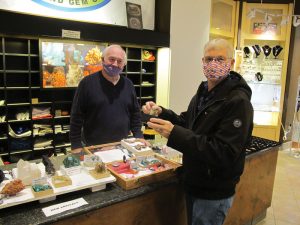 "I was shocked when he came back and said yes, we want you," Gerard explained. "They provided us with a contract which we went over with a fine-tooth comb.
We changed a couple of things, took the contract to our full board, and discussed it further. It was a new and scary thing to sign a contract, but we knew that if we didn't find a solution, our club would die. The mall allowed us to sign a single-year lease."
The mall does require that visitors and staff wear masks – something that has generally been treated with courtesy and respect.
Opening a Mall Store
One of the big surprises of the mall venture has been the way the space lends itself to selling member products. Club members sell their pieces and volunteer time for managing the space.
Members bring their specialties to the space. For instance, one member specializes in small mineral specimens while another works with large pieces of petrified wood and agate. Another member also sells stone-handled knives.
Displaying members donate their time based on the sales spaces they are using and make a donation to the club for the space they use. This has been beneficial for the club's overall financial position.
The future of the show circuit remains uncertain, so the storefront is filling a void.
"Before Covid there were rock and gem shows where we could sell pieces," said club member, Walter Hekala. "But going to shows isn't all that fun anymore for those of us in our more chronologically advanced years. Selling in our store is a lot better than the show circuit for some of us."
Club members who aren't selling are starting to see the benefits of the storefront and are engaging in volunteering more. It does take a lot of people to manage the store during high traffic business hours to prevent theft. Recently, the club added a bulletin board where any member can post a note on what they may be selling.
Mixed-Use Space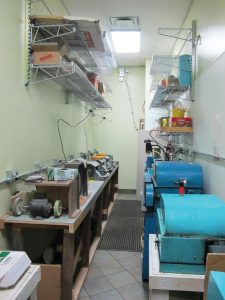 The space is large enough for class offerings. Talented members have taught wire wrapping, tumbling and gem identification classes. This year the club will be adding classes on cutting cabochons and polishing rocks. Working with mall security, classes, offerings and the lapidary room are all available after mall hours.
Mt. Baker Rock and Gem Club is expanding beyond a traditional rock and gem store. For instance, one of the space limitations is the ability to offer big bins of stones. The storefront had some metal racks left from the previous renters. There were also some acrylic display cases, all of which have been pressed into use.
From Foot Traffic to Membership
The mall space offers the Mt. Baker club some bonuses. Previously, the mall space was a candy store. People continue to show up looking for candy and generally stay and explore their rock and gem shop.
The shop features rocks and gems and recently has added the sales of jewelry, books and pamphlets about different metals as well as grit for tumblers. In the future, the club would like to sell tumblers too, but currently, they are not available because of supply chain issues. Used tumblers quickly sold out when made available.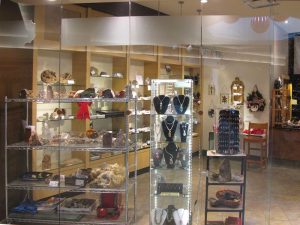 The abundant windows of the Mt. Baker Rock and Gem Club storefront invited some fall and winter surprises. More than 400 trick-or-treaters visited the Mt. Baker Rock and Gem Club store on Halloween. The club gave out traditional treats and tumbled rocks to attract rock pups and rockhounds to the store again.
In December, the storefront was adjacent to Santa's mall presence. This attracted even more families to visit the store – which in some ways acted as a mini rock and gem museum. People asked questions, sometimes bringing in their own stones to be identified. Visitors made donations to the club and inquired about their presence beyond the holiday season. In some cases, they became members. Membership grew from 109 people in 2018 to 180 at the start of 2022.
Keep Moving Forward
The Mt. Baker Rock and Gem Club confidently signed another one-year lease at the end of their first year. They ended their year in a much-improved financial position. They look forward to a longevity position while expanding public interest in rockhounding and lapidary arts.
Taking your Club to the Mall
This may be a perfect time to evaluate your club's vision and mission. Consider your own club's vision/mission, values, needs, strategies and resources. Here are some questions to ask your club as you consider options:
• Does your current meeting location suit the vision for your club's future? Is it visible in your community?
• Are there financial goals your club envisions for the future? (Being self-sufficient, offering new programs, contributing to scholarships, something else?)
• How are you attracting interest and new membership in your community? Who would you like to appeal to and why?
• Are you meeting in an accessible and affordable space? Is there something that would provide your club with more public access? Would foot traffic enhance your club's purpose?
• If rock and gem shows haven't returned, is there another way your club members (and your club) could benefit from a new sales approach? A co-op? Retail space?
The Mt Baker Rock and Gem Club can be found at mtbakerrockclub.org or on Facebook.
This story about a mall rock club previously appeared in Rock & Gem magazine. Click here to subscribe. Story by Deb Brandt.