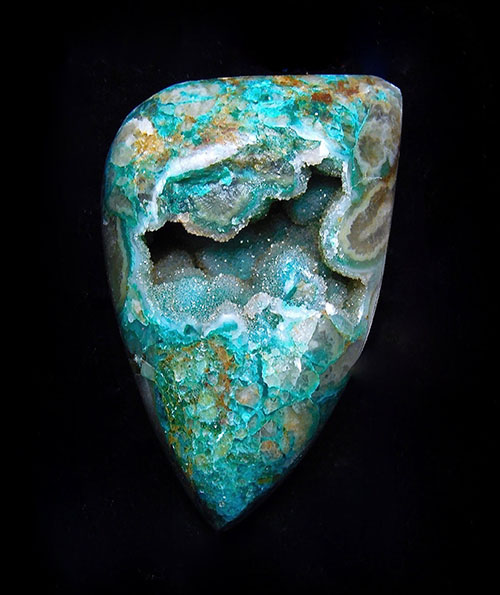 We are half way through our countdown of the Top 10 Photos published in Rock & Gem in the last year.
'Safe Haven' Cab Shines
This selection, titled 'Safe Haven' cab, is an eye-catching example of chrysocolla (also known as Gem silica) druzy in a matrix. In casual descriptive details, it is a blue-green microcrystalline form of silica — a variety of quartz. It gets its striking color from the existence of copper, and it presents a glistening effect within a colorful host mineral; based on information obtained from www.geology.com.
This example was discovered in the Ray mine, located in Arizona, which is one of two states (the other is New Mexico) where gem silica is said to be present in nature within the U.S. Specimens also have been discovered in Mexico, Peru, the Philippines and Taiwan, according to information found at www.ajsgem.com.
Lapidary artist Erin Dana Balzrette and Tree Climbers Stones (www.tcstonescom) are responsible for bringing the 'Safe Haven' Cab to our attention. The photo is by Erin Dana Balzrette.