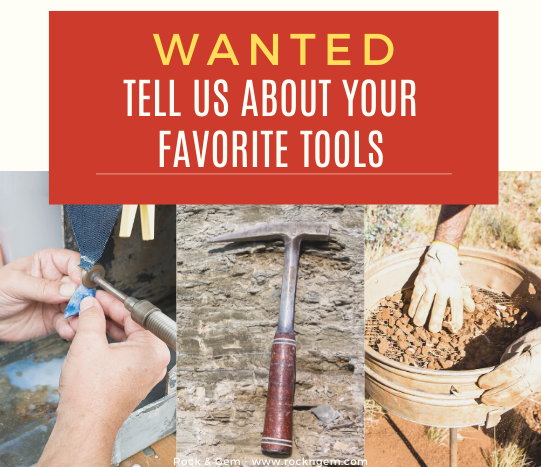 By Antoinette Rahn
To some, the idea of having a favorite tool or piece of machinery/equipment may seem strange. However, it doesn't sound odd to us, and in fact, we'd like to hear more about your favorite rockhounding tool, item of equipment, or piece of machinery.
Gear for the Dig
For many of us, these items of equipment are essential to the fulfilling enjoyment of our rockhounding and lapidary hobby. Tools are the difference between locating an unexpected specimen and freeing it from the earth and walking away hoping to find treasures another day. Maybe every time you go out you think about your rockhounding mentor who gifted you with the rock pick you use. Or, perhaps it's the rock tumbler you've been using for decades. It's the one you bought, with your own money, when you were just starting out, a young lapidary/rockhound with not a lot of money to spend but a lot of excitement, intrigue, and energy to put into your activity.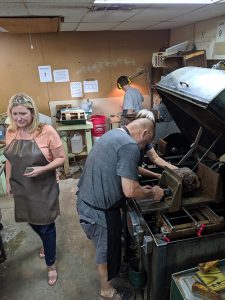 Then again, maybe it's a pair of gloves you've worn on digs from one coast to the other and countless localities in between. Those gloves have kept your hands safe, free from blisters and the elements, and have helped you discover some of the most memorable rocks in your collection. They are as much a part of your dig story as the minerals you've found.
Staple Shop Equipment
Equally fascinating is the machinery and tools plugged in and at the ready in your shop or workspace. Your creativity and ingenuity are essential "ingredients" in your transformation of rock into lapidary art and jewelry, and your lapidary is equally essential. Whether you are cutting, sanding, or polishing, each item of machinery serves a purpose in your process and, as such, often becomes a valuable part of your experience.
Whatever the tool, equipment, or machinery, we'd love to hear about what it means to you, what it allows you to accomplish, how it has helped to change your life and helped you to grow in your appreciation for rocks, gems, and minerals. Tell us in 200 words or less what makes the tool or item of equipment important to you, and don't forget to include the brand name and a photo if you have one.
Each submission will appear in the Rock & Gem 50th anniversary commemorative issue, and one person will be selected at random from all entrants to receive a special Rock & Gem prize pack. The deadline for this contest submission is May 20, 2021. Send your submissions to Antoinette Rahn at arahn@beckett.com.