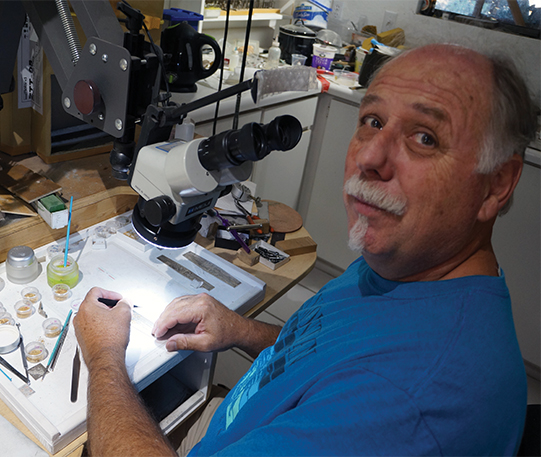 By Helen Serras-Herman
As you read this, many, including myself and my husband, are in Tucson for the famous annual international gem shows that take place this time of year.
Tucson is the "big city" within southern Arizona, where the majority of towns have a much smaller population. Most of southern Arizona is a beautiful and scenic desert area, with mountain and hill areas, higher elevation than Tucson, much greener, and consequently with lower temperatures.
Discovering Kindred Art Spirits
My husband and I moved to Rio Rico in 2005. Rio Rico is about 15 miles north of the Arizona-Mexico border, just south of the artist colony and historic town of Tubac. I knew that many artists were living in this area, but what was a wonderful surprise was to meet an artist with similar backgrounds and aesthetics, Wolfgang Vaatz.
Although the two of us have enjoyed separate artistic paths, we have a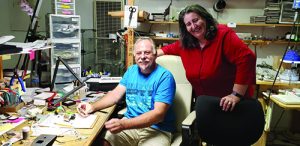 lot in common. We both have a sculptural background and experience, studied in Germany, and have both lived abroad and exhibited internationally. Although we have been recognized early on in our careers for our large sculptural artwork, we have both made the crossover journey from sculptors to gem and jewelry artists. And we both have found Rio Rico to be a little heaven on earth and now call it home.
Wolfgang Vaatz was born in Namibia and started his art education in Munich, Germany. After a year in Chicago, he shared his time between Germany and Namibia, holding exhibitions in both countries. In 1990 he returned to the United States and created his large water sculptures and fountains for which he became very well-known.
Feeding a Reawakened Gem Passion
Wolfgang has lived and worked in northern Arizona since 2001 and moved to Rio Rico in 2009 when his fascination with gems and minerals, which began in childhood, reawakened. Since then, his jewelry art has evolved dramatically. Being basically self-taught in the metalworking field, he dived in with a Van Gogh-style mania, not only learning various techniques but creating his very own style of astonishing artwork since 2012.
Wolfgang's jewelry artwork features detailed landscapes in metal with meticulously carved miniature scenes of mountains, hill country, southwestern desert, trees (especially aspen trees), the beach and the ocean, all of which manifest studies of patterns in nature created by the action of wind, water and sun, and translated into hammered or carved patterns in the metal. His "Aspen Trees" and "Landscapes" collections are meticulously created with unrefined natural placer gold, 22K yellow, 14K yellow and rose gold, and argentium silver.
Vaatz purchases placer gold directly from prospectors, which he then cleans, screens and sorts to achieve different sizes ranging from 20 mesh to superfine 100 mesh.
Crafting Contemporary Cuffs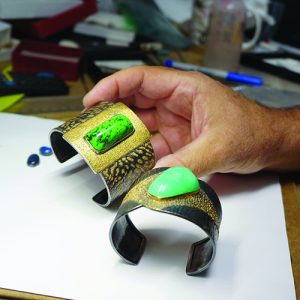 Much of his jewelry features stunning gemstones, which he cuts himself, as well as faceted diamonds, and colored stones. I particularly love his stunning cuffs, each one very unique in style and composition. Many of them have a bright high-domed cabochon centerpiece, like chrysoprase or maw-sit-sit. His abstract jewelry pieces include composition choices with the play of shapes and texture and reflecting light.
Throughout his exploration of different media over the years, the expression of his art remains the same: translating his experiences of natural landscapes. He loves exploring remote and pristine places in nature, and rockhounds for unique rock specimens, especially during his travels of the western states. He records his visual journey in his dramatic photographs, which serve as his memory inspiration.
Wolfgang Vaatz has successfully transferred the multi-textural style of his large sculptures to small scale jewelry, making his jewelry artwork as unique and amazing as his large one-of-a-kind sculptures. Reflecting the play of movement in water, the energy of the sun and the sky, or the arid landscapes, where space and light are present, are some of the stories he tells in his artwork. His pieces are appreciated by collectors nationwide and abroad. In Wolfgang's own words, "his jewelry pieces are not merely decorations, but statements engaging the viewer/wearer to be a steward of our natural world".
Competition-Worthy Creations
His jewelry work has been greatly recognized in competitions. Among the various awards, he has received is the prestigious Saul Bell Design Award in three consecutive years since 2017, he has been a Niche finalist and a winner of Centurion's 2018 Show Emerging Designer, and a recipient of the 2018 Manufacturers and Jewelry Suppliers of America (MJSA) Vision Awards. His work is currently represented by several art galleries nationwide. Wolfgang Vaatz also participates in many art and craft shows within the western states. His site https://wolfgangvaatz.com/ contains various examples of his work.
I recently visited Wolfgang's studio once again. His wife, Kirsten, always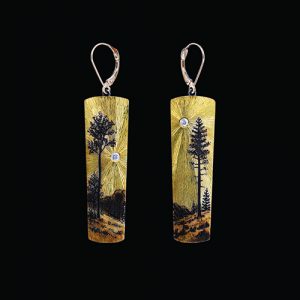 by his side, is an essential part of his business, in charge of the photography, the inventory, and much more, along with their two young adult children. We are truly fortunate to be enjoying a great friendship, which grows deeper every time we get together, discussing gemstones and techniques while exchanging life and exhibiting experiences.
Living on opposite sides of Rio Rico with different mountain vistas, we are both inspired by the local environment, the nature around us, the changing of the seasons, and the intense colors of our sunsets and sunrises.
If you are attending the 2020 Tucson Gem and Mineral Show®, I invite you to stop by Booth #608, where you will find Wolfgang Vaatz and his Earth Terra Erde company and be sure to swing by Booth #1601, which is where I will be, representing our Gem Art Center company. We hope to see you there!
---